Keanu Reeves Wants A War In John Wick 3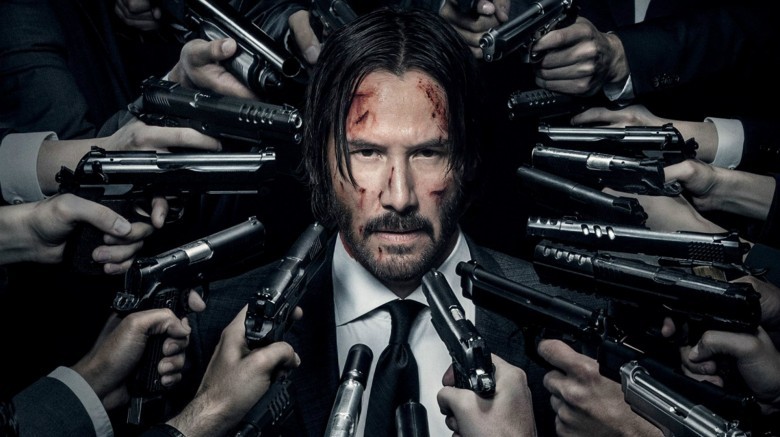 Lionsgate
Keanu Reeves is already thinking ahead to John Wick: Chapter 3.
While speaking on the Empire Podcast, Reeves laid out his vision for a third installment in the action franchise, which recently premiered Chapter 2 to an impressive $30.4 million opening weekend (via Box Office Mojo). The film was one of our movies that will blow everyone away in 2017.
"I think the opening of the film should be Wick just trying to escape from New York," Reeves said, adding that he wants the film to open right where the second left off. "Literally trying to get off the island. Maybe he asks the Bowery King for help. Maybe John Leguizamo comes and helps me out. 'John, I can't do it, you're excommunicado!'"
"Maybe the High Table shows up," he continued. "And then the High Table starts firing guns. And then maybe this kind of thing starts to happen between the High Table and Continental? Maybe John is the activator of this confrontation, and perhaps there's a war? Wouldn't that be awesome?"
Director Chad Stahelski said months before the release of Chapter 2 that he was already working on a third installment. He told Empire that, if there were to be a third film, it would expand the world by "maybe another 25 percent."
"But then I'd like to go deeper into the world that people already know– another 50 percent," he added, teasing a possible deeper dive into the backstories of characters who have already been introduced to the franchise. There has also been talk of a prequel TV series covering Wick's early days as a hit man.
While there has been no official announcement about John Wick: Chapter 3 yet, if the franchise keeps showing that it has the ability to pull in big bucks and solid reviews, it's likely that we will see even more of the big screen's favorite suited-up assassin soon.