The Rare 19th Century Gun That Rick Loved On Pawn Stars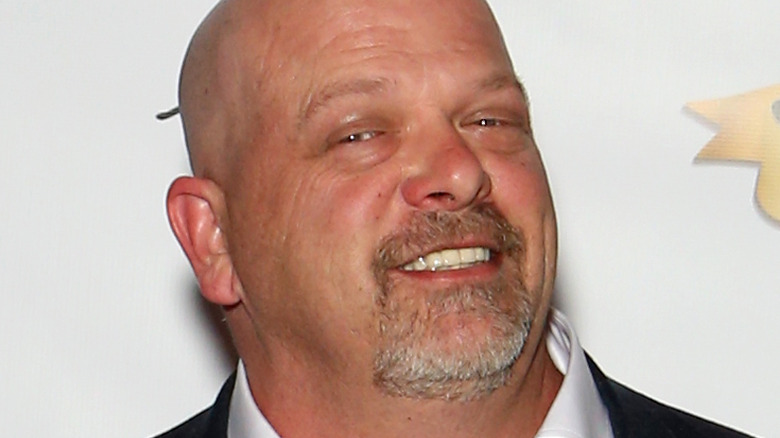 Gabe Ginsberg/Getty Images
Rick Harrison sees his fair share of interesting items at the Gold & Silver Pawn Shop, but he can still get excited when he comes across something he really wants. When a seller, Phil, came in recently with a Smith & Wesson Model 1, Rick's face practically lit up. The guy is super into buying old weapons, even though state law requires him to follow a few extra rules, and this one was special for a few reasons.
"Probably one of the most innovative guns ever made," he said, looking it over. "This was the first gun to have the whole self-contained bullet ... This is the gun that put Smith & Wesson on the map."
When he found out it was made in 1858, he knew it was an original, but that wasn't the only reason he liked it. The gun also had a story attached to it. As Rick told Phil, Jack McCall famously used a Model 1 to kill Wild Bill Hickok, legendary lawman of the Old West. Hickok died at a poker table holding eights and aces. According to Rick, that's why a pair of eights and a pair of aces is called the dead man's hand. Phil seemed surprised and even humbled to hear the story.
"This is a very historic gun, and being a Series 1 Model 1 makes it extremely rare," Rick said. So far, it was all good news for Phil.
The truth about the Model 1 on Pawn Stars
A seller experienced in buying and reselling guns, Phil hoped to win big with his rare piece, but Rick spotted a problem. Half the gun looked great; the other half, not so much. Naturally, Rick had questions. Was the gun all original? Or had part of it been replaced?
Craig, of Craig Gottlieb Military Antiques, agreed to investigate. He measured the barrel, knowing the answer he was after, and found it checked out. Next, he examined the metal and noted the pitting where the original metal was exposed. This confirmed Rick's concern that part of the gun was refinished. That wasn't all Craig wanted to see, either. He also wanted to check the gun's ivory grips. By removing them he was able to determine they were, in fact, originals. Considering the mix of parts, he valued the gun at $1,000 to $1,500 — not quite as much as Phil had hoped.
Rick rejected Phil's first offer, $900, with a flat "no." When they finally agreed on $650, both parties got to walk away feeling like they got a great deal. That's when Phil finally revealed the full truth to viewers. He was aiming high when he walked into the shop that day. He'd only paid $250 for the piece.