Joan Allen On What Makes Lisey's Story Such A Unique Stephen King Psychological Thriller - Exclusive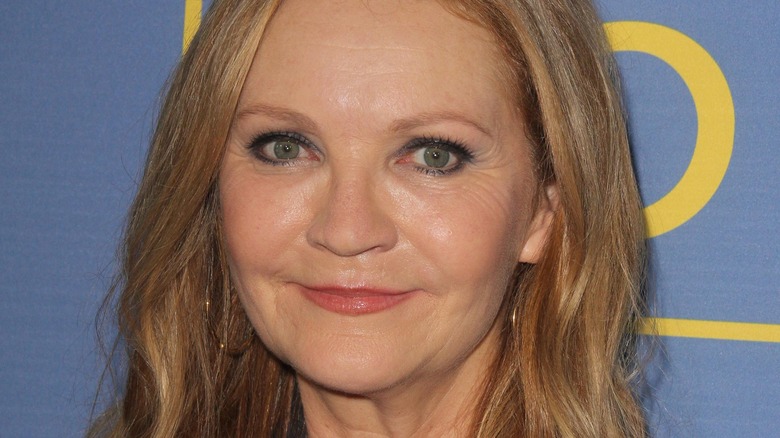 Shutterstock
Celebrated actor Joan Allen has had a bevy of rich roles over her 38-year screen career, including Oscar-nominated turns in "The Crucible," "Nixon," and "The Contender," as well as key roles in such hit films as "Death Race," "Face/Off," "Pleasantville," "The Ice Storm" and "Room," as well as a recurring role in the "Bourne" series.
Allen's diverse resume also includes the lead role opposite Anthony LaPaglia in the 2014 crime thriller "A Good Marriage," based on a short story by legendary author Stephen King. Seven years later, Allen is thrilled to have another role in the King universe, in the new AppleTV+ series "Lisey's Story." The series stars Julianne Moore as Lisey, a widow whose thoughts stray back and forth between reality and fantasy following the shocking murder of her famous author husband, Scott (Clive Owen). 
Allen plays the pivotal role of Amanda, Lisey's older sister, a woman suffering from mental illness who has an otherworldly connection to Scott. In an exclusive interview with Looper, Allen discussed her work on "Lisey's Story," and why King's profound tale of love and loss with a thrilling psychological twist presented her with a role she's not accustomed to playing.
King broaches real-life horror in Lisey's Story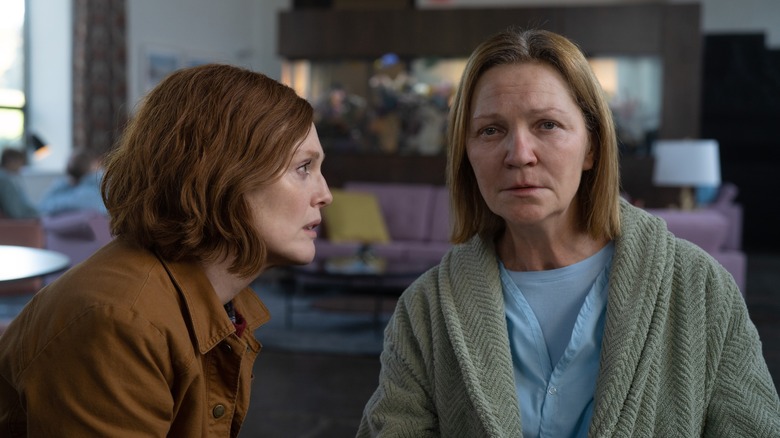 AppleTV+
Stephen King has authored some of the biggest horror novels in the past 40-plus years, many of which have been adapted for the big screen and television. What makes "Lisey's Story" unique, though, is that King also wrote the TV adaptation of his hit 2006 novel, which is based on his own near-death experience in 1999 after being hit by a van while he was out walking.
As such, Joan Allen believes King has his finger on the pulse of real-life horror as much he does his fictional tales of horror and the supernatural.
"I think that makes a huge difference in the story and how compelling the story is, because you really care about the people, and you care about this family, and you care what happens to them," Allen told Looper. "And so that is something that is very relatable, and I think is very drawing in for the audience because you want to pull for them; you want them to come through and particularly through this loss and grief, and fragility of all these various characters. You want to see them get to the other side."
Allen said she particularly enjoyed the challenges of playing Amanda in "Lisey's Story," who, apart from other issues, suffers from bouts of semi-catatonia. As a result, the role is the opposite of previous roles on her distinguished list of credits.
"I was really thrilled to get it because I looked at it and kind of reduced it in some ways down to, 'I've played things historically, characters often or sometimes that are more reserved, who kind of take care of other people,'" Allen said. "And it was like, 'She is so out there, and she cannot take care of herself, and she can't take care of anybody else.' [I was thinking], "Let's go, let's do it!" So, it was really kind of refreshing as an actor."
Also starring Jennifer Jason Leigh, Dane DeHaan and Ron Cephas Jones, and executive produced by JJ Abrams, "Lisey's Story" is streaming on AppleTV+.