Joan Allen On Returning To The World Of Stephen King With Lisey's Story - Exclusive Interview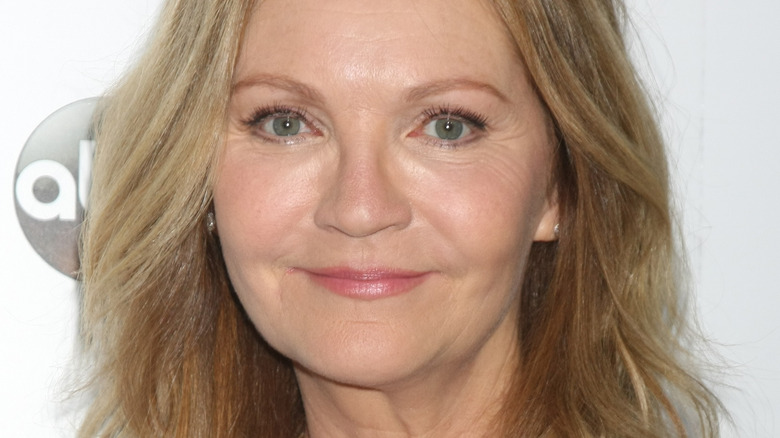 Shutterstock
Joan Allen has been a force to be reckoned with throughout her illustrious career, turning in dozens of powerful performances in film and television — including two Best Supporting Actress Oscar nominations in "The Crucible" and "Nixon" and a Best Actress Oscar nomination in "The Contender."
Allen's other film credits include the dramatic thriller "Room," the beloved romance "The Notebook," the fantasy dramedy "Pleasantville," and director Ang Lee's searing drama "The Ice Storm." She's also done her fair share of work that isn't such serious dramatic fare, including memorable turns in sci-fi films like "Face/Off" and "Death Race" and a recurring role opposite Matt Damon in the action-packed "Bourne" film series.
Television has brought Allen several opportunities as well, including the title role in the TV movie "Georgia O'Keefe," a supporting turn in the miniseries "The Mists of Avalon," and a key role in the final season of "The Killing." Allen's latest project finds her returning to the small screen with "Lisey's Story," a haunting tale of profound love and loss adapted for the screen by Stephen King from his bestselling novel of the same name. The project marks the second time Allen has starred in a King project, following her lead role opposite Anthony LaPaglia in the 2014 adaptation of King's short story "A Good Marriage."
Debuting on AppleTV+ June 4, "Lisey's Story" stars Julianne Moore as Lisey, a devastated widow whose memories of her late husband Scott (Clive Owen) start to blur the lines between fantasy and reality. Allen stars in the pivotal role of Lisey's older sister Amanda, a woman suffering from bouts of semi-catatonia who has an otherworldly connection to Scott — a famous author whose obsessive fan following contributed to his shocking murder. Published in 2006, "Lisey's Story" was inspired by King's own brush with death in 1999, after the author-filmmaker was accidentally struck by a van while he was out for a walk.
In an exclusive interview with Looper, Allen discussed the intricacies of King's work, and how Amanda "Lisey's Story" is a major departure from her past roles.
Lisey's Story presented Allen with a role she was not accustomed to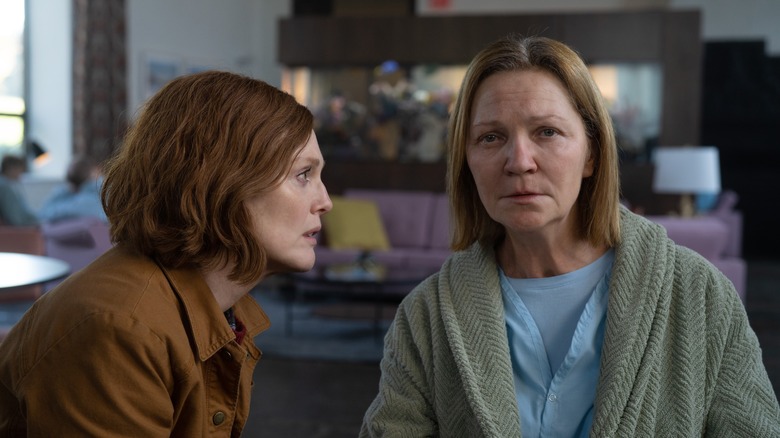 AppleTV+
I'm sure that you get your fair share of scripts to consider — some of them you say yes to, some you say no to — and you have to mull over those decisions. But when you get a script like "Lisey's Story," based on a Stephen King novel and adapted by Stephen King, with Julianne Moore and JJ Abrams attached — it has to be one of the easiest decisions you're ever going to make.
Indeed. And then top it off with Pablo Larraín directing, and it's like, "No-brainer!"
Absolutely. I am guessing part of the reason you would say yes to a Stephen King story is while yes, he is a brilliant horror and supernatural writer, he has his finger just as much on the pulse of real-life horror and pain — and especially when the plot of "Lisey's Story" is so personal. I mean, he really makes his stories relatable, especially with the tragic plight of Amanda in this series.
Yes, yes. I think that makes a huge difference in the story and how compelling the story is, because you really care about the people, and you care about this family, and you care what happens to them. And so that is something that is very relatable, and I think is very drawing in for the audience because you want to pull for them; you want them to come through and particularly through this loss and grief, and fragility of all these various characters. You want to see them get to the other side.
And I really am feeling Amanda's pain right from that very first scene. What a tragic character to play, but you know what? How often do you get an opportunity to play a role like this?
Exactly, exactly. I was really thrilled to get it because I looked at it and kind of reduced it in some ways down to, "I've played things historically, characters often or sometimes that are more reserved, who kind of take care of other people." And it was like, "She is so out there, and she cannot take care of herself, and she can't take care of anybody else." [I was thinking], "Let's go, let's do it!" So it was really kind of refreshing as an actor.
Allen is staying open for roles in all genres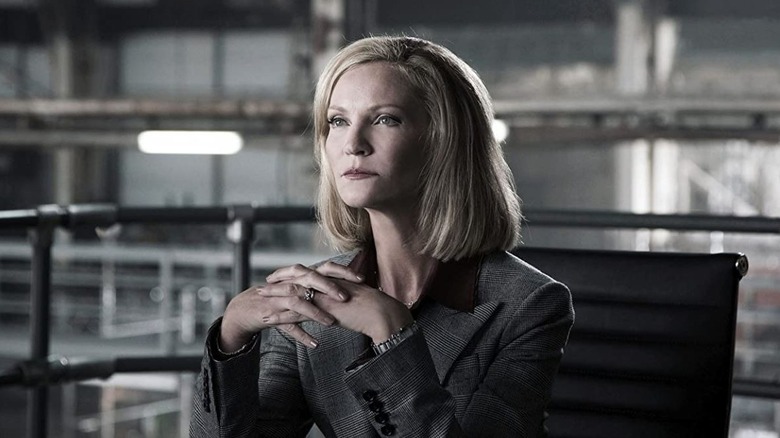 Universal Pictures
You've had the good fortune of playing so many great roles and in some franchises — the "Bourne" franchise, for example. If you had your pick, is there another franchise you'd like to be a part of? Maybe more of the Stephen King universe, maybe Marvel, DC, "Star Wars" — any of that stuff kicking around in the back of your mind?
I would stay open to any and all of it, because you just never know when something comes across. I hadn't really not anticipated that I would get another Stephen King [project] coming my way, and you never know. And so it's just "Stay open," and it's great when good things happen.
One of my favorite roles of yours was Laine Hanson in "The Contender" — 21 years old that film is already. It's amazing. How transformative was that role in your career?
It was a big deal. It really was a big deal and I'm ever grateful because [director] Rod Lurie wrote it for me, and I will always be grateful to him for that.
Also starring Jennifer Jason Leigh, Dane DeHaan and Ron Cephas Jones, and executive produced by JJ Abrams, "Lisey's Story" begins streaming on AppleTV+ June 4.