Borderlands Movie Cast Photo Has Fans Freaking Out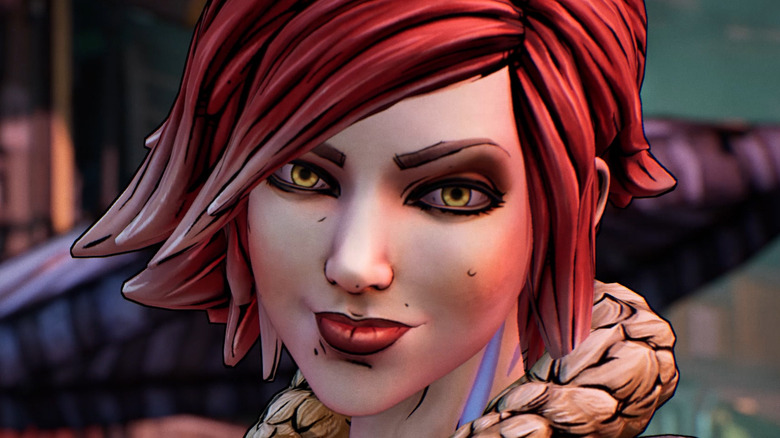 Gearbox Software/2K Games
In 2015, Lionsgate began production on a new film inspired by "Borderlands," the popular series of satirical sci-fi shooter games designed by Gearbox Software (via Deadline). Despite this, the massive film distributor has only been forthcoming with details on the project within the last two years. Now, there is much more information available regarding the Eli Roth-directed film's story, cast, and design.
The original series of games, which first began in 2009, put players in the shoes of one of four unique "Vault Hunters," searching for a legendary alien treasure trove hidden somewhere on the desert planet Pandora. With its twisted sense of tongue-in-cheek humor, unique art style, and intense shoot-and-loot gameplay, "Borderlands" quickly became a widespread success. It and its sequels have sold over 57 million copies worldwide as of 2020. According to the film's executive producer (and Gearbox co-founder) Randy Pitchford, the movie will not be part of the game's continuity. 
Now, fans are beginning to see more photos and casting announcements as Lionsgate and Gearbox do their best to gather fan hype around the developing project, and it's working. Most recently, the film's official Twitter released a new on-set photo depicting the film's cast in full costume. Not surprisingly, the picture swiftly sent fans into freak-out mode.
How fans feel about the Borderlands movie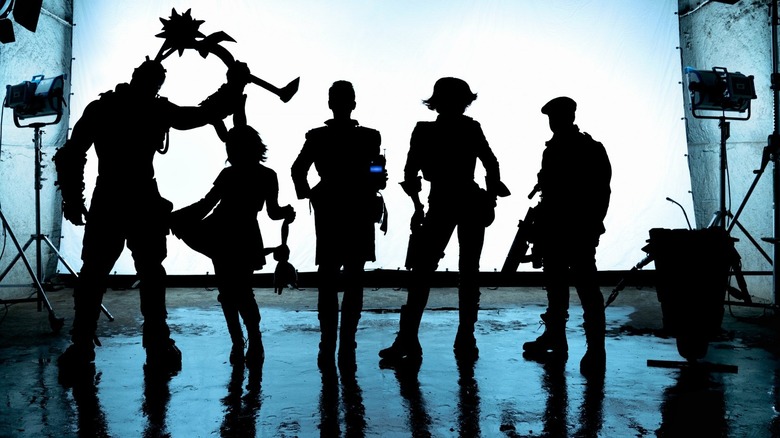 Twitter/Borderlands
While the photo only shows us silhouettes of the film's characters, things aren't looking half bad for the "Borderlands" movie. The costume design seems up to snuff, as each character has a very distinctive outline and physique that makes it easy to tell who is who. Based on casting information from IMDb, from left to right are Krieg (Florian Munteanu), Tiny Tina (Ariana Greenblatt), Tannis (Jamie Lee Curtis), Lilith (Cate Blanchett), Roland (Kevin Hart), and Claptrap (Jack Black).
Jamie Lee Curtis recently shared similar individual photos of the characters' silhouettes, but this is the first we've seen them together. Fan response to the full-cast photo appears generally positive, though some fans are concerned about the decision to cast Hart as Roland. "Slightly concerning. I love Kevin Hart and am really hoping we see a whole new side of him versus the alternative, which would be turning Roland into a joke," wrote one Twitter user. "I still think that Kevin Hart is not good as Roland but I'm looking forward to this performance," user @MoeCitizen chimed in. "This just doesn't fit."
Regardless, fans still seem excited to see the end result. Many users also voiced their positive expectations for the movie. Hopefully, Hart's time as Roland works out. "Borderlands" is known for its wit and absurdity, so a comedic actor like Hart might be a perfect fit. We look forward to seeing how it all pans out once Lionsgate finishes production.