What The Final Days On The Set Of The Office Were Like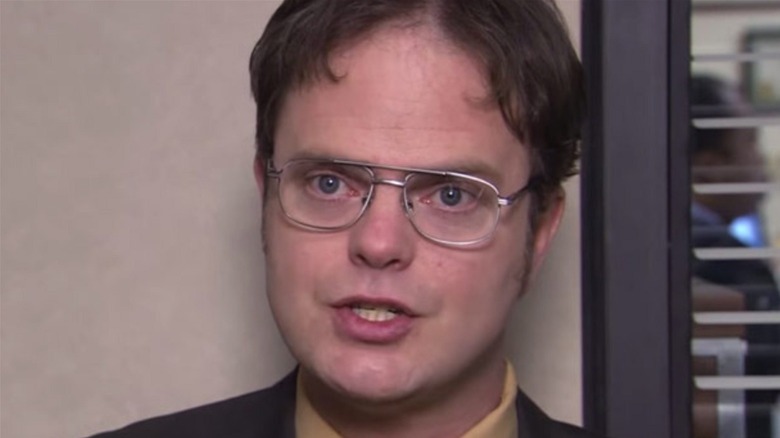 NBC
"The Office" is still one of the most beloved sitcoms in television history... which made it devastating for the cast and the show's fans alike when the show came to an end.
After launching as a mid-season replacement in 2005 on NBC — and as a remake of Ricky Gervais' British series of the same name — "The Office" got off to a slightly rocky start after its first season relied a little too heavily on the original material. However, as the second season kicked off, the show became an overnight sensation; now, years after the series ended in 2013, it's still one of the most popular shows to stream, and it remains one of the most influential comedies to hit the small screen.
As Andy Greene details in his book "The Office: The Untold Story of the Greatest Sitcom of the 2000s: An Oral History," as the series moved towards its ninth season, decisions were made about the show's ending... which left some cast members shocked and led to an emotional series of shoots. Here's what it was like to film the final season of "The Office."
The cast and crew of The Office learned the show would end after Season 9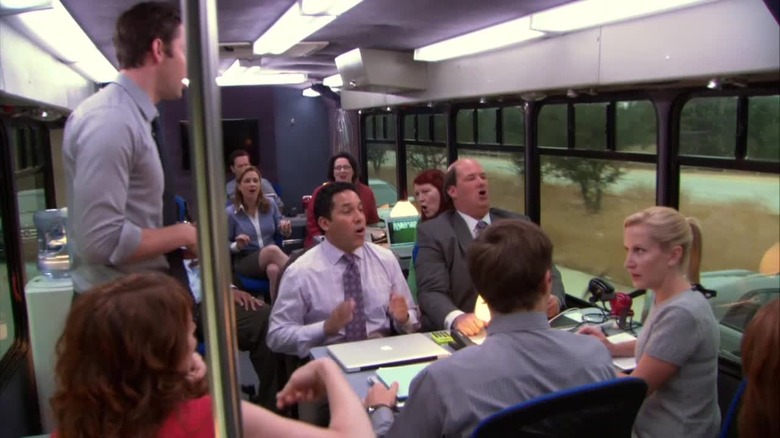 NBC
Originally, creator Greg Daniels and his team thought they would be able to take the show in a new direction should series regulars like John Krasinki, Rainn Wilson, and Jenna Fischer — who play Jim Halpert, Dwight Schrute, and Pam Beesly-Halpert — eventually leave the show, replacing them with younger characters. However, as it turned out, it just wasn't going to work.
"Greg sort of gathered everybody toward the end of season eight and asked how we thought we could rejuvenate the show," producer Owen Ellickson told Greene. "I said, largely to silence, that I think we have to fire a bunch of actors. Not that I think they deserve to be fired, but if you actually wanted to make it feel like you were starting a new chapter, you can't keep eighteen pieces in place." However, due to personal relationships and tons of other reasons, Ellickson admitted, "we were never going to quite pull that trigger."
Kate Flannery, who plays Meredith Palmer, remembers the day everybody heard the news on set: "Bryan Cranston was on set that day directing [an episode]. During lunch they told us this was going to be the last season and it was going to the press in an hour. They wanted to prep us for it going out. I just remember we were on this bus and inches from each other all day ... It just felt so emotional, but it also felt sort of perfect that we were in such close proximity feeling all this together and processing this together."
What it felt like to film the finale of "The Office"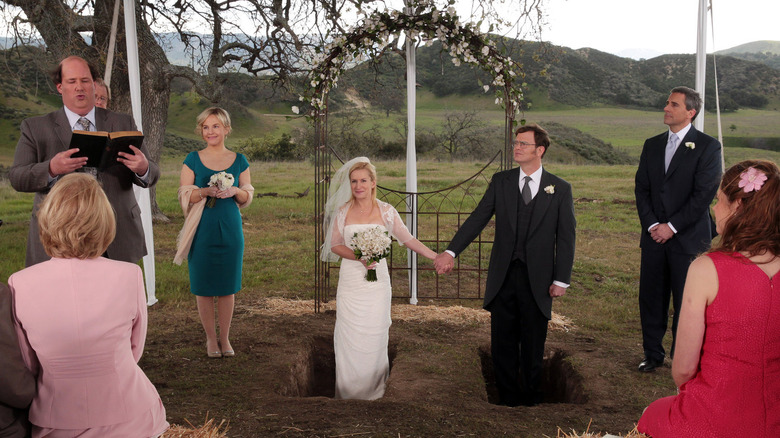 NBC
After a final season that introduced the camera crew, created problems between Jim and Pam, and saw its share of ups and downs, it was finally time to film the finale, which saw long-running director Ken Kwapis return to helm the episode. Steve Carell famously returned for the episode, as did Devon Abner, whose character — also named Devon — was fired in Season 2. In addition to that, most of the crew appears as background characters, according to writer Brent Forrester. "The final episode, Greg ends up shooting, of course, all of the actors in the show that he's loved, including Carell, who comes back for Dwight's wedding, but also the way he put in all the crew," Forrester revealed. "Even his own manager appears. His wife appears. Writers appear. I appear asking a question in the audience during the reunion panel. All the people asking questions in the audience are writers. Greg was trying to capture on film the faces and the voices of all the people that he loved in the making of 'The Office.' It was so touching to me the way that, even more than plot, it was driving the episode."
After Dwight and Angela (Angela Kinsey) finally get married, the gang returns to the office itself and they all listen as Creed (Creed Bratton) sings an original song, "All of the Faces." Cinematographer Matt Sohn remembers that it was an extremely emotional day. "That last day there were a whole lot of tears," Sohn recalls. "There was a whole lot of having to cut and bring makeup in and a whole lot of hugging and scenes dragging on and on. I remember Ken Kwapis being at a point where he was like, 'Okay, guys, we've got to hold it together because we just need to get through this day. This is a long enough day as it is, let's just wrap this up and finish things so that we can be done.'"
The very last shot of The Office was the most emotional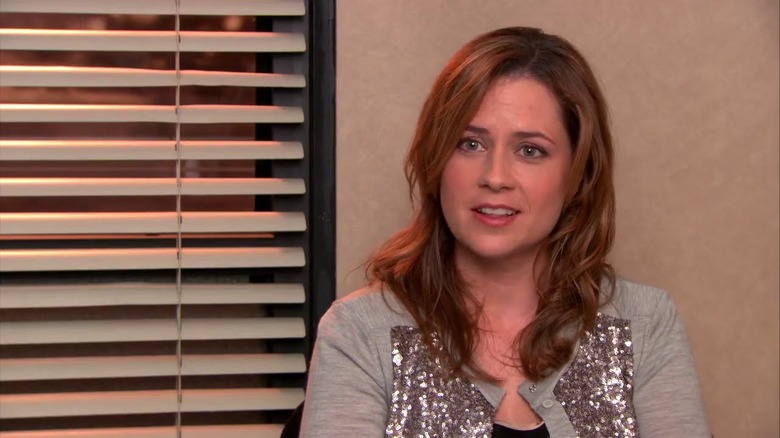 NBC
As fans know, the final shot of the series itself shows Pam taking her drawing of Dunder-Mifflin off of the wall, which was also the last scene they actually shot chronologically. "Pam taking the photo off the wall was definitely the last shot," crew member Mary Wall confirmed to Greene. "It felt so final to everyone there. Greg was standing off by the camera and Ken Kwapis was shooting it. And he shot it a few times, and I think everyone was exhausted, that whole crew. They had worked so hard that week. I mean, I don't even know how much they could emotionally process, because of how hard they worked that week. And even with all of that, there was sort of the feeling like no one wanted to yell cut on the scene. At one point, Ken just looked over at Greg and gave a look like, 'I've got the scene. You can keep shooting it, but we have it. We have good cuts of this. We're good to go.' And usually, the director will yell 'cut' or 'wrap.' but Ken was like, 'Well, Greg, do you want to say it?' Then Greg said, 'That's a wrap. That's a series wrap on 'The Office.'"
There was a wrap party shortly after, and caught up in their own celebration, the actors were the last to show up. "I just remember afterward the actors went into John [Krasinski]'s trailer and we all had a quick toast and a drink. But I felt like Greg didn't want it to end ... I felt nobody wanted it to be over, to the point that we were late to our own wrap party, which was all the way across town. We all had to book it over there."
It's touching that everybody involved with "The Office" got to celebrate appropriately, no matter how sad they were to see it end. "The Office" is available to stream on Peacock now.