The Beauty And The Beast Actor You Never Realized Starred In MASH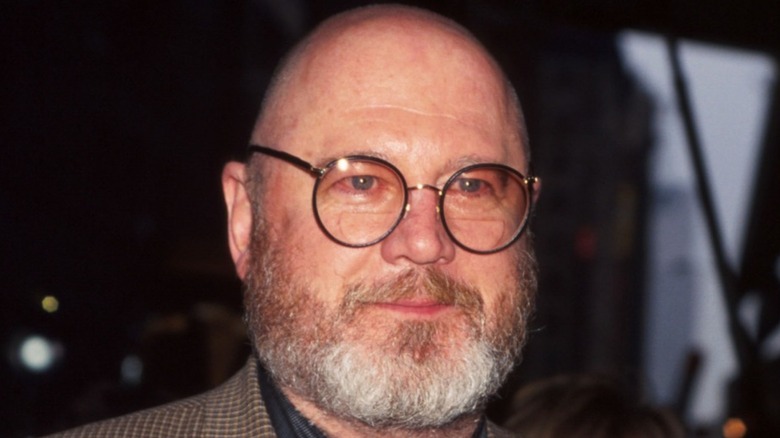 Evan Agostini/Liaison
Is there any movie more magical than "Beauty and the Beast"? For all that gets said about Disney Animation's 1990s run comprising the careful refinement of a winning formula, there may be no other entry in the studio's entire oeuvre that hits all of the Disney fairytale marks so perfectly. Thirty years on, everything about the film remains untouchably gorgeous and enchanting, as though it had not been made but gifted to us.
But sure enough, "Beauty and the Beast" was made, and painstakingly at that. One of the things that make it such an artistic miracle is how unlikely its production process was — a lightning-in-a-bottle moment coming at the tail end of decades of development turbulence, right on the cusp of a transition to a new studio era. For example, while the Disney Renaissance would eventually become known for its frequent headline-making recruitment of A-list movie stars to voice main characters, from Robin Williams in "Aladdin" to Eddie Murphy in "Mulan," "Beauty and the Beast" may have been the last Renaissance film to eschew star power entirely.
That doesn't mean there weren't stars in it, of course. But, befitting the movie's otherworldly sweep, they were character actors and veterans perfectly suited to their roles, as opposed to hot box office draws: Broadway thespian Paige O'Hara gave Belle her soulful personality; opera singer Richard White materialized Gaston's high-camp theatrics; Dame Angela Lansbury's work as Mrs. Potts made the titular song a classic. And one particular cast member put his comedic chops to use again, after making his name in one of TV's all-time greatest sitcoms.
David Ogden Stiers played both Cogsworth and Maj. Winchester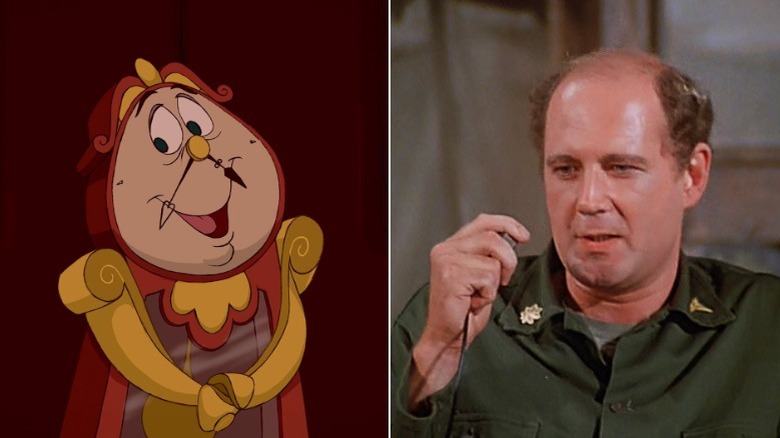 Buena Vista Pictures, CBS
Adapted from Robert Altman's 1970 classic, which in turn was adapted from a 1968 Richard Hooker novel, CBS' "M*A*S*H" was one of the most important TV shows, not just of the '70s but of all time, combining sitcom, medical drama, and war cinema tropes into what arguably became the defining piece of American media about the Korean War.
One of the show's most memorable characters didn't join the series until its sixth season: Following the return home of de-facto villain Maj. Frank Burns (Larry Linville), he was replaced by Charles Emerson Winchester III (David Ogden Stiers), a cultured, aristocratic Boston surgeon who added to the show's dynamic in a very different way from his predecessor. Though snooty, grumpy, and initially antagonistic toward protagonist Hawkeye (Alan Alda), Maj. Winchester proved to be a sympathetic character thanks to his incredible surgical skills and his dry, straight-man sense of humor.
Stiers, previously an unknown, earned two Emmy nominations for the role and built on it with a prolific film and TV career over the following four decades before his passing at the age of 75 in 2018. As such, it's no surprise that when Disney's plans to have Monty Python's John Cleese voice snobbish majordomo-turned-pendulum clock Cogsworth fell through (via TheWrap), Stiers was called in as the replacement. Along with Jerry Orbach as Lumière, he became the comedic soul of "Beauty and the Beast" — and even pulled double duty as the narrator of the film's iconic, spine-tingling prologue.