Josh Duhamel's Hilarious Response To Netflix Canceling Jupiter's Legacy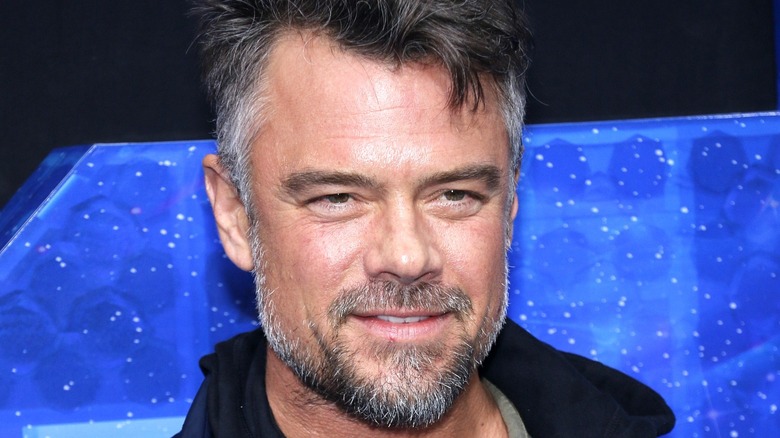 Shutterstock
Netflix strikes again. The streaming service that has become synonymous in equal parts with exciting, original series and canceling exciting, original series has sent yet another show to pasture too soon.
In the midst of animated superhero shows like "Invincible" on Amazon Prime and "MODOK" on Hulu succeeding, Netflix's latest live-action comic book adaptation "Jupiter's Legacy" floundered by comparison. Reviews for the series were largely negative, and while Netflix tends to only share viewing numbers for their success stories, in all likelihood, there simply weren't enough people watching to justify the costs of a superhero show.
"Jupiter's Legacy" isn't technically canceled. In a statement on Twitter, "Jupiter's Legacy" creator Mark Millar announced that "we've made the tough call of letting our incredible cast out of their show commitment." The intention is to continue the Millarworld with a live-action adaptation of another comic Millar created with Leinil Francis Yu: "Supercrooks."
It turns out that Josh Duhamel, one of the stars of "Jupiter's Legacy," has a very tongue-in-cheek response to finding out he's currently out of a job.
Duhamel's latest photo shows off what Netflix is missing
Josh Duhamel plays Sheldon Sampson, aka The Utopian, on "Jupiter's Legacy." The character is the leader of the Union of Justice and is effectively Mark Millar's version of Superman. And, much as the children of the Union of Justice struggle to adhere to the rigid standards their parents left for them, so, too, does it appear that Duhamel is struggling to let go of The Utopian — at least in jest.
In a post to his official Facebook page, Duhamel shared a picture of himself in full hair and makeup (long, gray hair and beard) but completely shirtless — as you do when you're emotionally working stuff out and want to remind your ex what they're missing. Included with his post is a statement which reads, "When you get dumped by @netflix and have to put yourself back out there.... #sexysantasummer."
There is one other sentence from that post: "What's up, @hulu?" Based on Millar's statement regarding "Jupiter's Legacy," it doesn't seem terribly likely the series will be picked up elsewhere. Considering that Duhamel himself recently voiced Harvey Dent, aka Two-Face, in the "Batman: The Long Halloween" animated films, has two other films in post-production and is listed as currently filming "Bandit" alongside Mel Gibson and Elisha Cuthbert, we imagine he's actually handling the end of "Jupiter's Legacy" just fine.
The one (and likely only) season of "Jupiter's Legacy" is streaming on Netflix now.