The Best Time Robin Ever Broke Character On How I Met Your Mother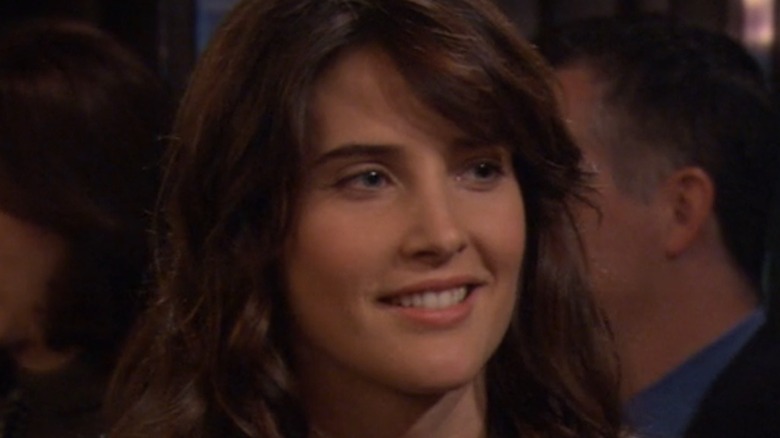 CBS
The "How I Met Your Mother" blooper reels are full of the cast acting suggestively with each other: Sometimes there's full-on kissing, or just improvised racy jokes, like the best time Ted (Josh Radnor) broke character. However, Robin's (Cobie Smulders) funniest moment isn't an exaggerated impromptu make-out session with a cast member, but instead one that involved a prop glass and a manatee costume.
First, a refresher: "How I Met Your Mother" likes to play around with reality, just a bit, to show us what the characters are thinking. The Season 6 episode "The Mermaid Theory" stretches the real world when the unlikely pair of Marshall (Jason Segel) and Robin get together for dinner after realizing they rarely hang out together one-on-one. While sharing the awkward meal, Marshall tells Robin why they're never alone together: Barney's (Neil Patrick Harris) Mermaid Theory.
"The Mermaid Theory" is based on how sailors spending long stints at sea would look at manatees and equate them to mermaids, which is not entirely inaccurate, as many believe mermaid legends are derived from manatees. But Barney goes on to say that any woman will go from unattractive to attractive — aka manatee to mermaid — if given enough time around a man. Out at dinner, Marshall looks at Robin and sees a manatee, but he's nervous about her turning into a mermaid.
Here's how this bit set up the best time Robin ever broke character.
While in a manatee costume, Robin tries to take a drink
Barney's idea is a questionable "theory" and, like many Barney scenes, it hasn't aged very well.  But in the process of filming it, Cobie Smulders had to put on a ridiculous manatee outfit that made movement nearly impossible. In the blooper reel, at about the 1:25 minute mark, she's sitting at the table with her co-star Jason Segel when she asks him for help picking up her cup of what is presumably water.
She's trying to take a sip of the drink while maneuvering her giant manatee flippers, with Segel holding it for her, but instead of drinking it like normal, she just goes in with her tongue. It's a hilariously awkward moment that evokes imagery of a cat lapping at a bowl, but then she just looks straight at the camera while sticking her tongue out — and that's when the cast and crew start to lose it. Their laughter can be heard in the background while Smulders makes unwavering eye contact with the camera, licking water from the cup, making for a great moment in the reel.
In the actual scene, Robin merely picks up the glass by herself, but doesn't attempt to drink from it. Of course, in "reality," Robin is not in a manatee suit — that part is in Marshall's imagination — so acting encumbered by it wouldn't make sense in the show. Still, we can enjoy her out-of-character moment of silliness on the thoroughly amusing blooper reel.