This Is Where Things Heard & Seen Was Filmed
Netflix
While the new Netflix movie "Things Heard & Seen," released on April 29, differs substantially from the Elizabeth Brundage book it's based on, one key element that producers kept the same was the story's setting in Upstate New York — although the movie is set a decade later than the book, in the early 1980s. 
"Things Heard & Seen" follows Catherine Clare (Amanda Seyfried) as she adapts to a new and different life in the fictional rural town of Chosen, New York, after her husband George (James Norton) gets a job teaching art history at a local private college called Saginaw. Being transplants from the bustling streets of Manhattan, this move is rather jarring, and the setting itself often takes center stage, with long shots of the scenery, as well as closeups of Romantic Era landscapes sprinkled throughout the film.
Whether or not you liked the movie, the beauty of this backdrop is undeniable. So if you're wondering where you can visit Chosen's quaint farmhouses and old town buildings in real life, keep on reading.
Things Heard & Seen was actually filmed in Upstate New York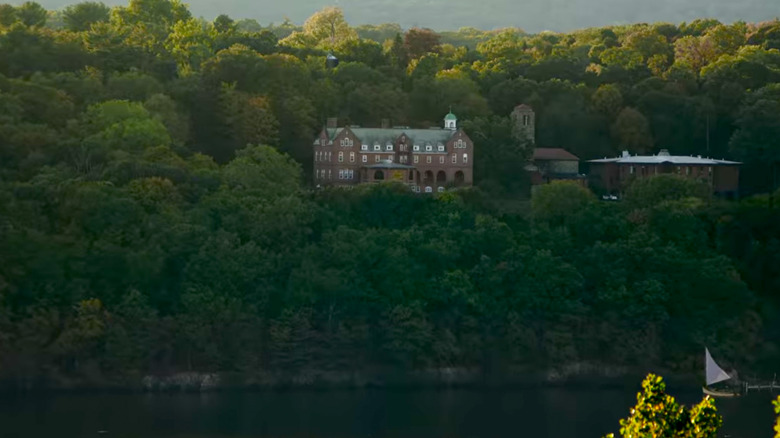 Netflix
Before you look for Chosen, New York on Google Maps, remember that the town itself is not a real place. However, "Things Heard & Seen" was actually shot in upstate New York's Hudson Valley. According to News 12 Long Island, the majority of the movie was filmed in Dutchess County, just a couple hours' drive north of Manhattan. The scenes set in the Chosen Library were filmed at the Red Hook Public Library, while the beautiful grounds of Saginaw College, where George Clare works, were actually shot in two locations, the Unification Theological Seminary — which is five miles west in Barrytown — and the Holy Cross Monastery in West Point — just outside Dutchess County and across the Hudson River. When Amanda Seyfried's character goes to Chosen's historical society, the bright red exterior of the building is the Red Church in Tivoli (five miles north of the seminary), but the inside of the building was shot back in Red Hook, at the Elmendorph Inn. So, while "Things Heard & Seen" may not have been filmed all in one town, these locations are all very close.
The haunted house that the Clares move into is also located in Dutchess County, in the town of Millerton (via Atlas of Wonders). The home was built in 1850, and the property was actually sold in 2018 for $825,000 (via Zillow)! Hopefully the new owners enjoy the property more than Catharine Clare did.