Pam & Tommy: Director Craig Gillespie Teases His Tommy Lee And Pamela Anderson Series - Exclusive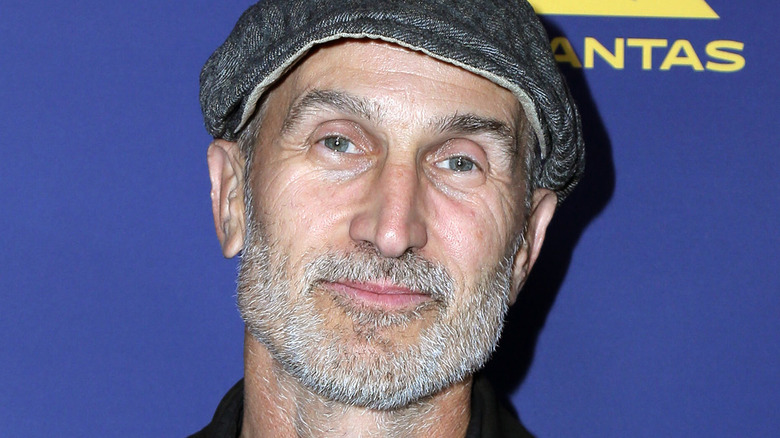 Shutterstock
Fresh off his latest film, the Cruella de Vil origin story, "Cruella," director Craig Gillespie is already at work on his next project: a streaming series that chronicles the real-life exploits of a scandal-ridden celebrity couple from the 1990s.
The internet was buzzing last month when fans were treated to the first photos from Gillespie's upcoming Hulu miniseries, "Pam & Tommy," thanks to a revealing Instagram post by MCU star Sebastian Stan. The actor — who recently starred opposite Anthony Mackie in the Disney+ series "The Falcon and the Winter Soldier" — plays Mötley Crüe drummer Tommy Lee, while "Cinderella" and "Mamma Mia: Here We Go Again" star Lily James plays "Baywatch" icon Pamela Anderson.
Directed by Gillespie, "Pam & Tommy" reportedly begins back in 1995, when the rocker and former Playboy Playmate wed after only knowing each other for 96 hours. The eight-episode series will chronicle the media frenzy over the couple's infamous sex tape that was purportedly stolen and distributed on the internet. The series also stars Taylor Schilling, Nick Offerman, and Seth Rogen, so it isn't lacking for star power.
Pam & Tommy is cut from the same cloth as Gillespie's I, Tonya
In an exclusive interview for "Cruella," Gillespie gave Looper an early peek into "Pam & Tommy," and hinted at what viewers can expect from the series. From the outset, Gillespie's approach to Lee and Anderson's story mirrors that of his direction of the Tanya Harding biopic "I, Tonya." Chronicling the life of Olympic figure skater Tonya Harding and her rivalry with frequent competitor Nancy Kerrigan, "I, Tonya" earned Margot Robbie a Best Actress Oscar nomination for her portrayal of the scandal-ridden Olympic skater. The film also stars Stan as Harding's then-husband Jeff Gillooly, the mastermind behind the 1994 baton attack on Kerrigan.
At the time of the interview, the director said he was four weeks into shooting "Pam & Tommy," and that Stan and James' performances were "both amazing."
"It's a sort of an interesting story. Again, it's not dissimilar to 'I, Tonya' in the sense of looking at how society's being complicit," Gillespie said. "We get to hold a mirror up again, so it's about our role in this and the destruction that it actually has in their personal lives, but we get to look at all the characters. Again, I think from more of a nuanced place. It's not black and white. Everybody is culpable in certain ways, and we understand all the motivations going on, and it's kind of a fascinating, wild ride."
The release date for "Pam & Tommy" has not yet been announced, but the series is expected to premiere sometime in 2022. In the meantime, fans can see Gillespie's "Cruella" in theaters nationwide and streaming exclusively on Disney+ with Premier Access.