Sebastian Stan Breaks The Internet With New Pam & Tommy Photo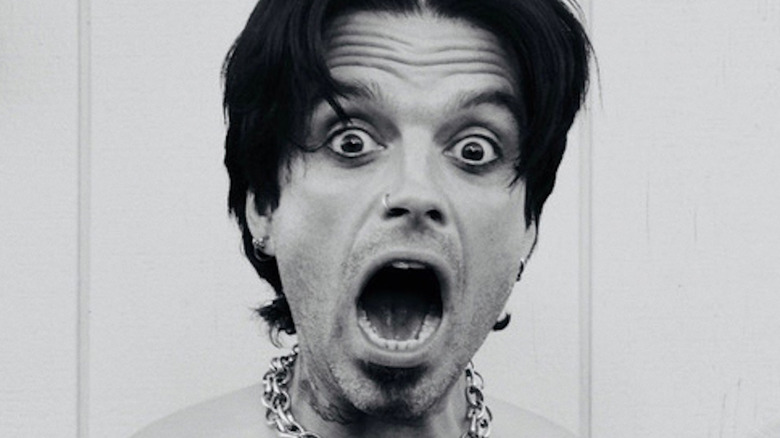 Hulu
Sebastian Stan shocked a lot of people in early May 2021 when he debuted his surprising new look for his next big project: the upcoming Hulu limited series "Pam & Tommy," in which he portrays former Motley Crüe drummer Tommy Lee. According to Hulu (via Deadline), the comedic series will tell the "true story behind the release of the first ever viral video in history — the sex tape of Pamela Anderson and Tommy Lee." Lily James of "Cinderella" and "Mamma Mia! Here We Go Again" fame portrays the former "Baywatch" star.
For his transformation into Lee, Stan grew out his hair, while the show's excellent makeup team applied a number of fake tattoos and piercings to his body to complete the look. The actor, who recently reprised his fan-favorite role of Bucky Barnes for Marvel's Disney+ superhero show "The Falcon and The Winter Soldier," has been posting to his Instagram account photos of himself in costume ever since the first images were released. However, Sebastian Stan's latest picture from the "Pam & Tommy" set really seems to have fans buzzing.
Fans are obsessed with the photo of Sebastian Stan in an apron
In the photo, which the actor posted on Sunday, May 30, Sebastian Stan is shirtless and wearing an apron that says "kiss da cook," with one of the Os in the final word being a set of lips. He captioned the photo "#sunday." Instagram user @sebastianstanfan had a great reaction to the photo, writing, "And this is how Uncle Bucky showed up to the cookout the following weekend."
Meanwhile, Paul Walter Hauser — Stan's co-star in the movie "I, Tonya," in which Stan donned a '90s mustache and transformed himself into Jeff Gillooly – wrote, "I'll get the Tic Tacs," adding a kissy face emoji to the end. A fan with the username @thewinterarrow seemed to sum up the overall reaction from fans, commenting, "SEBASTIAN STAN MAN YOU'RE LOOKING GOOD."
Over on Twitter, where Stan does not have an account, the reaction was more of the same. User @TipaEsta shared Stan's Instagram photo and wrote, "You ever see a guy this handsome walking on the streets he's gonna get arrested because he's killing all the ladies pow pow pow pow pow."
If this is the reaction to one of Sebastian Stan's photos from the set of "Pam & Tommy," you can only imagine what the reaction will be when the show actually debuts.