Why Theresa From The Kominsky Method Looks So Familiar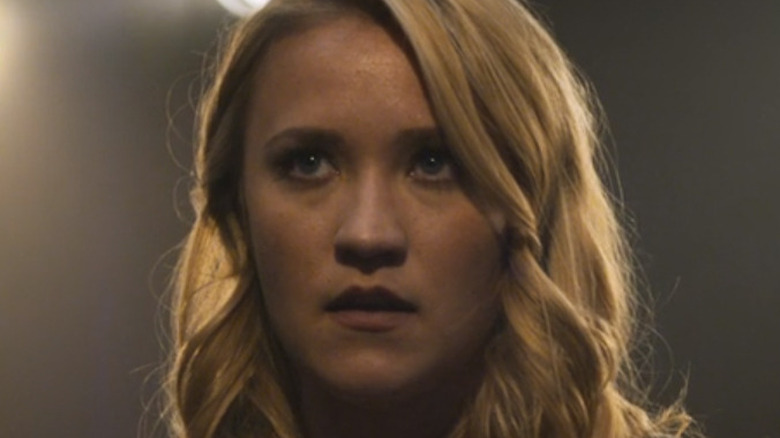 Netflix
Chuck Lorre is one of the best known names in the business of producing traditional sitcoms. His credits include everything from "Roseanne" to "Two and a Half Men" all the way up to the nerdy juggernaut "The Big Bang Theory." And while Lorre continues to be one of the biggest players in network television, he's also found enormous success elsewhere, too.
For three seasons, Lorre's Netflix series, "The Kominksy Method," has weaved a tale of older people figuring out what their lives can still be a little further down the road. The first two seasons of the show primarily focus on the relationship between retired actor-turned-acting coach Sandy Kominsky (Michael Douglas) and his agent Norman Newlander (Alan Arkin). The series features a ton of familiar TV and film faces, including Lisa Edelstein, Paul Reiser, and Kathleen Turner. Naturally, "The Kominsky Method" follows a few of the younger people who come into our stars' spheres as well. Since Sandy Kominsky is an acting coach, a lot of the younger people he encounters are actors themselves.
One of the recurring members of Kominsky's class is Theresa, played by Emily Osment. One look at her last name, and you already probably know her because both she and her brother, Haley Joel Osment, have been acting since they were kids. But what are the specific roles you probably know Emily from? To answer that, we have to take a look at some of the notable work she's done over the years.
Emily Osment was a Spy Kid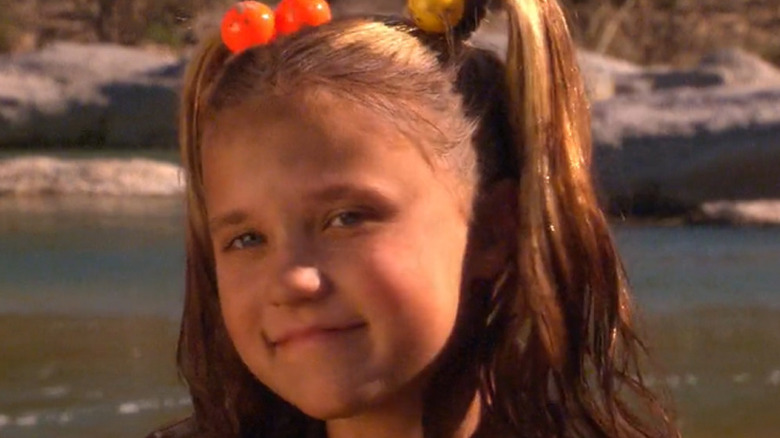 Dimension Films
Since Emily Osment is an actor who got her career started very early, let us start with one of the first major franchises she was ever a part of — "Spy Kids."
The all-ages spy franchise created by now-legendary filmmaker Robert Rodriguez centers around Carmen (Alexa Vega) and Juni Cortez (Daryl Sabara), who find out their parents are a part of the Organization of Super Spies (OSS), and become a pair of young super spies themselves. The "Spy Kids" franchise has four entries and spans ten years from 2001 to 2011 — and one of Emily Osment's first big roles came in the second and third films.
After the events of the first "Spy Kids," the OSS decides to create a unit specifically for kid spies. You might think that, since Carmen and Juni saved everyone's collective bacon in the first film that they would be the top kid spies, but that designation belongs to another pair of siblings — Gary (Matt O'Leary) and Gerti Giggles (Emily Osment).
In "Spy Kids 2: The Island of Lost Dreams" the villains of the story are Gary and his father Donnagon (Mike Judge). While she's egotistical, Gerti is not as villainous as her family, and ultimately helps defeat them. In fact, Gerti defeats her father by threatening to tell her mother what he has been up to.
If you're still having any trouble remembering Osment's performance as Gerti, you almost certainly remember her as the girl who is able to fly like a helicopter with the power of her ponytail hair bands.
Emily Osment played Lilly Truscott on Hanna Montana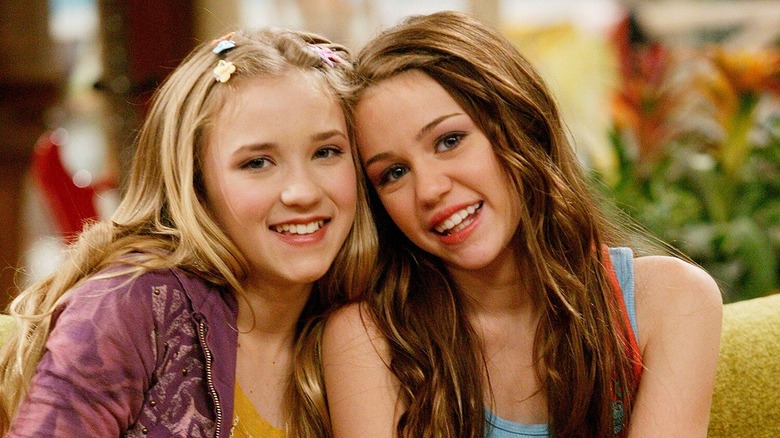 Disney Channel
Miley Cyrus is one of the biggest pop stars in the world. She's had massive hits on the Billboard charts over the years like "Party in the USA," "Wrecking Ball," and "Nothing Breaks Like a Heart," and recently she's been riding high on the success of her more rock-forward record "Plastic Hearts." But long before she was a star as herself, Cyrus was best known as her alter ego Miley Stewart — and Stewart was best known for her alter ego, pop sensation Hannah Montana. "Hanna Montana" is a Disney series focused on a popular teen pop star who uses the very high-tech power of a wig to hide her identity so she can have a normal, teenage life in between bouts as a famous singer.
As you might imagine, Miley doesn't want to keep her secret from everyone, so she shares her secret identity with her closest friends, Oliver Oken (Mitchel Musso) and Lilly Truscott (Emily Osment). Lilly Truscott is, in some ways, Miley's friend and foil. Miley can sing, but Lilly can't. Lilly is extremely athletic, but Miley mostly keeps to cheerleading and horseback riding when she isn't being Hanna Montana. And just like Miley has an alter ego, so does Lilly — Hanna Montana's right-hand girl and partner, Lola Luftnagle.
Interestingly, Lilly Truscott is the character Miley Cyrus first tried out for. In the end, though, considering Emily Osment was able to do many of Lilly's stunts herself, it's fair to say the actors wound up the roles they were meant for.
Emily Osment played Gabi Diamond on Young & Hungry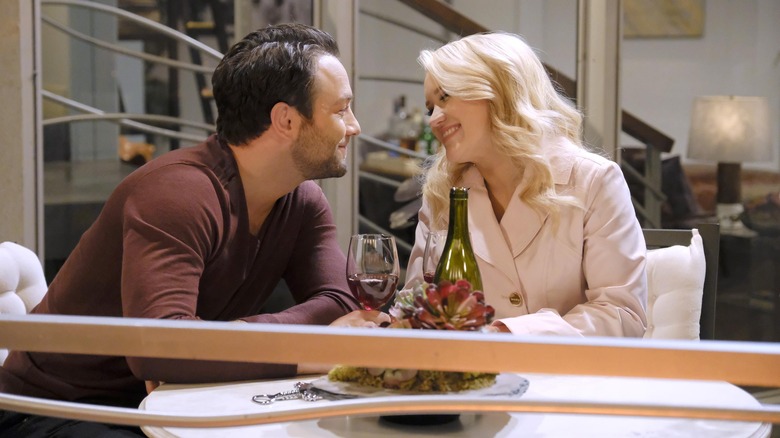 Freeform
Before the advent of social media influencers, there were bloggers — writers with spaces all their own to discuss whatever they wanted. Arguably the most popular kind of blog was and is the food blog — websites with personal stories about fine (and not so fine) cuisine. If you've ever Googled a recipe, you've probably gotten caught up in a post about life and love that just so happens to also be about making food.
One of the most popular food blogs is Gabi Moskowitz's BrokeAss Gourmet. The blog is so popular, in fact, that, in addition a cookbook, it also inspired a TV series very loosely based on Gabi Moskowitz herself. The Freeform series "Young & Hungry" focuses on a young chef named Gabi Diamond played by, you guessed it, Emily Osment.
"Young & Hungry" ran for five seasons and centers around the complicated relationship between Gabi Diamond and her young tech mogul boss Josh Kaminski (Jonathan Sadowski). The series begins with Diamond winning a job as Kaminski's private chef. Their professional relationship quickly goes off the rails after Diamond comforts Kaminski with mashed potatoes after his girlfriend breaks up with him. The pair wind up in bed together, only for Kaminski and his girlfriend to reunite and become affianced. Despite the complex situation, Diamond stays on as Kaminski's personal chef and the pair's connection slowly flourishes. 
Although there was supposed to be a movie to end the story, "Young & Hungry" ended in 2018 after five seasons and 71 episodes. Osment appeared as Theresa in "The Kominsky Method" that same year, and the rest is history.