This Is Who Plays Ben In Cruel Summer
Contains mild spoilers for "Cruel Summer"
Leading up to the release of Freeform teen drama series "Cruel Summer," executive producer Jessica Biel explained that the project was intended to present young actors with the types of acting opportunities she wished she had when she was their age (via Deadline). Prior to her relatively low-key present-day career, Biel was one of the stars of "7th Heaven," taking on the role of Mary Camden when she was just 14 years old. Biel, then, is drawing from her personal experience in producing a show she believes will appeal to today's performers who are now the same age she was at the start of her career.
"Cruel Summer" is something of a crime series, though not necessarily of the typical "whodunnit" variety. The story of "Cruel Summer" is relegated not to a single summer as its title would suggest, but instead spans the summers of three consecutive years in the 1990s. In 1993, the series' earliest timeline, a popular high schooler named Kate Wallis (Olivia Holt) is kidnapped. Meanwhile, the socially ostracized Jeanette Turner (Chiara Aurelia) becomes more popular in the wake of Kate's disappearance. Then, when Kate returns the future timeline, she blames Jeanette for her kidnapping, spurring a frenzy in which Jeanette is vilified by her peers and even the media at large. Over the course of the series, the characters attempt to unravel the details of Kate's disappearance and the extent of Jeanette's culpability.
A fellow student named Jamie Henson (Froy Gutierrez) is the romantic interest of both Kate and Jeanette, further amplifying the conflict between the two girls. Jamie's best friend is Ben, who appears to be something of an innocent bystander to the series' drama. Ben is portrayed by actor Nathaniel Ashton, a relatively new face in Hollywood.
Getting to know Nathaniel Ashton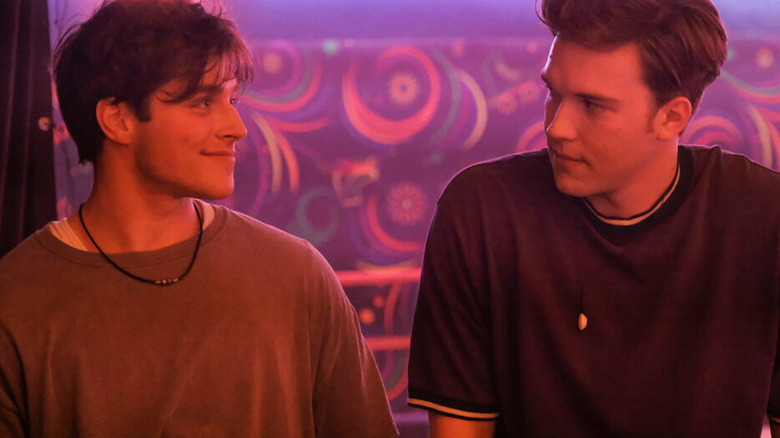 Freeform
Nathaniel Ashton's debut as an actor was in the TV series "The Price of Fame," a series on the Reelz network that dramatizes the true stories of how certain celebrities became famous. Ashton played real-life actor Ryan Phillippe in an episode about Reese Witherspoon's journey to stardom. (Coincidentally, Phillippe starred in "I Know What You Did Last Summer," another work with "Summer" in its title.)
Ashton next appeared as one of the leads in a short film titled "Texas High School Football." He then went onto appear in single-episode supporting roles in the murder mystery TV series "Mr. Mercedes" and the gritty drama "Ashes" prior to his recurring role in "Cruel Summer."
Based on his upcoming credits, "Cruel Summer" may be the start of a burgeoning Hollywood career for Ashton. He's currently slated to appear in two features: "Flip Turn" and "Caged Birds." The former film chronicles the story of a burgeoning swimmer, and the latter is about a group of high schoolers attempting to cover up an accidental murder. Ashton will appear in supporting roles in both films. Fans can keep up with Nathaniel Ashton on Instagram and Twitter.