The Supernatural Thriller Anime You Can Binge On Netflix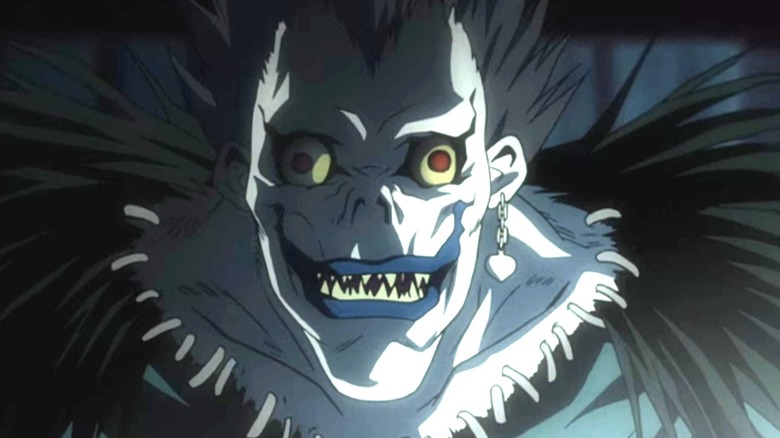 NTV/Cartoon Network
If you had the power to rid the world of evil, how many lives would you be willing to sacrifice to do so? That is one of the questions at the heart of the anime "Death Note." Based on a popular manga of the same name, this 37 episode-long anime series that is currently available on Netflix follows a high school student named Light Yagami (Mamoru Miyano/Brad Swaile), who comes into possession of a supernatural notebook. Anybody whose name he writes in the pages will die soon after, giving Light a God-like power.
After meeting a death demon called Ryuk (Nakamura Shidō/Brian Drummond), who explains the book's abilities, Light decides to put his newfound capabilities to use. He declares his intention to rid the world of evil by writing the names of criminals in the book, thus purging them and creating a new society. Of course, such endeavors are never that straightforward. After criminals begin turning up dead by the dozen, a mysterious detective named L (Kappei Yamaguchi/Alessandro Juliani) begins to investigate the strange deaths. It puts Light on a collision course with accountability and tests the strength of his convictions.
The story's themes of morality and mortality, unique supernatural elements, and nods to Japanese mythology helped make "Death Note" a massive hit. While the anime adaptation is one of the most popular — it was number 51 on IGN's list of the Top 100 Anime Series — it's far from the only time the story of Light and his deadly notebook have been taken from page to screen.
Death Note's many adaptations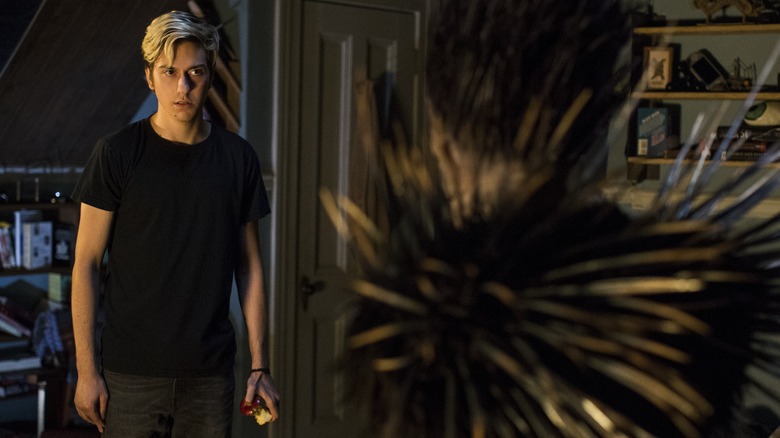 James Dittiger/Netflix
In addition to the 2006 anime, "Death Note" has also been turned into a live-action movie (which spawned multiple sequels and spin-offs), a 2015 TV series that ran for one season, and even several video games. While most of these adaptations were produced in Japan, American audiences did also get their own unique version of "Death Note."
2017's "Death Note" is a live-action film adaptation of the manga series that was directed by Adam Wingard of "You're Next" and "Godzilla vs. Kong" fame. It stars former Nickelodeon star Nat Wolff as Light, recent Oscar nominee Lakeith Stanfield as L, and Willem Dafoe as Ryuk. Despite the talented director and stacked cast, the adaptation didn't fare well with critics or with fans, with many criticizing the changes the film made to the source material.
Brian Tallerico of RogerEbert.com said of the film, "it doesn't feel like any of these alterations to the source material, and there are many of them, had true artistic or thematic purpose." Meanwhile, Clio Chang dinged the adaptation for whitewashing the original story and ethos of the manga for American audiences in their review for The New Republic, writing, "the new Death Note does nothing to rectify [the original's] failings, while also missing the mark on all the good stuff."
The American adaptation is a Netflix original film, so if you're curious to find out whether or not you agree with the critics, you can check it out after streaming the classic 2006 anime version of "Death Note."