Cruella's Horace And Jasper Reveal What It's Really Like Working With Emma Stone And Emma Thompson - Exclusive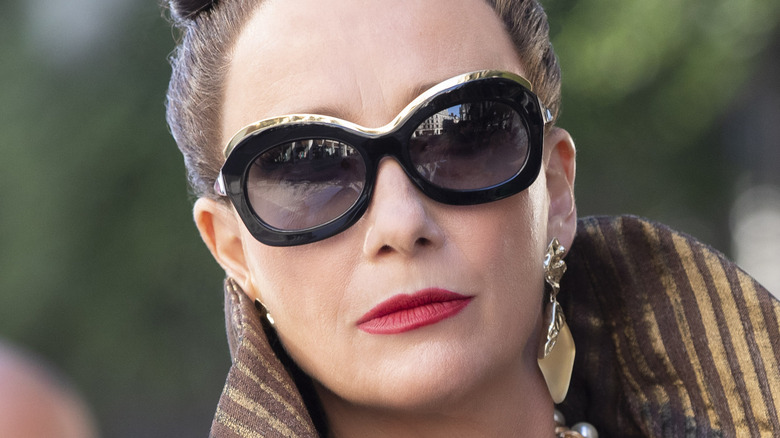 Walt Disney Studios Motion Pictures/Disney+
Naturally, the new Cruella de Vil origin story tracks the early days of the famed Disney villain, but she's not the only character "Cruella" director Craig Gillespie and writer Tony McNamara brought in from classic animated and live-action versions of "One Hundred and One Dalmatians." As fans learn at the beginning of "Cruella" — playing in theaters nationwide and streaming on Disney+ with Premier Access — Cruella actually begins her life as Estella, an orphan who befriends a pair of homeless boys, Jasper and Horace, in 1960s London. Learning to perfect the art of street grifting over the next 10 years as they reach adulthood, Estella (Emma Stone) is still intent of realizing her dream of becoming a fashion designer.
Thanks to the help of Jasper (Joel Fry) and Horace (Paul Walter Hauser), Estella gets a job at a posh fashion department store, and by mere happenstance her work is discovered by feared fashion legend Baroness von Hellman (Emma Thompson). But Estella's dream soon turns into a nightmare as the Baroness claims the young fashion maven's work as her own. Worse yet, Estella's angst is compounded by the revelation of a dark secret the Baroness is harboring about her mother, leading to her transformation into Cruella de Vil and a plan to dismantle her boss' fashion empire.
The actors behind Cruella's cronies opened up about working with the two Emmas.
A tale of two Emmas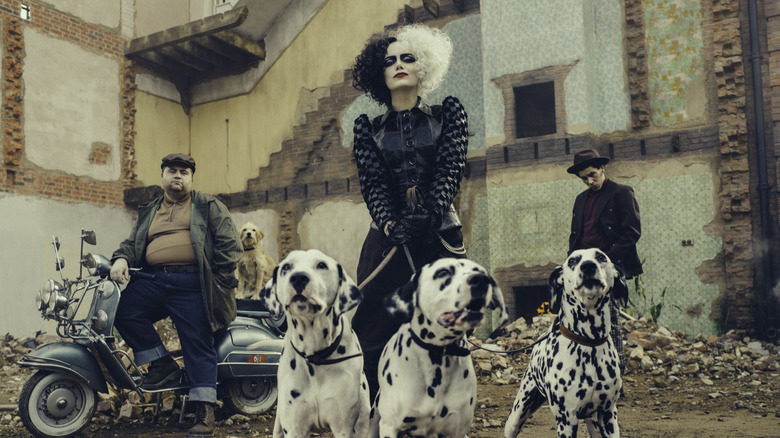 Walt Disney Studios Motion Pictures/Disney+
Lucky for Paul Walter Hauser, whose credits include such acclaimed films as Gillespie's "I, Tonya," and director Clint Eastwood's "Richard Jewell," "Cruella" gave him a second opportunity to work with Emma Thompson. His work with Emma Stone marked a first. "The Emmas are incredible. I had worked with Emma Thompson previously on 'Late Night,' a movie she and I did together, and I got to see her firsthand making people laugh and also making people cry," Hauser shared with Looper in an exclusive interview. "And [with] that, I think people that can do comedy and drama make the best villains, because they know how to kind of play all angles. Think of Allison Janney in 'I, Tonya' or 'Steve Carell in 'Foxcatcher,' or even Forest Whitaker, [who] has such a gentle, artistic, soulful spirit, but his best role is probably playing Idi Amin and being terrifying in 'The Last King of Scotland.' So, I think Emma Thompson is perfect for this villain role with that duality, and I think Emma Stone also has to embody some of that as she transitions from Estella to Cruella."
Both Horace and Jasper are baffled by Estella's sudden shift into a darker demeanor when she assumes the guise of Cruella, which provided additional challenges to Hauser and Joel Fry because they each had to react to the same actor playing two different characters. Estella's transformation into evil, essentially, was hard for Horace and Jasper to take, because they considered the innocent girl they bonded with years before as family, noted Fry, whose credits include "Game of Thrones" and "Yesterday." "There's a portion of the film, like a family angle to the film, a thread through it. In fact, there is all the way through it — a family kind of thread," Fry told Looper. "Actually, thinking about it, [it was like] losing someone you kind of considered to be part of your family [who is] essentially losing their mind, and losing themselves. We tried to kind of pull that back and ground it."
Also starring Kirby Howell-Baptiste, John McCrea and Mark Strong, "Cruella" is playing in theaters nationwide and streaming on Disney+ with Premier Access.