Fans Have Strong Reactions To Emma Stone's Performance In Cruella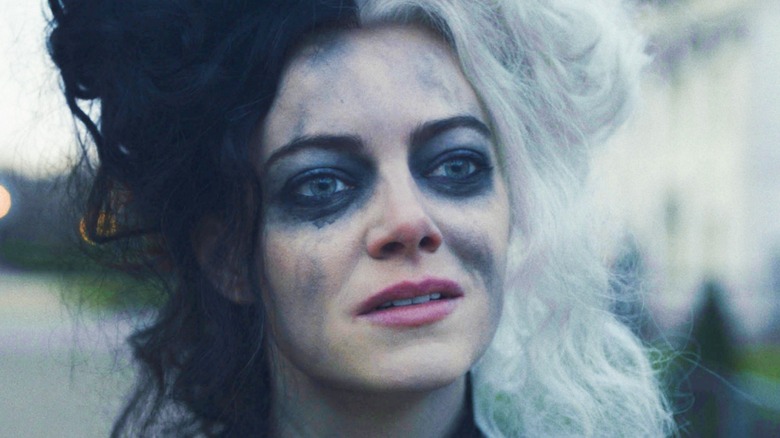 Walt Disney Studios Motion Pictures/Disney+
Disney's newest villain story, "Cruella," hit theaters and Disney Plus Early Access with a bang over Memorial Day Weekend. The live-action film inspired by the animated "101 Dalmatians" movie tells the origin story of femme fatale with a penchant for furs, Cruella de Vil. So far it looks like audiences and critics are impressed with Disney's most recent reimagining of an old classic, with Rotten Tomatoes reporting a score of 73% on the Tomatometer and a 97% audience score.
It was a long road of development for "Cruella," which began in 2013 when Andrew Gunn was flagged to produce the Disney villain prequel. Glenn Close, who played the role of Cruella de Vil in the 1990s live-action remake "101 Dalmatians" and its sequel, "102 Dalmatians," was also one of the movie's executive producers. Since then, the script had to be rewritten a few times, and director Craig Gillespie stepped in to take the place of Alex Timbers. After several issues, and initial release delayed due to the pandemic, "Cruella" has finally made it to the big screen. 
It's the casting that's the most important aspect for fans, though, and when Emma Stone was announced to play the titular role in "Cruella," it definitely made some ears perk up. The Academy Award and Golden Globe winner has been established as a true talent for her impressive acting chops, but how did she deliver with taking on the role of an iconic Disney villain? Fans who saw the movie over the long weekend had a few things to say about Stone's performance online.
Emma Stone as Cruella is blowing fans' minds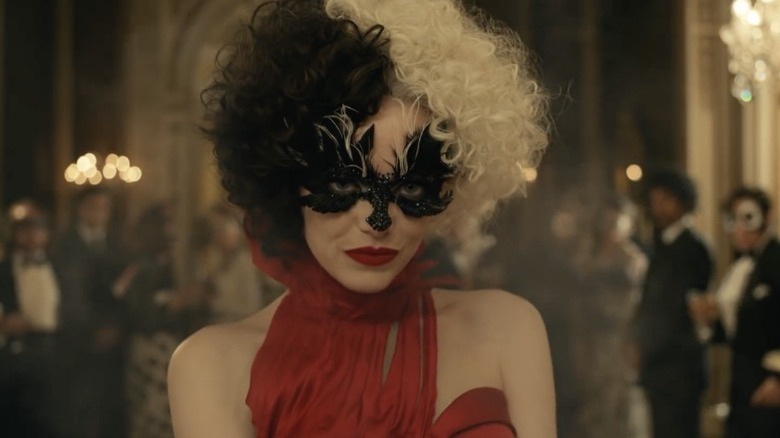 Walt Disney Studios Motion Pictures/Disney+
Twitter has been buzzing with thoughts about "Cruella" since the movie's release. Many have been comparing the film as a crossover between "Joker" and "The Devil Wears Prada," and giving special attention to the fabulous costumes featured in the movie. But, of course, the most talked-about aspect of the film is Emma Stone's portrayal of the complex title character.
"Just finished #Cruella and all I have to say is Emma Stone supremacy today and always," said @taylordspatrol.
"Emma stone as Cruella, a goddess if you ask me," wrote user @parilla_smile, and Twitter user @amyardams chimed in, "Emma stone as cruella is officially my favourite thing ever." Stone's performance was also described as "majestic" by @everblanchett and @wantslauren, while @kitanban called the actor "phenomenal as always."
Well, it looks like the verdict is in on Stone's portrayal of Cruella de Vil, and fans are loving it. So far the film has made over $37 million at the box office (via ComingSoon.net), putting it in second place behind "A Quiet Place Part II." With summer only just about to begin, you can bet that "Cruella" will continue killing it in theaters and on Disney+ throughout the season.