The Vintage Poker Cheating Device That Sold For Hundreds On Pawn Stars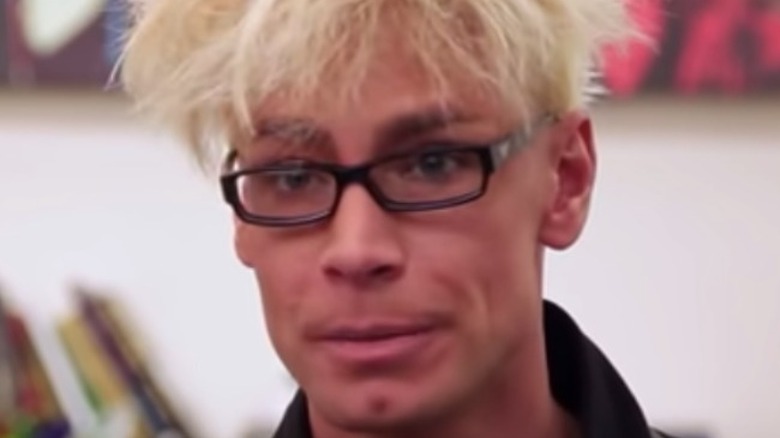 History/YouTube
History's long-running, hugely popular reality series "Pawn Stars" is set in Las Vegas, which means a lot of items related to gambling pass through the doors of the Gold & Silver Pawn Shop. And since the gambling industry is known to attract some shady characters, sometimes people bring items related to cheating at gambling into the shop. These folks are hoping not to get cheated themselves. One particularly notable cheating-related item on "Pawn Stars" was a vintage poker cheating device a seller brought in that ended up selling for just short of a thousand dollars. It was a cool item, even if it wasn't super-valuable.
In the clip, which is available to watch on YouTube, a seller named Margaret brought in some sort of old-timey mechanical contraption people used to cheat at poker. "A lot of people got killed with those in this town," Corey Harrison said. Margaret explained that she came into possession of the illegal item via her family. Her husband's grandfather owned a bar in San Francisco during the city's lawless days in the early 1900s, and he was asked to hold the item by a patron who was going to prison.
Rick thought it was cool, but he couldn't tell how it worked or what it was worth. The seller said items like this covered a wide range of values, "anywhere from $600 to $6,000." So Corey said he had to call in a friend — a Vegas magician named Murray Sawchuk — who's a collector and expert on all things related to card tricks. Margaret was skeptical about asking a magician for expert advice on a gambling product, but she was wrong to be, because Murray the Magician knows his stuff.
The seller didn't get cheated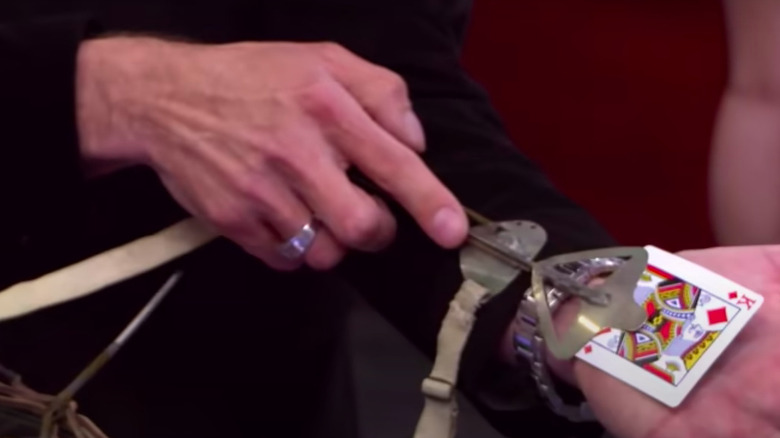 History/YouTube
In the clip, Murray explained the fascinating history of the device, which is called a holdout. "You ever heard of the saying 'there's nothing up my sleeve?'" Murray said. "Well, this is the device that it started from." "I can see why Rick called me in for a cheating device, because in magic, that's really what we do," Murray said in a to-camera interview. "We kinda cheat people out of reality." Murray explained that the device was invented by a con man named Kepplinger, who was the most successful con artist on the West Coast in the late 19th century. He invented the Kepplinger holdout device, so named because it allowed him to "hold out" a card by hiding it up his sleeve until he was ready to use it. Murray said that this particular holdout was a Martin San Francisco card holdout from the 1920s or '30s.
Murray said that the rarity and good condition of the item meant it was worth somewhere between $1500 and $2200, retail. Rick offered Margaret $800. Margaret, a tough customer, countered with $2000. Rick was incensed. "There's no way I could give you $2000. There's just no way," he said. "There's no money to be made." "How about 15?" said Margaret. "No, I'd give you like 800 bucks," Rick said, getting annoyed. "It's going to be difficult to sell."
Margaret dropped to $1300, before Corey offered her $900, which she took. As she signed off, she said she needs to learn how to be a better negotiator, but she actually did well. She didn't back down from Rick and got a good price on her item, which she didn't pay anything for in the first place and actually belonged to her husband's nursing home-bound grandmother.