The Conan O'Brien Cameo You Never Noticed In How I Met Your Mother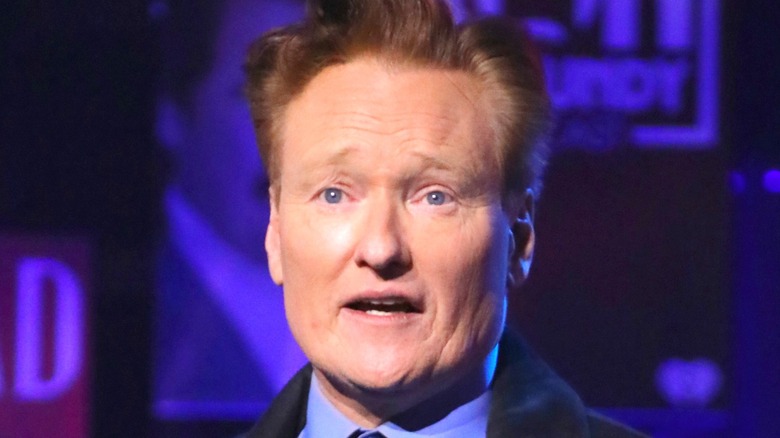 JC Olivera / Getty Images
After nearly 30 years of hosting three different major late night television shows, Conan O' Brien is exiting the talk show arena next month to embark on new career ventures that include "developing a weekly variety show for HBO Max" and "new episodes of his 'Conan Without Borders' series," (via Deadline). But over the course of O'Brien's three decades as a late night staple, the host has managed to make appearances in projects outside of his hosting duties, ranging from "30 Rock" to the video game "Death Stranding" to a White Stripes music video.
And while O'Brien is preparing for life after late night, one in which he continues to host his blockbuster podcast, "Conan O'Brien Needs a Friend," it's worth taking a look back at an O'Brien cameo fans may have forgotten. It's an appearance in which the star played a minuscule role on one of the most beloved CBS series' of all time, "How I Met Your Mother."
Conan O'Brien played an uncredited 'Bar Patron' on How I Met Your Mother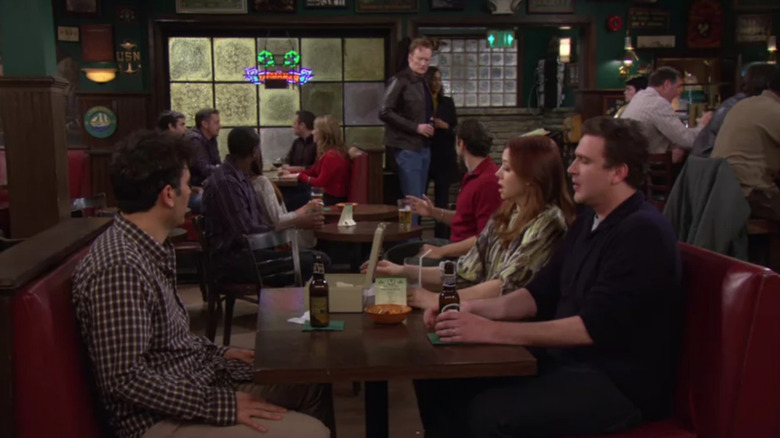 CBS
In the Season 7 episode of the show titled "No Pressure," O'Brien briefly appears, wearing his trademark brown leather jacket (a jacket that has its own Reddit thread), in the background as a bar patron. The host can be seen chatting with a woman by the door of McLaren's Pub and it is only when Barney (Neil Patrick Harris) runs out of a booth to find Marshall (Jason Segel) and Lily's (Alyson Hannigan) nonexistent sex tape that we see O'Brien's face turn. So how exactly did O'Brien land the cameo in the show? He won it. According to Vulture, the elder statesman of Late Night "won the cameo during a March 2011 charity auction in support of the Ojai Playwrights Conference." Carter Bays, the co-creator of "How I Met Your Mother," told Vulture that after the host won the auction the writers started brainstorming ideas for what he could do in the show.
"But then we heard back: 'He just wants to be an extra,'" Bays said. "And we realized this was really the funniest version [of a cameo]." The cameo also helped serve for more realism in the show. "In New York, every now and then you'll see somebody famous at a bar, but nobody really makes a big deal out of it." O'Brien himself said on his late night show in 2011, "I think it's much funnier if I'm in the bar, in the background," (via AOL). It isn't theonly time O'Brien had a quick, non-speaking role in a major sitcom. O'Brien (very) briefly appeared in an episode of "The Office," passing by Michael Scott in New York City. Scott didn't see O'Brien because he mistakenly thought he just saw Tina Fey.