Cruella's Paul Walter Hauser Dishes On Horace's Big Fashion Moment - Exclusive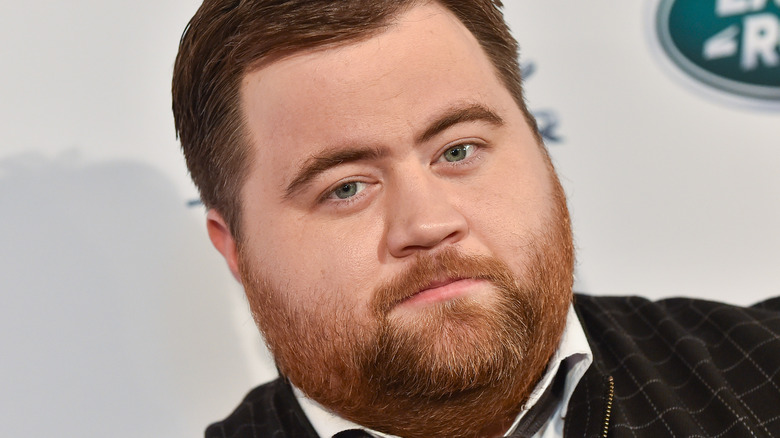 Shutterstock
There are many jaw-dropping moments in the new Cruella de Vil origin movie "Cruella," from startling story twists to astonishing costumes, including a surprising sartorial statement by Paul Walter Hauser's character, Horace.
Horace and his pal, Jasper, of course, are Cruella de Vil's henchmen in the classic animated and live action versions of Disney's "One Hundred and One Dalmatians." Lucky for Hauser and fellow co-star Joel Fry, the famed characters are part of director Craig Gillespie's examination of Cruella's roots, largely set in 1970s London. Playing in theaters nationwide and streaming on Disney+ with Premier Access, "Cruella" begins with a look at the young Estella, a peculiar black-and-white-haired girl who has aspirations to become a fashion designer. Sadly, Estella soon becomes a street orphan, yet is fortunate to form a family-like bond with a Jasper and Horace, a pair of boys also living on the streets.
Ten years after the trio become a team of expert grifters, Estella finally starts to realize her dreams by being hired to work in a fashion department store. Discovering Estella's revolutionary work by accident, fashion legend Baroness von Hellman (Emma Thompson) hires Estella, but the designer becomes distressed when her designs are used without credit. Between the Baroness' cold and calculated ways, as well as a series of revelations about her connected past with her boss, Estella takes charge of her fashion moxie and transforms into Cruella, a fearsome designer intent on outdoing her conniving competitor at every turn.
Hauser, Horace, and haute fashion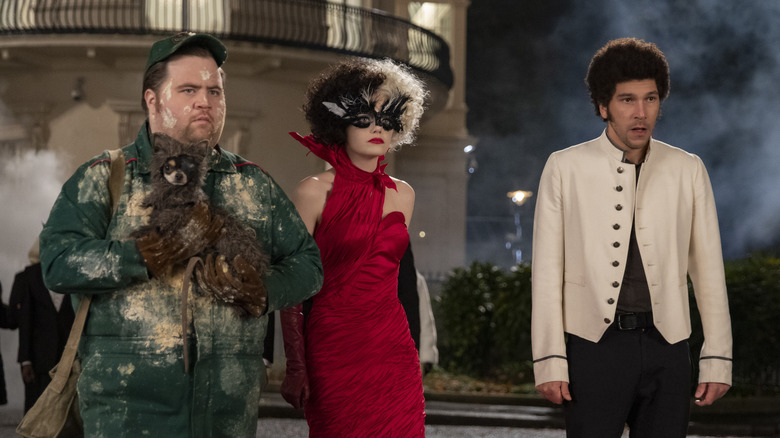 Walt Disney Studios Motion Pictures/Disney+
In "Cruella," Hauser plays a pivotal part in a scene in the third act where Cruella serves up the Baroness with the ultimate comeuppance. And while motivations in the scene won't be revealed here, let's just say it made for Horace's hautest, er, hottest, look in the movie. In an exclusive interview with Looper, Hauser revealed how his look required a bit of time than he was used to spending with the costume department on "Cruella."
"It took about 90 minutes to get that look together, almost two hours. And it was pretty exhausting, man. It was pretty tiring, but I'm glad it worked on screen. When I saw it, when I watched the movie, I got a chuckle and thought it really worked," Hauser told Looper. "And there was another way we were going to go about that scene where I was going to wear a suit of armor at one point, and we shot a long version of it. And then Craig had this idea and said, 'Oh, let's try this other thing. It's a little more related to the actual story in the movie itself,' and I think it works really well."
Also starring Mark Strong, Kirby Howell-Baptiste, and John McCrea, "Cruella" is playing in theaters nationwide and is available to stream on Disney+ with Premier Access.