This Is Where The Magnificent Seven Was Filmed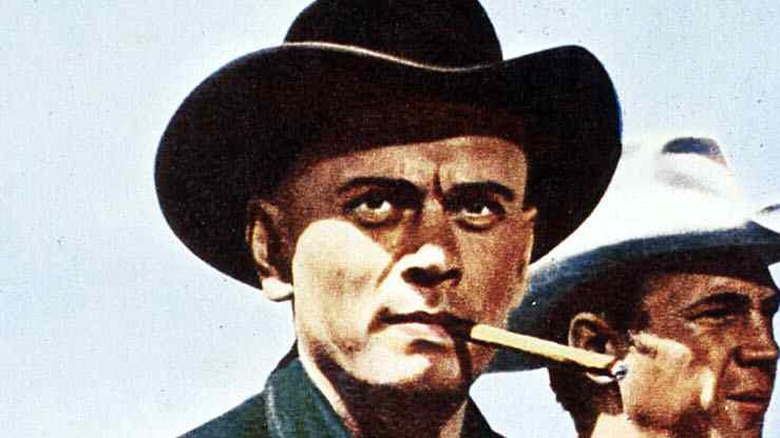 United Archives/Getty Images
"The Magnificent Seven" is an ace-high, quick-drawin', darn tootin' classic. Based on Akira Kurosawa's 1954 Japanese masterpiece "Seven Samurai," John Sturges' 1960 film swapped swords and kimonos for pistols and stetsons — and became a Hollywood benchmark for the Western genre. It set the archetype for many cowboy flicks to come, carving a now-classic story arc across the American frontier: A rag-tag gang of hired muscle must defend a besieged village against some pesky marauders, complete with gunslingin' action and copious amounts of denim.
Though it may lack the existential clout of its Japanese ancestor — New York Times critic Howard Thompson calling it a "pallid, pretentious and overlong reflection of the Japanese original", without the "revealing human vignettes" — the western was a massive hit with movie-goers. In 2013, it was inducted into the US National Film Registry, confirming its canonical status.
The film's popularity earned it three sequels released throughout the '60s and '70s, plus a 2016 remake with an all-star lineup including Denzel Washington, Chris Pratt and Ethan Hawke. The original movie starred some of its era's biggest action icons, including emblem-of-'60s-swagger Steve McQueen. And it's not just the sunburned faces of its cast that "The Magnificent Seven" made famous. Bathed in classic technicolor warmth and soundtracked by a bombastic Elmer Bernstein score, the landscapes under Sturges' lens have become iconic too. But where exactly those timeless scenes shot?
The Magnificent Seven was largely filmed in Mexico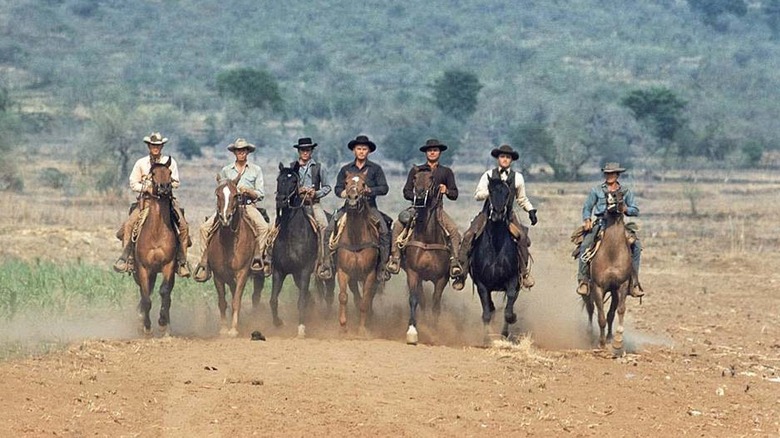 United Artists
The dusty desert plains immortalized in Sturges' classic are actually located in Mexico, where shooting began on March 1, 1960, according to IMDb. A handful of locations from across the land south of the border feature in the film — mostly in the states of Sonora, just south of Arizona, and Morelos, close to Mexico City.
Many of the film's frontier vistas showcase the raw reality of the region's burnt wilds and vast scrublands — but some filming took place on purpose-built sets too. This included a stint at Mexico's Churubusco Studios — which have since stood in for similarly sun-baked landscapes in David Lynch's "Dune" and Baz Luhrmann's "Romeo + Juliet." Churubusco set the scene for a more cosmic kind of desert too — the red desert of Mars — in 1990's "Total Recall." 
Back north of the border in Arizona, internals were shot at the famous Old Tucson studios, noted for the part they played in countless Westerns, including John Wayne vehicles "El Dorado" and "Rio Bravo." According to Old Tucson's website, Wayne was such a regular that he became friends with owner Robert Shelton. Nicknamed "Hollywood in the desert," it grew year after year throughout the Western boom — each new production populating the scorched wilderness with more of the saloons, cantinas, and county jails we've become accustomed to seeing onscreen. It was movies like "The Magnificent Seven" that turned this rootin'-tootin' institution from ghost town to tinseltown.