The Best Times The Frasier Cast Broke Character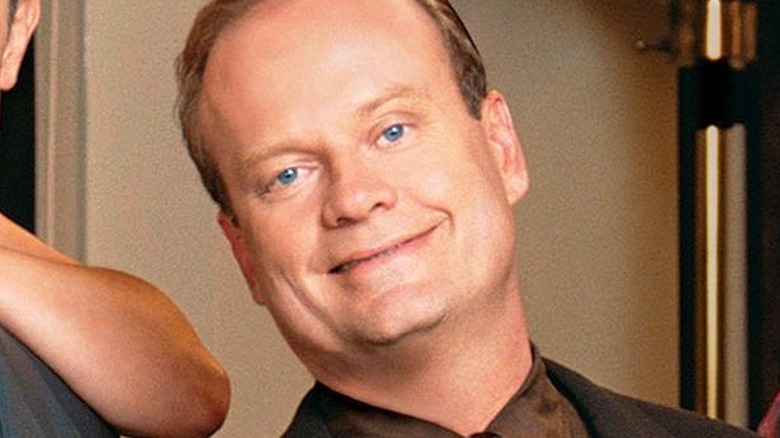 NBC
Audiences first saw Frasier Crane when he was introduced as Diane Chambers' fiancé on the 1980s sitcom, "Cheers." Though originally meant to be a recurring character, Frasier became part of the main cast and stayed on until the show's finale. Soon after "Cheers" ended, the psychiatrist got his own spin-off which, of course, was called "Frasier." Known as one of the best spin-offs in television history, the series ran from 1993 to 2004 — just as long as its predecessor — and won 37 Emmy awards.
Like any show, filming isn't always easy and there were many times when the actors screwed up their lines, broke down laughing, or had some distraction that prevented the scene from moving forward. When "Frasier" reached its 200th episode — actually titled "The Two Hundredth" — in 2001, the milestone was celebrated with a special that included outtakes from the first nine seasons.
Here are some moments showing off our favorite characters struggling to get through a scene.
Kelsey Grammer and the alabaster porpoise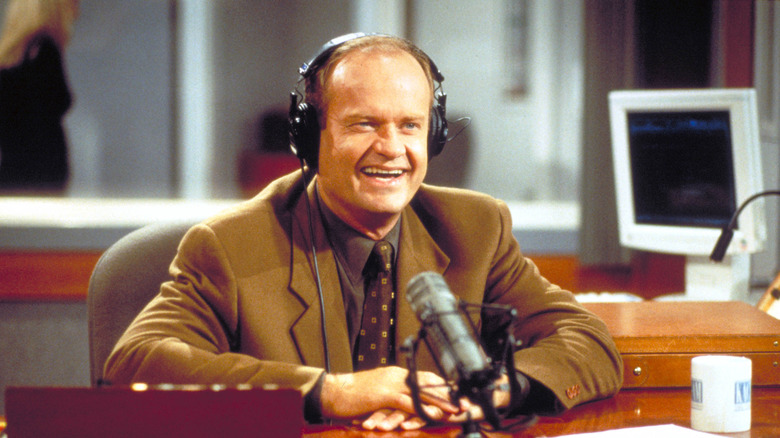 NBC
Kelsey Grammer, who played Dr. Frasier Crane for over twenty years, had a habit of not fully memorizing his lines. This caused some confusion with guest stars and left Grammer actually stumbling during scenes. However, some of the best times he broke character were due to his co-stars.  
One such time was in "Look Before You Leap," an episode in the show's third season. It is a Leap Year, and Frasier tries encouraging his friends and family to do new things, including Martin going to Montana for his friend's birthday. Unfortunately, the plane ride ends in disaster. When Martin explains what happened with "the fat lady from across the aisle," John Mahoney uses different phrases to describe the woman. When Martin calls her "a polyester avalanche," Grammer tries to keep going but ultimately ends up laughing. With the phrase "alabaster porpoise," however, Grammer can't keep it together at all and immediately breaks down, doubling over slightly.
Kelsey Grammer leaves David Hyde Pierce in hysterics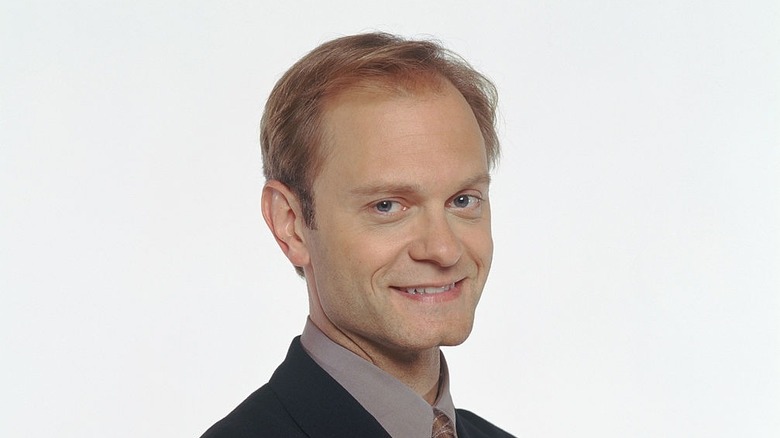 NBC
Arguably the breakout actor of the series, David Hyde Pierce was nominated for an Emmy every single year the show was on the air for his portrayal of Niles Crane. He did his best to maintain his composure on set most of the time. However, he couldn't always keep it together, especially when his castmates struggled with lines. During a scene with Kelsey Grammer, Pierce broke into laughter multiple times. 
The blooper came from the Season 4 episode, "The Gift Horse." Being the competitive brothers they are, Frasier and Niles constantly try to one-up each other while buying their father the best birthday gift. The first gift Frasier buys is a wallet and a matching key case, and he points out that it was twenty dollars below their spending limit. However, Grammer falls over the line hilariously. "I didn't extend our spending limit by twenty dollars. It was twenty dollars, exactly about twenty dollars, below our agreed-upon spending limit," he says. While he does this, Pierce can't keep a straight face, especially when Grammer repeats himself. "Sold!" Pierce exclaims when Grammer trails off. "I like all those lines!"
"My Hot and Foamy must've exploded!"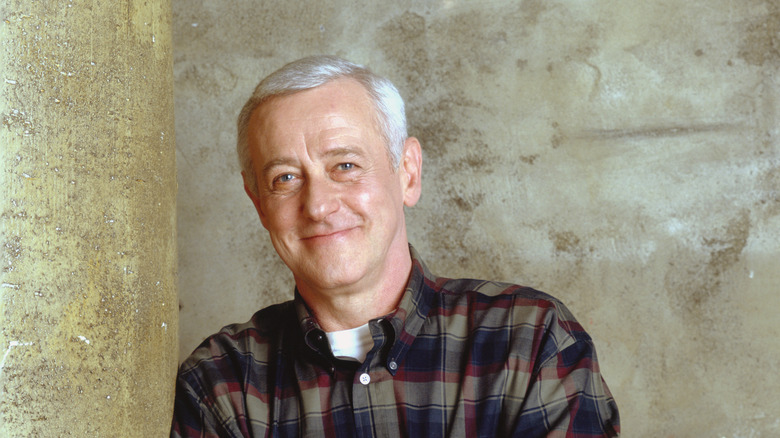 NBC
John Mahoney, who passed away about three years ago, was best known for playing Frasier's and Niles' blue-collar father, Martin. During the outtake special, the host asks "who screws up the most." Almost immediately, all eyes fall to Mahoney. The special features several moments where Mahoney stumbles over his lines. However, the one that is most memorable probably has to be the hot and foamy incident in Season 4's, "Are You Being Served?" 
After Niles runs into the bathroom, there is a loud bang, and he is left covered in shaving cream from a dispenser Martin bought years ago. Martin exclaims, "My hot and foamy must've exploded," to which Daphne replies, "He was a detective, you know." 
Mahoney had a difficult time getting through the line, and when it seems like he's just about got it, he breaks at the very end. Kelsey Grammer, David Hyde Pierce, and Jane Leeves all lose it. Grammer even comments that "it was so good until then." Mahoney takes a moment to compose himself and actually does say the line, but it appears Leeves still has the earlier take in her mind and begins laughing soon after.
You're Watching UPN 69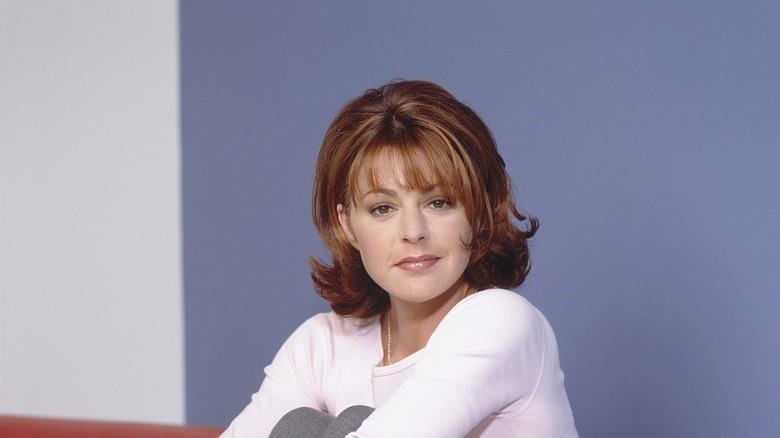 NBC
Though Jane Leeves portrayed the quirky Daphne Moon for the entirety of the series' run, her best character break actually did not happen in an episode. Kelsey Grammer points out that Leeves had some trouble with promos, and Leeves is visibly embarrassed as she groans and puts her hands on her face. 
The outtake special showed the promos in question, which appeared to take place during "Frasier"'s fourth season. Leeves sits in Martin's iconic chair and delivers her lines, though she struggles to do so. "You're watching UPN 69," she says, breaking into laughter at the very end. She has so much trouble that by the third take, all she can muster is "you're watching" before completely losing it.
When she is given her second line, Leeves seems to know she won't get through it, calling it "even worse." She tries her best, but she is in tears the entire time as she says, "Hello, Seattle. You're turning us on; you're turning me on." Leeves even falls forward against the armchair and tries to cover her face, unable to contain her laughter.
Roz checks out the Chicken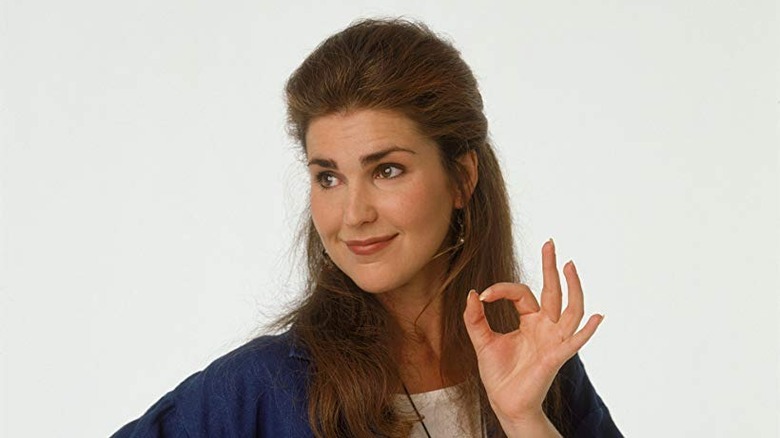 NBC
As the sex-positive, fierce, and independent radio producer Roz Doyle, it comes as no surprise that Peri Gilpin's best blooper happens while Roz is doing what she does best: checking out an attractive guy from the new duo at KACL.
In the Season 7 episode "Radio Wars," Frasier finds himself a victim of Carlos and the Chicken, who constantly prank him and even start the "Frasier Crane's Humongous Ass Contest." As Frasier complains to Roz at Cafe Nervosa, they spot the duo and Roz comments that the Chicken (Bryan Callen from "The Goldbergs") is cute when "he's not squatting in a feather suit trying to hatch Carlos's head."
Gilpin stumbles over the line more than a few times (much to Kelsey Grammer's amusement). She almost gets it a couple of times, but when she comments on the Chicken's feather suit, she loses her momentum and has to start over.  Gilpin becomes frustrated. She curses and even tells Grammer, "Don't look at me," to which he replies, "Okay, I'll stop looking at you," while they both laugh.
Eddie yawns during takes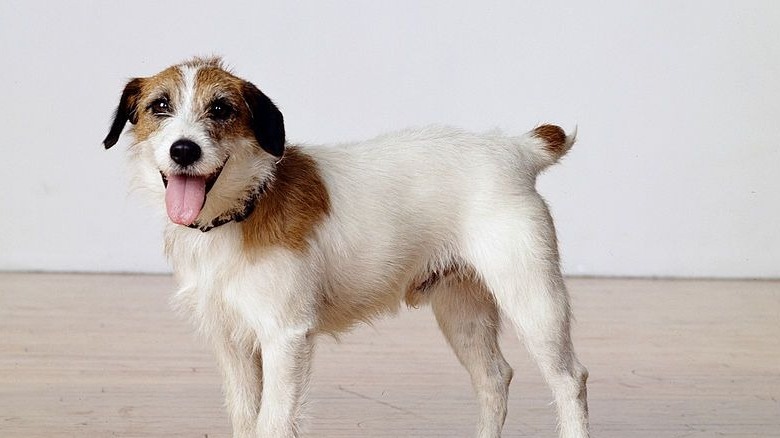 NBC
Moose caught audiences' hearts as Martin's faithful companion, Eddie, who causes havoc and has a weird fascination with staring at Frasier. However, working with an animal is never easy, and because "he doesn't really do anything we ask him to do," as Kelsey Grammer points out, Moose caused some disturbance during scenes. 
Though he ran into Martin's chair (a take that was actually kept in the show) and tried stealing food during filming, perhaps the best blooper happened during "A Lilith Thanksgiving" in Season 4. As Frasier, Martin, and Niles prepare for their Thanksgiving celebration, Niles laments that it will be his first holiday without Maris, from whom he had separated the season before.
Moose does not make it easy for David Hyde Pierce to get through his line, though. "Quiet, I'm talking," Pierce tells the dog when he interrupts with a loud yawn. In another take, the line is cut short when Moose lets out a whimper and John Mahoney tells him to "shut up." As they go through yet another take, it appears they will do the scene without complications. That is until Moose begins panting loudly, and Pierce looks about ready to give up.