The Ozark Theory That Has Fans Taking Another Look At The Female Leads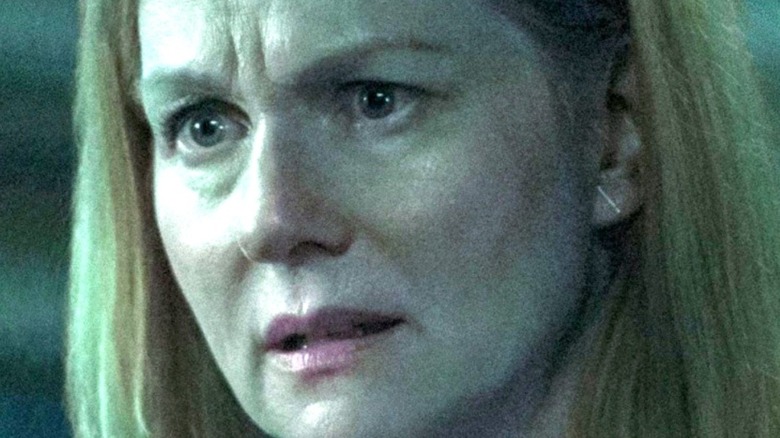 Netflix
Over the course of three seasons, the Netflix series "Ozark" has created a rich, seedy tapestry of family crime and money laundering in central Missouri's Lake of the Ozarks. Of the show's three central families, each contains a pivotal female figure. There's Ruth Langmore (Julia Garner), a young Ozarks native who's willing to do anything to rise above her impoverished background. Newer to town is Wendy Byrde (Laura Linney), a former political consultant who balances her ordinary family responsibilities with playing an increasingly key role in her husband Marty's (Jason Bateman) laundering schemes. Last but certainly not least is the matriarchal, vengeful Darlene Snell (Lisa Emery), who runs the heroin empire she built with her late husband.
At first glance, these three characters have little in common besides their location and involvement in Osage Beach, Missouri's criminal underbelly. But one Reddit fan theory could forever change how viewers look at the female leads of "Ozark," and might shed new light on just how similar the women's paths may be after all.
Fans think Ruth, Wendy, and Darlene are versions of the same woman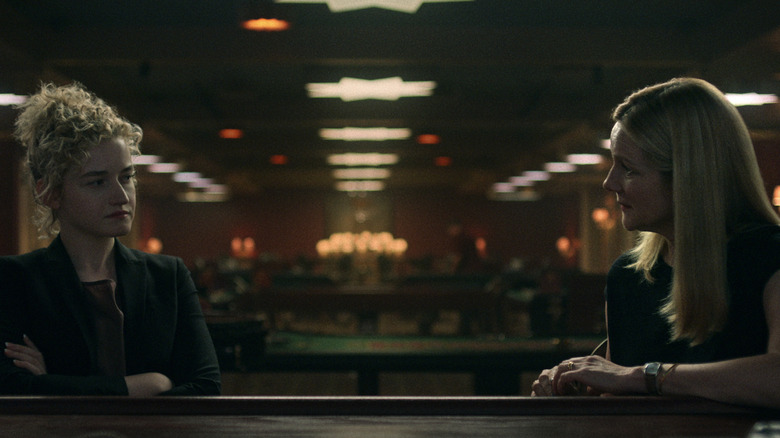 Netflix
The way Reddit user Bolbo97 sees it, Ruth, Wendy, and Darlene are a "trinity of one woman." In other words, each character represents a different stage of what one archetypal woman's life might naturally evolve into as she immerses herself in the town's criminal scene. The youngest, Ruth, represents self-preservation. Her involvement in the drug underworld isn't prompted by power, but by survival — she's frequently in over her head working for Marty, but everything Ruth does is motivated by escaping generational poverty and carving out a better life for herself.
While Wendy also had a difficult, messy adolescence, by middle age, she's achieved relative stability and a much stronger personal and professional reputation than she could've dreamed of as a girl. But her initial desire for self-preservation evolves into a genuine hunger for power and control within the burgeoning criminal empire in which she's increasingly involved herself. Instead of running from her involvement in this world, Wendy is willing to manipulate whoever she needs to in order to embrace it.
And Darlene, an older matriarch within the town, has moved from hungering for power to actually gaining a firm grip over her criminal dynasty. She's been enmeshed in it for far too long to imagine a different life — instead, her mindset is all about maintaining control for as long as possible.
The women could continue transforming into one another in Ozark Season 4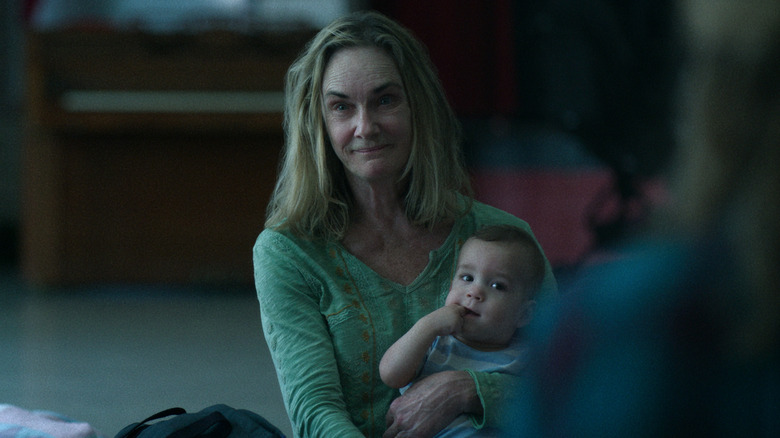 Netflix
Each character represents how an ordinary woman in different stages of her life might respond to these new circumstances, and how that mix of power and personal danger can be corrupting. At the same time, they also embody the social and personal factors that push people into these roles in the first place. All three women were pushed into the drug world by another person, and forced to make the best of things.
With only one season of "Ozark" left, viewers will have to wait to see how Ruth, Wendy, and Darlene continue to evolve into one another. The seeds were planted in Season 3: Ruth continued to prove she has the brains to take over Marty's entire laundering operation as she becomes further enmeshed, while Wendy made bids for greater control of the scheme and even dreamed of killing Marty and taking over her husband's empire like Darlene did.
The third season ended on a cliffhanger, as Wendy's brother Ben died after she gave a hitman his location. This prompted Ruth to sever her ties to the Byrdes and work for Darlene instead. Perhaps Wendy's decision to let her own brother die will continue turning her into the hardened woman Darlene is, and maybe Ruth will hunger for more power of her own like Wendy. Or perhaps they will ultimately carve out unexpected paths of their own.