Is Taylor Kinney Actually Leaving Chicago Fire?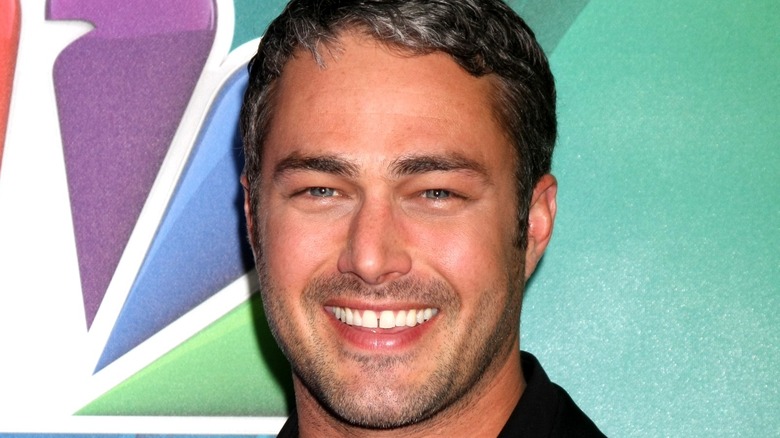 Shutterstock
Warning: This article contains spoilers for "Chicago Fire" Season 9, Episode 16 — "No Survivors."
If there's one thing "Chicago Fire" knows how to do, it's to leave their fanbase at the edge of their seat with a season-ending cliffhanger. The dramatic ending left many fans wondering about some of their favorite characters, and if we're ever going to see them again. Toward the end of the episode, Lieutenant Kelly Severide (Taylor Kinney), Joe Cruz (Joe Minoso), Harold Capp (Randy Flagler), and Tony Ferraris (himself) are all trying to save a victim in the middle of the ocean. Their escape route fails them when the boat begins to collapse over their heads. The rest of the team anxiously watches from the shore as about 22 minutes pass and their oxygen tanks start to run out. As the team in the water continues to struggle and the water within the boat continues to rise, the episode ends, and fans are left with way more questions than answers. 
One of the bigger questions is whether or not Severide will survive this episode and make it to the next season, which has already been confirmed. The Squad 3 leader, who usually has all the answers, was in a desperate situation following the conclusion of the Season 9 finale. Some fans fear this may have been the last time we see the "Chicago Fire" ladies' man. So with that said, here's everything we know about Taylor Kinney's future on "Chicago Fire."
There's a chance Taylor Kinney is leaving
It's always a hard pill to swallow when you hear there's a chance one of the longest on-screen actors of your favorite TV show might be leaving. Unfortunately for fans of Lieutenant Kelly Severide, that possibility is real. Kinney's contract ended after Season 9, as suggested by Deadline. The actor, who has been on all 195 episodes (per IMDb), signed his last contract in 2019 for a two-year deal. Although there's still time to sign a new contract, there hasn't been an official announcement regarding his return. On the bright side, Kinney has remained loyal to the One Chicago franchise since 2012, even having a recurring role in "Chicago P.D." and "Chicago Med," and not accepting roles for any other production.
Although fans are praying he does sign a new contract, the dramatic season finale has made things uncertain. Almost every season finale from "Chicago Fire" has left fans wondering about the fate of some characters, but none at this level. It will be shocking to see all the firefighters make it out alive of that situation. Thankfully, "Chicago Fire" has always been great at keeping secrets, so there's always a chance Kinney will sign a new contract for the last two seasons that have already been renewed.