Movies You Didn't Realize Were Actually Owned By Disney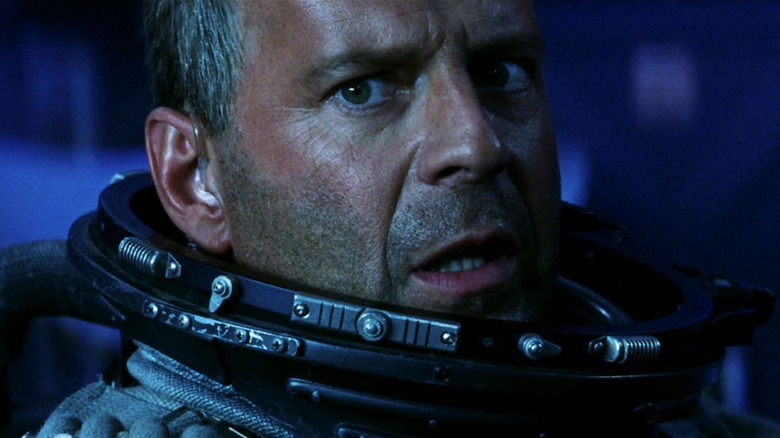 Disney/Touchstone Pictures
It seems like it's easy to keep track of what movies are and aren't Disney films. After all, Disney relentlessly promotes its vast library of titles, especially in the age of Disney+, and most of the company's titles promote happy endings and feel-good entertainment. Even the youngest viewers know the quintessential ambiance drummed up by a conventional Disney project. However, the catalog of films Disney has released includes a variety of unexpected movies, many of them hailing from the company's Touchstone Pictures and Hollywood Pictures labels, which were aimed at delivering adult-oriented films.
While Touchstone and Hollywood have gone the way of the dodo, their films remain a part of the Disney library. A handful of them, such as "Three Men and a Baby" and "Turner & Hooch," remain prominent parts of the modern Disney brand image. The vast majority of these films, though, have had their connection to Disney wildly downplayed. This leaves a treasure trove of surprising titles to be unearthed within the vast Disney filmography.
One note before going forward, this article does not include 20th Century Studios or Searchlight Pictures titles, which Disney acquired in 2019 but the majority of which were not initially released by the Mouse House. This piece also excludes Miramax titles, which Disney did distribute from 1994 to 2010. But after selling them off in 2010, films like "Shakespeare in Love" are no longer in the studio's library of titles. 
Wild Hogs burned rubber outside of Disney norms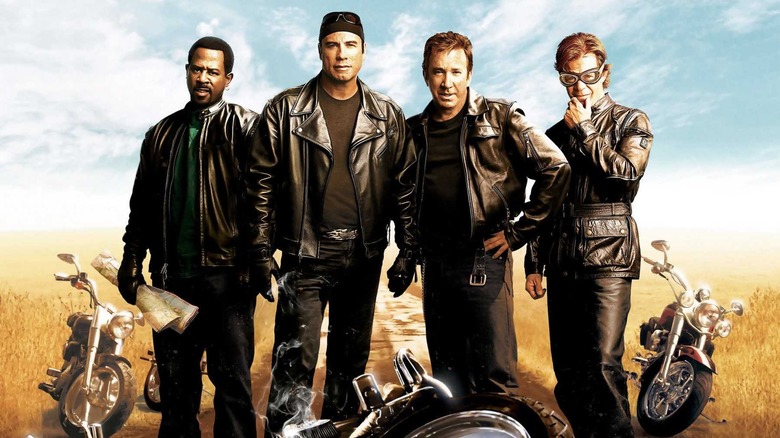 Disney/Touchstone Pictures
In the 2007 comedy "Wild Hogs," some of the comedic antics that the four middle-aged protagonists get into include blowing up a biker bar, an encounter with a male cop yearning for same-sex intimacy, and accidentally looking at pornography in a coffee shop. This is not exactly the kind of behavior that you'd expect from the studio that brought you "Cinderella." But "Wild Hogs" is indeed a Disney movie, courtesy of its Touchstone Pictures division. In fact, "Wild Hogs" was par for the course in terms of what kind of comedies this Disney label produced during the first decade of the 21st century.
Many Touchstone comedies in this era centered on older comedic actors navigating strange scenarios that they would seemingly be too old for. Other notable examples of this trend included "Bringing Down the House" and "Calendar Girls." Whether intentional or not, the emphasis on these kinds of stories helped separate Touchstone titles from mainstream Walt Disney Pictures fare, which skewed significantly younger. "Wild Hogs" stands out as a strange anomaly viewed through the lens of Disney of 2021, which is defined by "The Mandalorian" and "Avengers: Endgame." In 2007, however, "Wild Hogs" was a typical release from Disney's adult-skewing side.
Tim Burton's masterpiece Ed Wood was released by Disney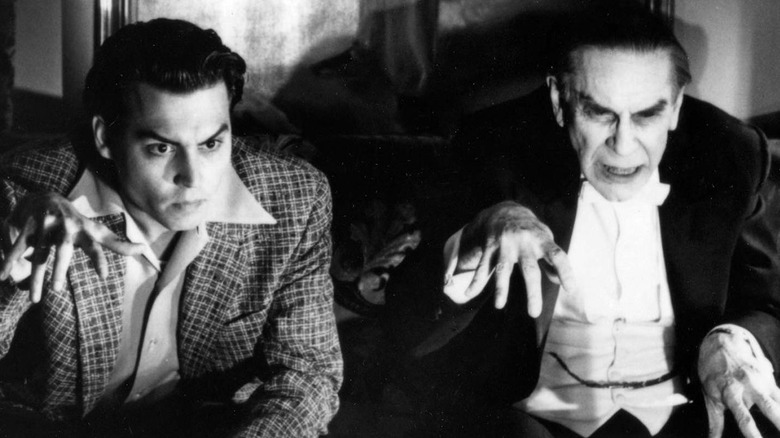 Disney/Touchstone
Tim Burton got his start in the film industry working for Disney Animation on projects like "The Fox and the Hound" as well as his own short films like "Vincent." Though he would eventually leave the Mouse House to direct his own feature-length projects, Burton would return to Disney regularly in the years to come to direct various high-profile feature films like "Dumbo" and "Alice in Wonderland." But less well-known among those collaborations, however, is the 1994 Burton directorial effort "Ed Wood."
Released through Touchstone Pictures, this project was actually Burton's first feature film for Disney, although it wasn't initially intended to be released there. Columbia Pictures was the first studio where Burton set up "Ed Wood," but concerns over its commercial viability and budget led to the studio letting go of Burton's passion project. Luckily, Touchstone was around to save the day and brought Burton back home after years of him doing features for rival studios like Warner Bros. and 20th Century Fox. Though "Ed Wood" wasn't a moneymaker at the box office, it remains one of Burton's most acclaimed films as well as one of the best things to come from Disney and Burton working together.
Not four score and seven years ago, Disney released Lincoln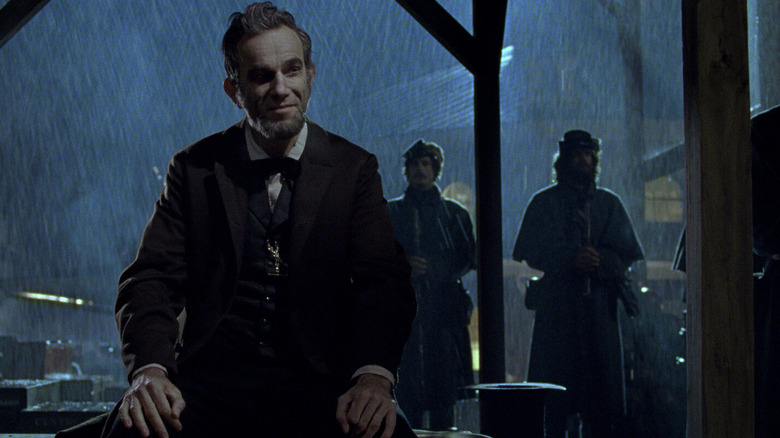 Considering that DreamWorks and Disney had long been perceived as rivals, it was a shock to the entertainment industry when, in February 2009, Disney and DreamWorks Pictures formed a pact to release movies together. This deal didn't include DreamWorks Animation but it would see Disney's Touchstone Pictures distributing live-action DreamWorks features, a deal that, at most, could have resulted in 30 new movies being added to Disney's library. Among the titles to emerging from this partnership was Steven Spielberg's 2012 movie "Lincoln."
A biopic about the famous President of the United States, "Lincoln" was a drama aimed at adults, with nary a talking animal sidekick or big splashy musical number in sight. Though a departure from typical Disney fare, "Lincoln" was a massive hit both financially and during that year's awards season. It proved to easily be the biggest movie at the domestic box office produced by Disney/DreamWorks in their partnership, while Daniel Day-Lewis scored the first ever acting Oscar win for a performance in a Spielberg movie. Despite these accomplishments, however, "Lincoln" couldn't keep Disney and DreamWorks together. 
Even after Disney and DreamWorks parted ways, "Lincoln," as well as the other films produced in the partnership, stayed permanently with Disney. This means that the Disney theme park attraction, the Hall of Presidents, is not the only way Disney and Abraham Lincoln intersect!
It's not puzzling how Disney wound up releasing Strange Magic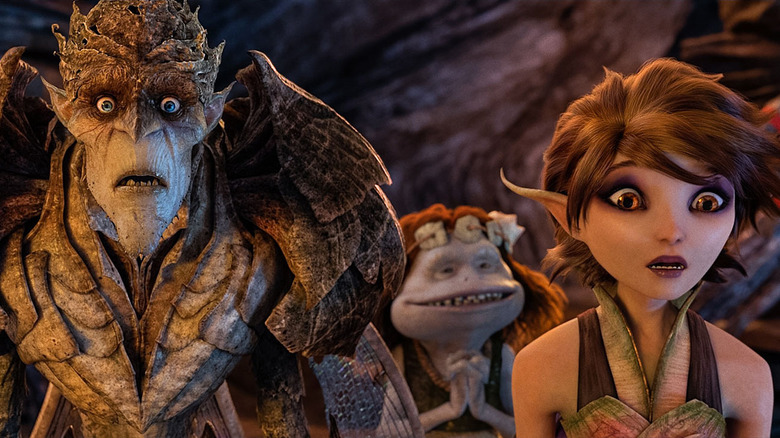 Touchstone/Lucasfilm
In purchasing Lucasfilm, Disney got access to scores of famous characters from the "Star Wars" and "Indiana Jones" franchises. However, they also inherited a film that was once meant to help establish Lucasfilm Animation as a powerhouse in the world of feature-length cartoons. That production was "Strange Magic," a musical fantasy film spearheaded by George Lucas as something aimed at young girls. "Just like 'Star Wars' was designed for 12-year-old boys," Lucas said to Wired, "'Strange Magic' was designed for 12-year-old girls."
Once Lucasfilm was absorbed by Disney, that left "Strange Magic" a strange stepchild in the corporate merger. Disney was eager to plaster "Star Wars" on everything on the studio lot, but an unproven property like "Strange Magic," and one that encroached on Disney Animation's territory of fantasy musicals to boot, was less welcome. This was reflected by how "Strange Magic" got shifted over to Touchstone Pictures for its largely-forgotten January 2015 theatrical run. Dire critical reviews for "Strange Magic" make it apparent why Disney tried to sweep this Lucasfilm Animation endeavor under the rug. But no matter how much they ignore it, this bizarre animated title is still part of Disney's library.
Disney got all cozy with Deuce Bigelow: Male Gigolo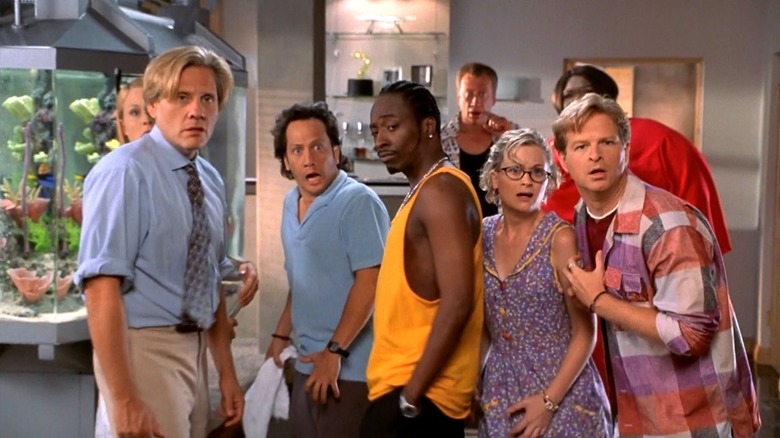 Touchstone/Happy Madison
Before he signed a long-term deal to produce movies for Netflix, Adam Sandler and his Happy Madison production company largely made features for Sony Pictures and its Columbia Pictures division. However, this particular studio didn't have a monopoly on comedies featuring Sandler and his "Saturday Night Live" chums. Case in point: Happy Madison's first movie, the 2000 Rob Schneider vehicle "Deuce Bigalow: Male Gigolo," was released through Disney's Touchstone Pictures banner.
Starting with Happy Madison's third movie, "Joe Dirt," Sony/Columbia would begin regularly releasing most of the company's releases until Netflix took over entirely. But at the beginning of Happy Madison's existence, Disney handled the distribution of "Deuce Bigalow." It's no wonder Disney doesn't call attention to this title as being a part of their catalog, given how it hasn't had many subsequent partnerships with Sandler and his cohorts. Plus the film is about a male sex worker, a topic that Disney doesn't necessarily want to reference at all. Add to that the fact that Schneider has become a widely controversial figure for his heavily trumpeted anti-vaccine views and it's no wonder "Deuce Bigalow: Male Gigolo" has vanished from the modern Disney landscape.
The Light Between Oceans crashed onto Disney's shores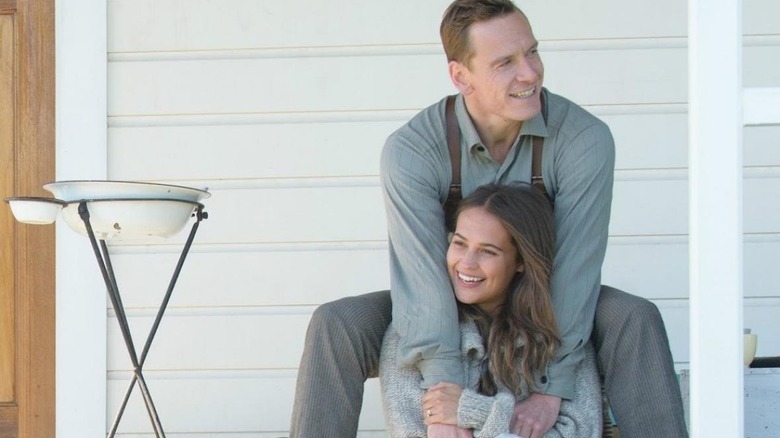 Touchstone/DreamWorks
By 2016, the distribution agreement between Disney and DreamWorks that had started in 2009 was winding down. Disney was moving on to a greater emphasis on blockbuster titles from Lucasfilm and Marvel Studios, while DreamWorks was looking to reunite with Steven Spielberg's former home of Universal. The last film produced between the two companies was "The Light Between Oceans" and, like many Disney/DreamWorks features, it was an oddity among Disney titles.
The story of a couple who find a lost baby and raise it as their own — only to have the child's real mother return years later — "The Light Between Oceans" was as much a typical feature for its writer/director Derek Cianfrance as it was at odds with traditional Disney fare. Cianfrance enjoys making movies that span expansive periods of time, while rife with big stars and high drama. But even the presence of actors like Michael Fassbender and then-recent Oscar winner Alicia Vikander wasn't enough to keep "The Light Between Oceans" from sinking at the box office, one of several underperforming titles Fassbender experienced in 2016. With "The Light Between Oceans," the Disney/DreamWorks union ended on a sour note and has since became an obscure footnote in Disney's catalog. 
Kurt Russell reunited with Disney for Tombstone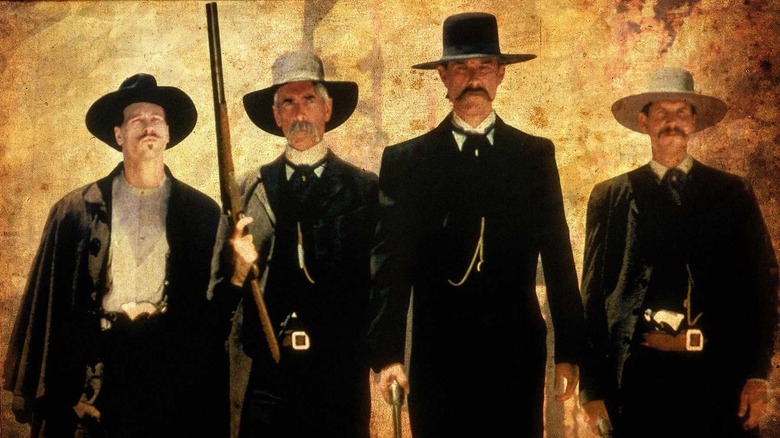 Disney/Hollywood Pictures
In the 1960s, Kurt Russell was the guy when it came to headlining live-action Disney movies. In this era of family films from the Mouse House, Russell was as much an element of these features as the fact that they were presented in theaters and in color. In the decades to follow, Russell would establish his own screen persona far removed from his squeaky-clean image in titles like "Follow Me, Boys!" He would later return to star in 21st century Disney projects like "Miracle" and Marvel's "Guardians of the Galaxy Vol. 2." But Russell came back even earlier to Disney for the 1993 Western "Tombstone," in which he played legendary lawman Wyatt Earp.
A rootin'-tootin' shoot-em-up, "Tombstone" has a high enough body count to justify its title. That's a far cry from the tone seen in famous 1990s Disney fare like "Operation Dumbo Drop," but "Tombstone" was not released by the Walt Disney Pictures division. Disney's Hollywood Pictures label distributed  "Tombstone" in certain territories like North America, while Cinergi Pictures handled its release elsewhere. In the nearly 30 years since "Tombstone" first trotted into movie theaters, Hollywood Pictures has become even more obscure than fellow Disney division Touchstone Pictures. While modern moviegoers are likely aware that "Tombstone" exists, they largely have no clue that it was a unique reunion between Disney and one of its most famous 1960s performers.
It's no secret that The Horse Whisperer was a Disney title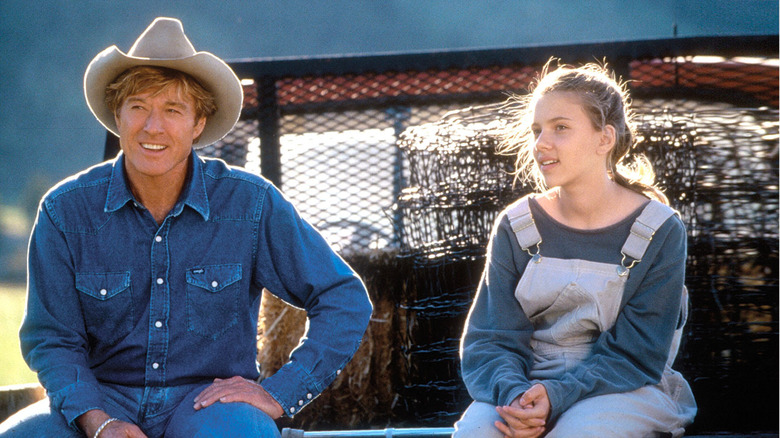 Disney has done its fair share of movies starring horses and they've also delivered a handful featuring either Robert Redford or Scarlett Johansson. Heck, the two of them starred in the 2014 Disney/Marvel blockbuster "Captain America: The Winter Soldier." But Disney worked with both these performers and horses on one particular project back in 1998 — the Redford directorial effort, "The Horse Whisperer."
There are lots of aspects of this film that would make it seem like an immediate odd choice for the studio behind "Flubber." For one thing, the 170-minute runtime is a massive departure from most non-"Pirates" Disney movies, which run south of two hours. There's also the PG-13 rating, which Disney still largely avoids for titles that don't belong to the Marvel and "Star Wars" franchises. However, "The Horse Whisperer" actually made sense as a Touchstone Pictures release in 1998, especially since the division issued other Robert Redford features like "Quiz Show" throughout the 1990s. Though it stands out as a strange fit in Disney's library in 2021, "The Horse Whisperer" seemed as natural for Disney in its original era as a horse trotting through a meadow.
25th Hour was one of several Spike Lee/Disney collaborations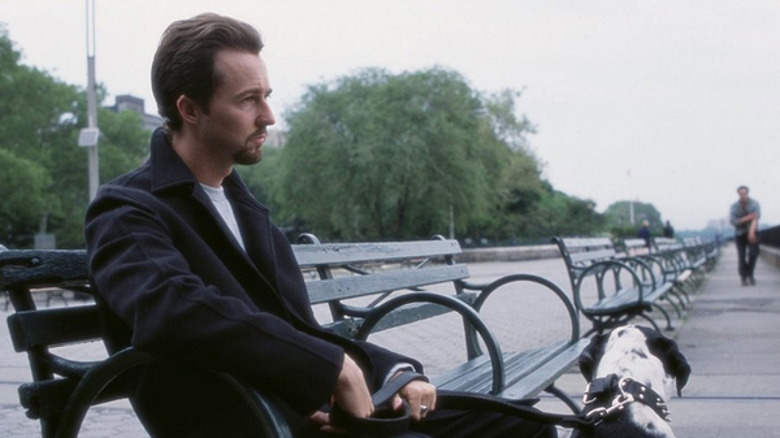 Disney/Touchstone Pictures
For a brief time, Spike Lee began releasing his movies through Disney's Touchstone Pictures. Starting with the 1998 feature "He Got Game," Lee's idiosyncratic works were distributed through the Mouse House. Among the features released during this union was "25th Hour," a 2002 movie about the last 24 hours of a man's life before he begins a lengthy prison sentence. The fascinating drama doesn't just examine this person's psyche but also functions as a compelling referendum on New York City in the wake of 9/11. It's an insightful achievement featuring a collection of top-to-bottom outstanding performances from actors like Phillip Seymour Hoffman, as well as the kind of unique touches (like the protagonist, played by Edward Norton, engaging in a racist screed against his reflection that concludes on an inwardly critical note) that could only come from a brilliantly bold director like Lee.
All of this challenging material is not the kind of storytelling Disney usually associates with, but, surprisingly, that's just why Touchstone got cozy with Lee. The studio apparently was struggling to produce award season home runs in the 1990s and thus began regularly distributing Lee's works, like "25th Hour," in the hopes of finally securing some Oscar gold and rehabilitating the studio's image. The way the film is intentionally supposed to deviate from the norms of Disney filmmaking makes the already fascinating "25th Hour" extra intriguing to consider.
Disney put on a pretty face for Coyote Ugly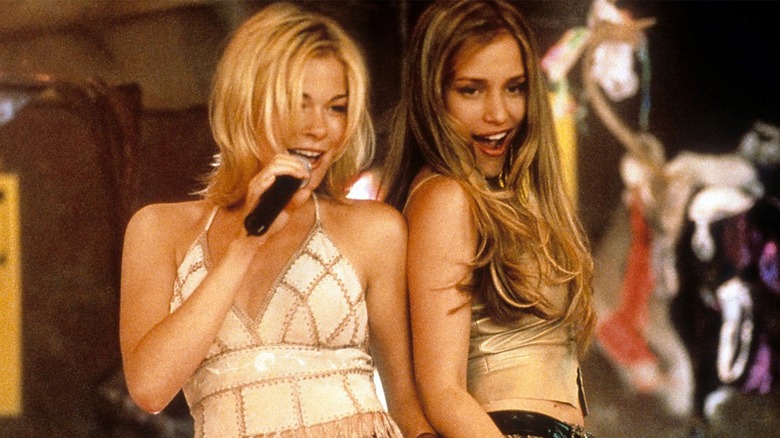 Disney/Touchstone Pictures
"Coyote Ugly" refers to what the character Lil describes as the feeling of "[waking] up sober after a one night stand, and the person you're next to is layin' on your arm, and they're so ugly, you'd rather chew off your arm then risk waking 'em." That right there is "Coyote Ugly," which is also the title of a 2000 movie as well as the bar many of its principal players work at. The production hailed from director David McNally and producer Jerry Bruckheimer, the latter of whom was regularly producing movies for Disney throughout the 1990s and 2000s.
Though given a PG-13 rating, "Coyote Ugly" doesn't shy away from frank depictions of sexual experiences and even discussions about sexual harassment experienced by the waitresses at the Coyote Ugly bar. Any kind of discussion of sex that lasts longer than a passing joke by Tony Stark isn't going to fly in traditional Disney movies, rendering "Coyote Ugly" an odd stepchild in the studio's library. It's a pity "Coyote Ugly" registers as a total anomaly for Disney, though. Much like the 2018 movie "Support the Girls," "Coyote Ugly" humanizes workers in a specific field of employment who largely don't get treated as people. More movies adding dimension to this occupation would be great and is much more important than maintaining Disney's brand image.
Bringing Out the Dead was surely alive at Disney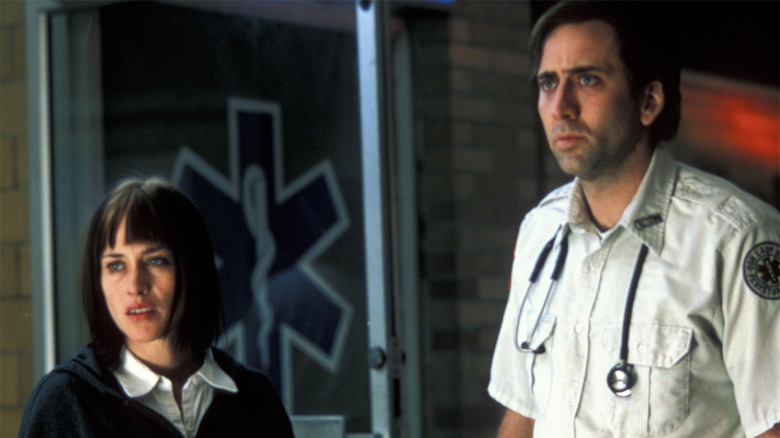 Among the many events in Martin Scorsese's life covered in the book "The Films of Martin Scorsese, 1978-99: Authorship and Context II," one of the most intriguing is how, in 1996, a unique partnership was struck between Disney and Scorsese's Cappa Productions. With Scorsese hot off films like "Goodfellas" and "Casino," Disney hoped to keep the filmmaker's winning streak going and deliver some instantly iconic titles for its Touchstone Pictures division. Among the two films Scorsese helmed as part of this deal was "Bringing Out the Dead."
This 1999 project is a quintessential film from director Scorsese and writer Paul Schrader in many ways, particularly in how it intersects theology with fictional individuals of incredibly corrupt moral character. However, it's certainly not a typical Disney movie with its dark tone, onslaught of profanity, and frank approach to sexuality. The fact that works like "Bringing Out the Dead" weren't quite at home in the Mouse House may have influenced Scorsese to jump ship for other studios once the 21st century began. Luckily for fans of good cinema, "Bringing Out the Dead" is as outstanding a movie as it is antithetical to conventional Disney fare.
Disney brought the apocalypse to life with Armageddon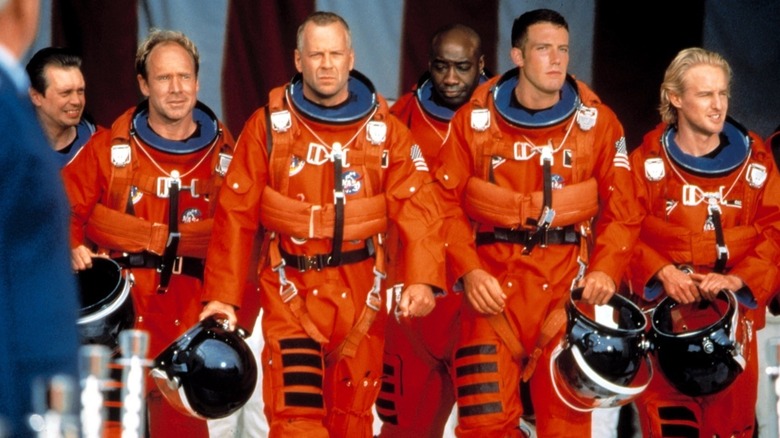 Disney/Touchstone Pictures
Today, we all associate Michael Bay with robots that turn into cars, Mark Wahlberg having a Boston accent in Texas, and making a movie about Benghazi starring Jim Halpert. But for a while, Bay was also known as the guy who regularly made action movies for Disney's Touchstone Pictures division. From the 1990s until the mid-2000s, Bay helmed features like "Pearl Harbor" and "The Rock" for the Mouse House. This streak also included the 1998 smash hit "Armageddon."
A star-studded cast lined up to be a part of this disaster movie, which chronicled Bruce Willis as the leader of an oil rig team who stand as the only chance of saving the world from a meteor that will destroy the planet. Reviews were disastrous but "Armageddon" managed to make over $500 million worldwide, including a $200 million domestic gross that made it Touchstone's second biggest movie of all time in that market. Despite those box office achievements, you won't be seeing "Armageddon" grace the front page of Disney+ anytime soon. For one thing, Bay spends an entire sequence using his camera to ogle scantily-clad strippers, which is a big no-no for Disney fare. A barrage of coarse language and adult-oriented jokes, not to mention the fact that there aren't any similar modern Disney films to tie its existence into for marketing purposes, means Disney has largely forgotten about "Armageddon."