Why Jade From The Bride Of Chucky Looks So Familiar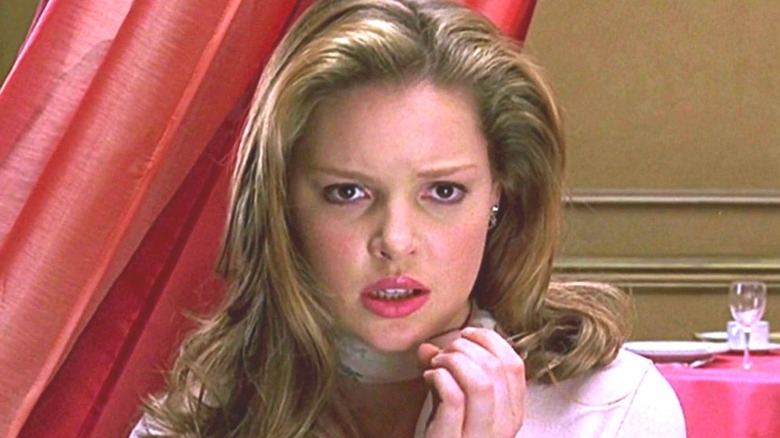 Universal Pictures
The "Child's Play" movies have been a favorite of horror fans for decades, thanks to their healthy serving of slasher gore and dark humor. The original 1988 movie introduced audiences to Chucky, a "friend to the end" and evil living doll that harbors the spirit of the deranged serial killer Charles Lee Ray (Brad Dourif). While the first "Child's Play" was a straightforward scare-fest, the movies became increasingly more campy, leaning into the inherent comedy of the subject. There are currently seven movies associated with the original franchise, as well as a 2019 reboot.
"Bride of Chucky," the fourth film in the series, brought in a new character that quickly became a fan favorite. The husky-voiced Jennifer Tilly plays Tiffany Valentine, the girlfriend of Charles Lee Ray before he transported himself into the body of a children's toy using a dark voodoo spell. After Chucky uses the same spell to transfer Tiffany's soul into another doll, he reveals his plan to use the bodies of Tiffany's neighbors to give himself and his "bride" new human vessels for their souls.
The neighbors are Jesse (Nick Stabile) and Jade, a young couple on the run from Jade's overbearing uncle in the hopes of eloping and living happily ever after. Unfortunately, their plans are upended when the two murderous dolls enter into their lives. Jade is played by a very young Katherine Heigl at the start of her career. We're guessing you've seen her before.
Katherine Heigl starred on the original Roswell series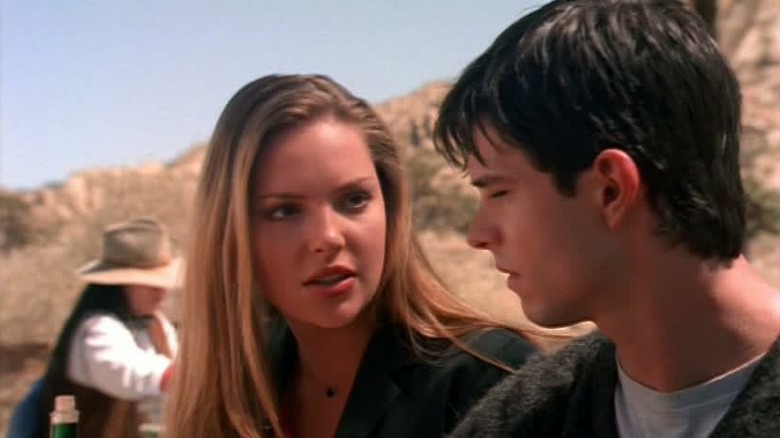 The WB
Some may remember that Katherine Heigl played Isabel Evans on the sci-fi teen drama, "Roswell," which aired for three seasons on the WB and UPN. The series told the story of three alien-human hybrids who landed in Roswell, New Mexico during the infamous "UFO landing" in 1947. Having the appearance of teenagers, the hybrids struggle to fit in with their high school peers, while hiding their dark secret from the authorities.
Isabel is a beautiful, confident young woman, and the most popular girl in school, but on the inside she is terrified of someone finding out her true identity. She is joined by aliens Max Evans (Jason Behr) and Michael Guerin (Brenden Fehr), but their opinions often differ regarding who they should trust. When Max uses his powers to save the life of human Liz Parker, Isabel is furious with him for taking such a dangerous risk. Over time, however, Isabel begins to let her guard down and trust more, even opening her heart to Liz's friend, Alex (Colin Hanks), who is secretly in love with Isabel.
"Roswell" gave audiences three years of romance, lies, and drama before ending in 2002. The series was recently rebooted under the title "Roswell, New Mexico" for The CW in 2019, and has since been picked up for a fourth season.
Grey's Anatomy made Katherine Heigl a household name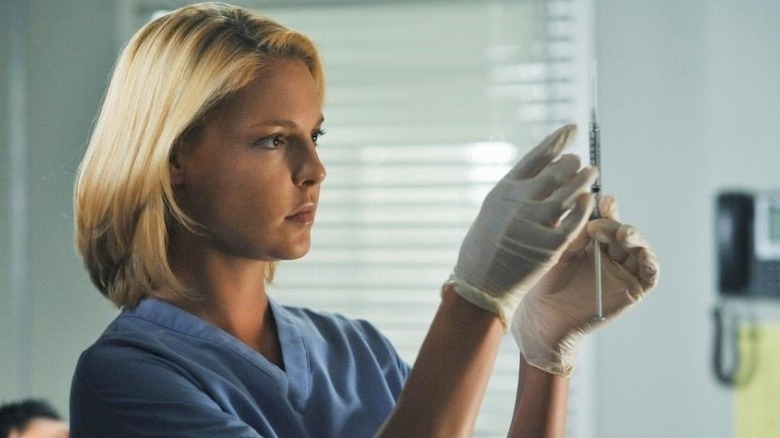 ABC
After 16 years on the air, writer-producer Shonda Rhimes' intense medical drama is still going strong. "Grey's Anatomy" follows the lives and loves of the medical staff at Seattle Grace Hospital, as they strive to balance the competitive world of the medical field with their tumultuous personal relationships. The show is known for taking an emotional toll on its diverse cast of characters, and is not afraid to kill them off in some of the most tragic ways imaginable.
Katherine Heigl played Izzie Stevens on the show, starting out as a surgical resident and moving her way up to surgical oncologist (as revealed in a summary at the end of the Season 16 episode "Leave a Light On"). Izzie saw her fair share of heartbreak on "Grey's Anatomy," from her on-again, off-again relationship with cocky surgeon Alex Karev (Justin Chambers), to the death of her fiancé, Denny Duquette (Jeffrey Dean Morgan). She lives miraculously through two brain tumor surgeries, only to be fired from Seattle Grace after making a mistake that nearly gets one of her patient's killed. Heigl ultimately left the series in 2010 to spend more time with her family.
Katherine Heigl got Knocked Up by Seth Rogen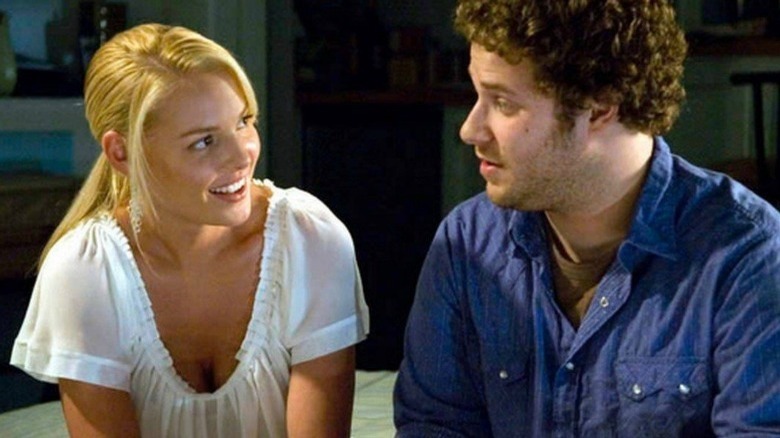 Universal Pictures
Judd Apatow's raunchy 2007 comedy put Katherine Heigl alongside Seth Rogen in "Knocked Up," a story about a one-night-stand that turns into an unexpected romance. Released at the apex of the Peak Apatow Era, "Knocked Up" is perhaps the best distillation of the director's rom-coms-for-men style of storytelling.
Heigl plays Alison Scott, a career-minded woman who gets a big promotion at work and decides to go out and celebrate a little too hard. After a drunken night with stoner and slacker Ben Stone (Rogen), Alison is horrified to discover that she has become pregnant with the virtual stranger's child. While Ben is more than willing to step in to support Alison and become a father, Alison is skeptical about Ben's ability to take on such a big responsibility. Their one-time encounter soon blooms into a tentative romance, as the two find out they have begun to genuinely care for each other.
The movie is brimming with comedic talent, including actors that Apatow has been known to work with on several of his films. Jason Segal, Paul Rudd, Leslie Mann, Jonah Hill, and Ken Jeong all make appearances, and Heigl also shows her impressive comedic chops.
Katherine Heigl starred in 27 Dresses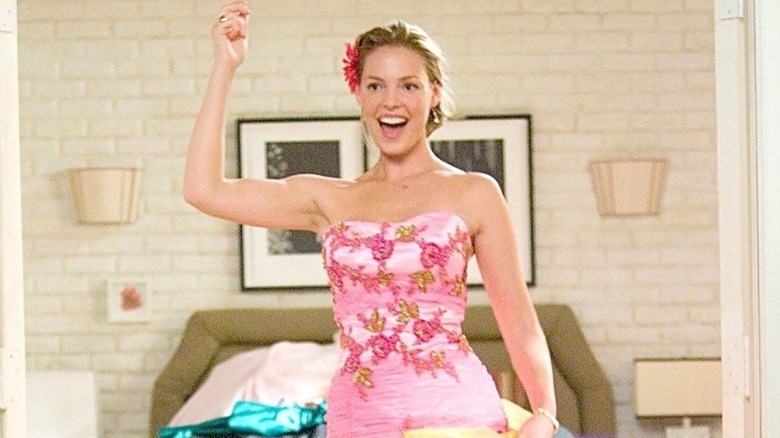 20th Century Studios
Katherine Heigl is always a bridesmaid and never a bride in "27 Dresses," the 2006 rom-com, in which she stars alongside actor James Marsden. This time Heigl plays Jane, who is ready to forego the role of bridesmaid and walk down the aisle with a groom at her side. Things get messy when Jane's boss, George (Edward Burns), begins dating Jane's sister, Tess (Malin Ackerman), and Jane doesn't have the heart to tell Tess that she has actually been harboring feelings for George herself. When the two become engaged, Jane agrees to be the wedding planner for the happy couple.
Marsden pays Kevin Doyle, a writer who is reporting on Tess and George's wedding, but who is secretly writing a piece on Jane after he gets a hold of her personal planner. When Jane and Kevin start developing feelings for each other, Kevin starts to rethink publishing his article, but his editor runs it anyway, much to Jane's ire. Of course, the two end up together in the end, and Jane finally gets the wedding she's always wanted.
Katherine Heigl is best friends with Sarah Chalke on Netflix's Firefly Lane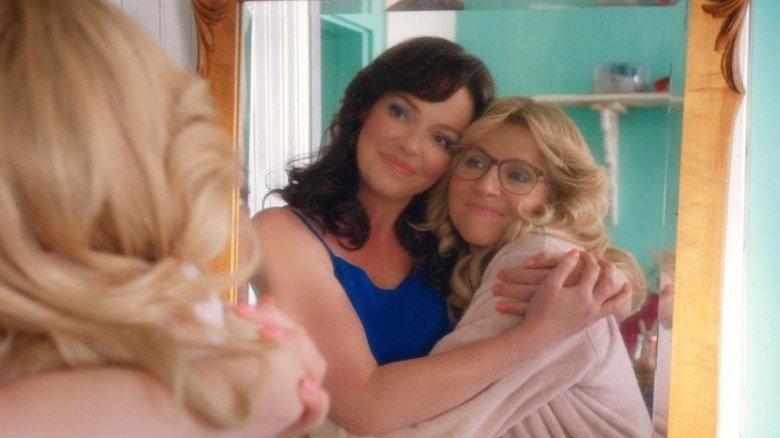 Netflix
In her most recent role, Katherine Heigl stars on the hit Netflix drama series "Firefly Lane," which is based on a novel by Kristin Hannah. The show tells the story of two best friends who go down very different roads, and yet still maintain their strong bond of friendship. Heigl plays Tully Hart, a successful TV personality and host of a daytime talk show. Her best friend, Kate Malarkey (Sarah Chalke), is going through a major transition as she attempts to rejoin the workforce, while going through a divorce.
The show tells the story of Tully and Kate through a series of flashbacks, and takes place through various decades from the 1970s through the 2000s. We see Tully and Kate as children when they first meet, and follow their relationship throughout their lives as they both struggle with relationships, careers, and family. There's also a bit of a mystery that is unresolved by the end of Season 1, but with the recent news that Netflix has renewed "Firefly Lane" for a second season, fans are hoping for a big reveal.