The Raunchy Horror Comedy That Fans Are Loving On Netflix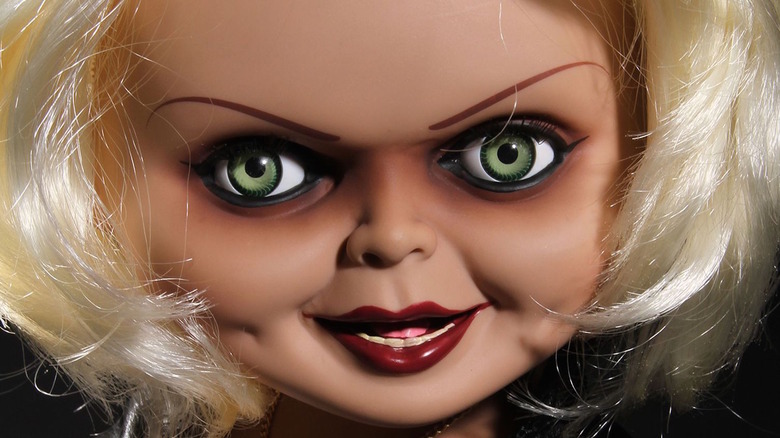 Universal Pictures
We love when Netflix puts horror movies from past cinematic eras on the platform. It's fun to watch movies from 10-plus years ago and think about how they either prove or disprove the statement "they don't make movies like this anymore." One such movie currently on Netflix is 1998's "Bride of Chucky," which is literally a kind of movie they still make — a "Child's Play" remake came out in 2019 — while simultaneously being a movie that could have only existed in the slasher revival boom of the late '90s.
"Bride of Chucky" is the fourth film in the horror franchise about Chucky, the homicidal doll possessed by the evil spirit of a serial killer. The first movie, "Child's Play," came out in 1988 at the end of the '80s slasher wave, and earned sequels in 1990 and 1991. In the seven-year gap between "Child's Play 3" and "Bride of Chucky," Wes Craven's "Scream" came out and changed the horror genre, adding a self-referential sense of humor to the rules of the slasher format. 
Chucky had always been kind of a silly character — he's a two-foot-tall toy who kills people between wisecracks — but originally he was played more for scares than laughs. After "Scream" made slashers safe for meta-commentary, Chucky creator Don Mancini and producer David Kirschner consciously (according to the New York Times) reinvented the character with an ironic '90s style. "Bride of Chucky" moved the franchise into full-on horror-comedy, and it was a successful reinvention that fans still enjoy today, whether they're watching it for the first or fifteenth time.
Bride of Chucky is an iconic horror comedy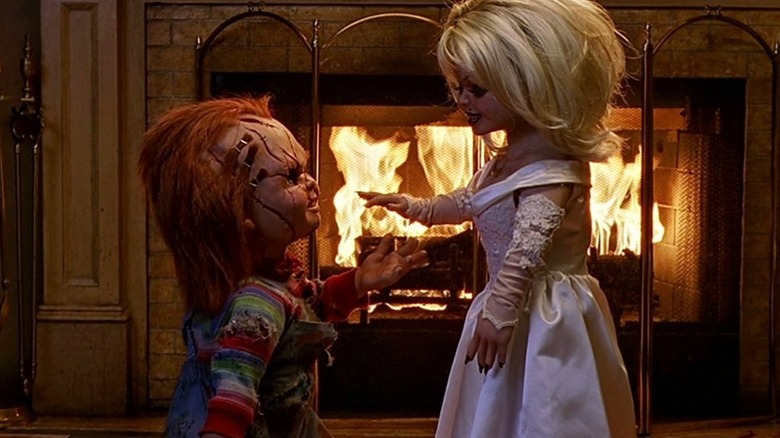 Universal Pictures
Netflix subscribers on Twitter regularly post about the movie. People who haven't seen it are shocked by the star-studded cast. "So I'm watching Bride of Chucky because Jennifer Tilly, of course, and omg JOHN RITTER?! KATHERINE HEIGL? WHAT IS THIS MOVIE?!" @xy_andzee tweeted.
It's true; it's a wild movie. It tells the story of Tiffany Valentine (Jennifer Tilly), who was the girlfriend of serial killer Charles Lee Ray (Brad Dourif) before he died and turned into Chucky. After the events of "Child's Play 3," she retrieves the remains of Chucky and brings him back. He's still the same terrible, controlling guy he was when he was a human, though, and uses voodoo to transfer Tiffany's soul into a doll. So now she's just like him, and they can be together. But they don't want to be dolls. They want to transfer their souls into human bodies. Pre-"Grey's Anatomy" Katherine Heigl plays one of the teenagers they're trying to body-snatch. Late comedy icon John Ritter plays Heigl's character's uncle and legal guardian, a strict chief of police.
As mentioned above, the best part of the movie is Jennifer Tilly, both in human form and doll form, where her unique, breathy voice is absolutely perfect for Tiffany. "After watching bride of chucky for the second time on netflix i've really come to terms of how much i love jennifer tilly," @yerivouge tweeted.
@missusratty loves the movie's industrial metal soundtrack, which is one of the things that carbon-dates it to the late '90s. Rob Zombie's "Living Dead Girl" blasts over the opening credits, and the movie also features bands of the era like Coal Chamber, Stabbing Westward, and Powerman 5000.
Who knows how much longer "Bride of Chucky" will be on Netflix, so watch it ASAP.