Monarch - What We Know So Far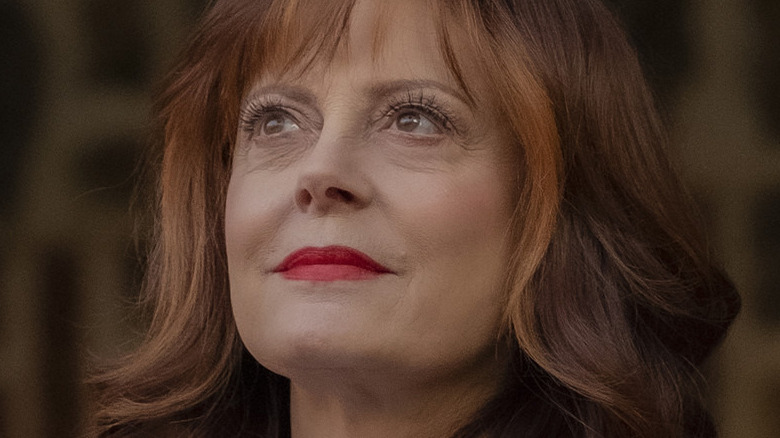 Fox
Some of the most successful shows out there revolve around powerful families that navigate their various dramas while trying to stay at the top of their industry. From Fox's "Empire" to Paramount Network's "Yellowstone," a well-executed show of this type tends to have a good chance to find a dedicated audience. All it needs is a great group of characters — and, perhaps even more importantly, an interesting setting for their struggles.
Recently, the entertainment world has been buzzing about a new Fox project that seems to tick these boxes with ease. The show's called "Monarch," and it was released on September 11, 2022. It'll take the family drama theme to the country music setting that you've seen and loved in shows like the Hayden Panettiere-starring "Nashville," which ended in 2018. But what, exactly, is this new, interesting project all about? Here's what we know about the cast and plot of "Monarch."
Who is in the cast of Monarch?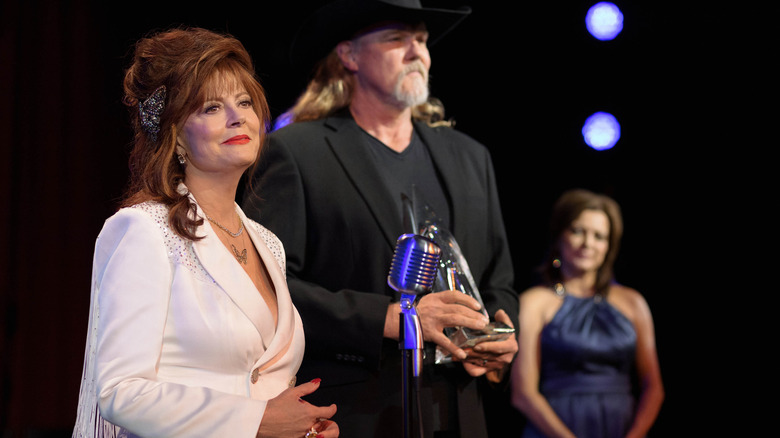 Fox
The cast of "Monarch" is quite impressive, boasting an Academy Award winner and a three-time ACM award winner. Susan Sarandon portrays Dottie Cantrell Roman, the matriarch of the Roman family — the first fictional first family of country music. Her husband, Albie Roman, is played by country music legend Trace Adkins. Dottie is labeled "tough as nails," and Albie serves as the more level-headed member of the family. During flashbacks, young Albie will be played by Justin Kucsulain ("Bloodline," "Homeland"). 
Anna Friel plays Albie and Dottie's daughter, Nicky Roman, who will inherit her mother's crown. Young Nicky is played by Taegen Burns. The youngest daughter, Gigi Taylor-Roman, is portrayed by Beth Ditto, and son Luke Roman is played by Joshua Sasse.
Others on the cast list include Darryl Dillard, who plays the Sheriff's deputy, and Eva Amurri, who plays a young Dottie. Additionally, Filipino singer-actor Inigo Pascual stars as Ace Grayson. According to Fox, major country music stars will appear in "Monarch," including Shania Twain, Martina McBride, Little Big Town, and Tanya Tucker.
What is the plot of Monarch?
Fox
When it comes to the "powerful family with problems" theme, it appears that "Monarch" intends to dive right in — which is not only a good thing, but downright crucial. "Monarch" will follow the Romans as they cling to their legacy while trying to keep secrets from the past buried. 
Per Fox, the official synopsis reads, "Dottie and Albie have created a country music dynasty. But even though the Roman name is synonymous with authenticity, the very foundation of their success is a lie. And when their reign as country royalty is put in jeopardy, heir to the crown Nicky Roman will stop at nothing to protect her family's legacy, while ensuring her own quest for stardom." Luke manages Monarch Entertainment, and while he's extremely close to his mother, he and his father don't see eye to eye on much. With younger versions of the main characters all cast, we can expect many flashbacks that should reveal the Romans' biggest secrets and what they're trying to hide. 
Is there a trailer for Monarch?
A cover of Johnny Cash's "Ring of Fire" plays as the trailer for "Monarch" begins, and we hear a voiceover from Dottie. "We are the first family of country music now and forever," she begins. "I never wanted to just be a star. I wanted to create a dynasty. And I have, but the strength to do whatever it takes to protect the family, well we have to work on that." We then see Albie cocking his rifle as he says to someone off-screen that a Roman never forgets an enemy. Additionally, we see someone else digging a grave, but who's getting dropped in remains to be seen. 
The struggle for Nicky to take over her mother's legacy is on full display, as many people hint she can never fill Dottie's steel-toed boots. We see Gigi struggle to get into the spotlight; all the while, there are several flashes of that same empty grave. Whether this murder occurs in the flashbacks or present remains to be seen, but it looks like it will be central to the story. "Heavy is the head that wears the crown," Dottie says as the trailer winds down, but not before we see her fire a gun in her dressing room at someone we cannot see.