Here's How Much Rick Paid For A Steer Roping Dummy On Pawn Stars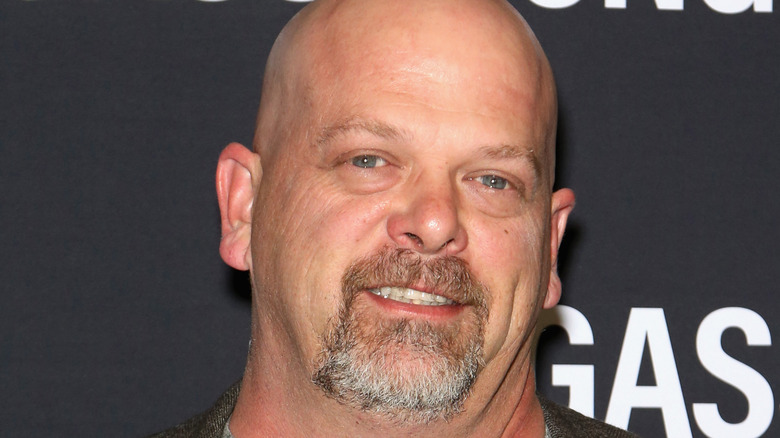 Gabe Ginsberg/Getty Images
Given that Las Vegas is one of America's largest and most famous (or infamous) cities, it can be easy to forget how close it really is to the country. Nevada is a massive state, and a good portion of that arid land is dedicated to things other than the bustling metropolises of Reno and Las Vegas. Despite this fact, the only steers that "Pawn Stars" head honcho Rick Harrison expected to see when he took a business-related road trip down Route 66 were the movements of the steering wheel in front of him.
This changes, however, after Rick makes the questionable decision of taking his boys Corey and Chumlee over to Arizona with him. "We can stop anywhere you guys want to stop, as long as we get back to work on Monday," Rick tells his younger employees. Of course, Chumlee jumps on this opportunity without hesitation. He informs Rick of a lead on a possible roping dummy that the owner is looking to pawn off. Rick seems hesitant, but he keeps to his word and heads to the Arizona ranch where the machine is located.
How Rick was lassoed into buying a plastic cow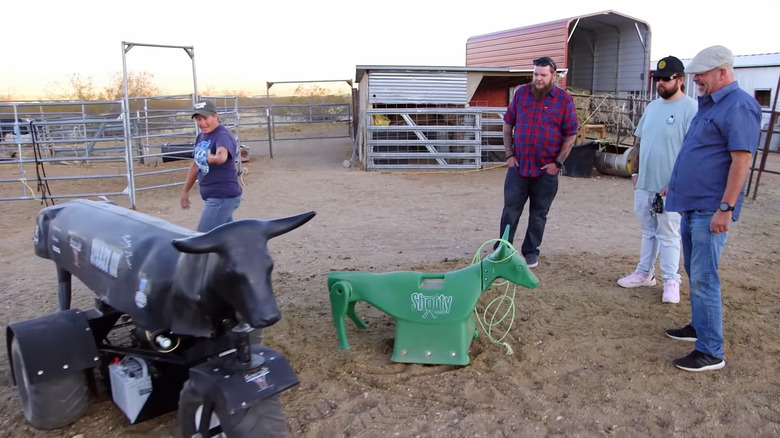 Leftfield Pictures/History
When the group arrives at the ranch in the Season 17 episode "A Dam Good Road Trip," they are surprised to find not one, but two roping dummies for sale. These machines are similar in appearance to the standard mechanical bull, with the exception that they have a full head and horns so that rodeo performers can use them for lasso practice. The larger one, Sparky, is mainly for the advanced cowboys who want to practice on horseback. Meanwhile, the smaller green one, Shorty, is built for bonafide fun for all ages.
After Rick receives a bit of childlike delight watching the remote-controlled Sparky wheel around the ranch, he immediately gets down to business. After all, they are there to make a deal. The seller, Kimi, wants to sell the larger dummy for $4,000 and Shorty for only $800. Those are big bucks for a pair of big bulls.
Unfortunately, Rick only has room to pick up a solitary steer on this trip. He elects to buy Shorty since he seems to be the more manageable of the two. Surprisingly, however, the negotiations for this deal are quite short. Kimi initially offers the dummy for $800 but breaks quicker than a lame horse after Rick offers just $400. It may not have been the biggest score, but at the end of the day, one should never look a gift cow in the mouth.