NCIS Fans Weigh In On The Best End-Of-Show Twist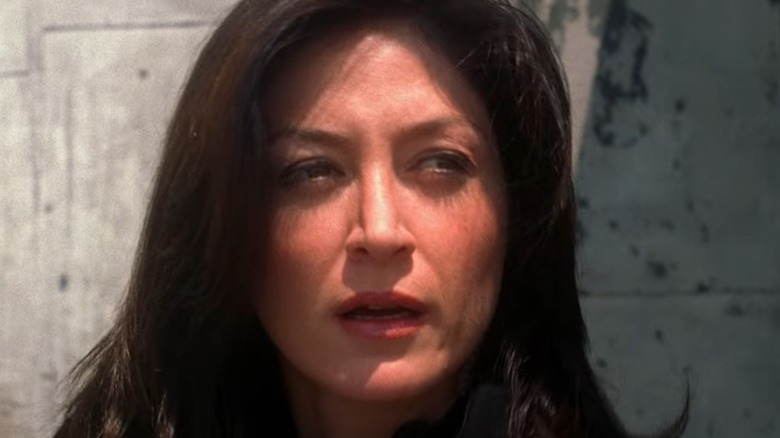 CBS
Like many crime procedurals, "NCIS" often utilizes a "case of the week" formula. These investigations usually see each member of the team using their special skills to help get to the bottom of a murder or some other criminal activity. As is typical of these types of shows, the culprit is rarely the first person on the suspect list. Not every case ends with a genuinely surprising twist, but the ones that do earn a special place in the hearts of fans.
Whether it's the surprise reveal of a killer's identity or the shocking death of a character who seemed to be in it for the long haul, these twist endings make for some of the best episodes of the series. Fans of "NCIS" recently took to Reddit to hash out which of the series' episodes had their favorite end-of-show reveal. There was a wide range of answers, but a few stood out as twists that would make M. Night Shyamalan proud.
Here are the fan picks for the best end-of-show twists in "NCIS" history.
The time McGee's TV habits cracked the case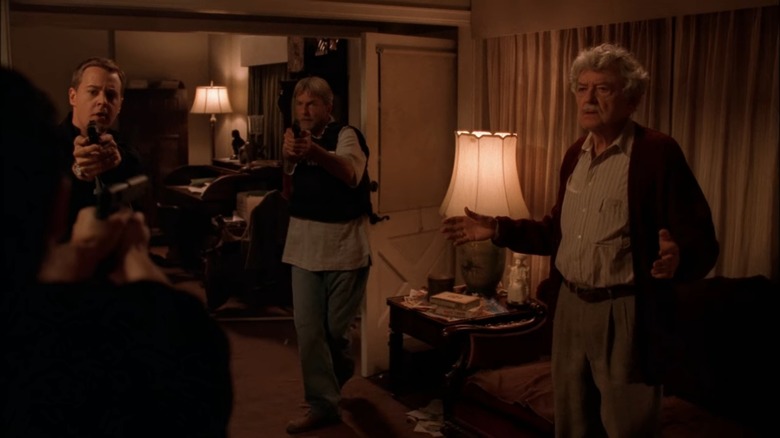 CBS
Reddit user u/Nuthin-2C-Here-Folks started a thread on the "NCIS" subreddit titled "Best end of show twist on NCIS?" In their introductory post, they nominated their own pick from the Season 4 episode "Escaped."
The episode concerns a former petty officer named Derrick Paulson (Brandon Barash) who claims he was framed and wrongly convicted of a bank robbery and murder. During their investigation, the team crosses paths with Mickey Stokes (Hal Holbrook), an elderly retired Navy sailor with a lot of charisma and a house full of dusty antique furniture.
Mickey's firecracker personality delights the NCIS team. That is until the trail of clues points to him as the person who framed Paulson. When they confront Mickey, he denies his involvement and makes a solid point in favor of his innocence: "This is ridiculous. Do I look like I've got five-million bucks lying around?"
Thankfully for Paulson and the NCIS squad, they have an "Antique Roadshow" aficionado on their hands. As u/Nuthin-2C-Here-Folks explained, "He stole a bunch of money but NCIS couldn't find it. It turns out it was right under their nose the entire time – his old crappy furniture was actually really expensive antiques. And McGee, a fan of Antique Roadshow, figures it out. Lol."
Fans loved Ziva David's surprise return
"NCIS" has been on the air for an astonishing 18 seasons with Season 19 confirmed to be on its way. One of the show's great strengths is how it has managed to weave together so many long-running storylines throughout its history. Reddit user u/American_Dreamer98 had one of those long-term narratives in mind when they announced their choice for the best end-of-show twist: "The end of season 16 when a certain ziva David walked into Gibbs house."
The season 16 finale, "Daughters," largely focuses on fan-favorite guest-star and bromance participant Tobias Fornell (Joe Spano), his daughter Emily (Juliette Angelo), and the spirit of the ex-wife he has in common with Gibbs (Mark Harmon), Diane (Melinda McGraw). A recurring storyline throughout the episode is Gibbs' conversations with Diane, who is already dead by that time in the show but is coming to Gibbs via a series of visions to give him advice.
At the end of the episode, he's in his basement when he hears someone at the top of the stairs. "Alright, what now?" he says, imagining that it's Diane once again. But instead, he is visited by another ghost from his past, albeit one that's very much alive.
Ziva David (Cote de Pablo), last seen in the flesh in Season 11, walks down the stairs into Gibbs' basement to warn him that he's in grave danger. Although her reappearance has little to do with the plot of the episode, her sudden last-minute arrival was an enormous twist for long-time fans of the series who had been wondering when and how she would return.
The Season 2 finale features one of the most shocking character deaths in NCIS history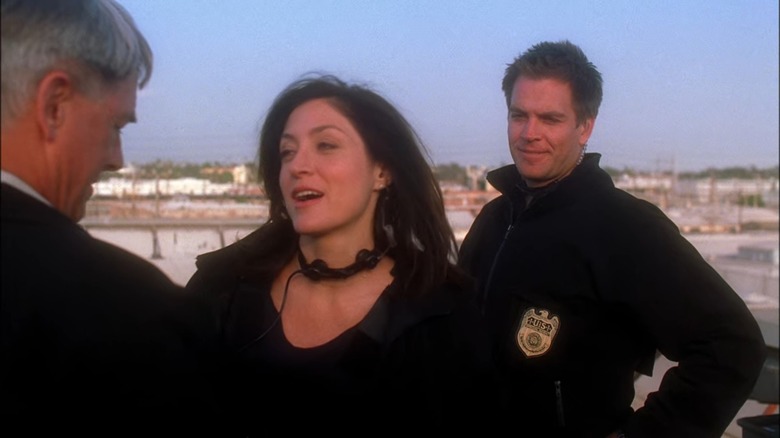 CBS
When u/upstatedreaming3816 thought about their favorite twist ending to an "NCIS" episode, they only needed to say one name to make their case: "Kate."
The finale episode of Season 2, "Twilight," sees Gibbs, McGee (Sean Murray), DiNozzo (Michael Weatherly), and Kate Todd (Sasha Alexander) racing to stop terrorists who have taken control of a drone and plan to use it to bomb a docked Navy ship. The team manages to do just that, and after a few intense firefights, it appears that they've effectively neutralized the situation. That is until another terrorist pops out of a stairwell and takes a shot at Gibbs. Kate jumps in front of him and takes the bullet right in her kevlar vest. Despite the intensity of the situation, Kate gets back up and even cracks a few jokes with Gibbs and DiNozzo.
The lighthearted banter and the fact that this all plays out in the literal final minutes of the episode likely lured many into thinking that everyone was in the clear. However, out of nowhere, Kate is shot in the head by notorious "NCIS" villain Ari Haswari (Rudolf Martin) who, unbeknownst to the team and viewers alike, had been hiding in a nearby building with a sniper rifle.
Kate's death at the end of Season 2 is both a twist for that individual storyline and also for the series itself. While you could argue that Gibbs has always been the protagonist, in the first two seasons, team newcomer Kate served as the viewer's entry point into the world of "NCIS." Seeing her die after such a short tenure on the show was a genuine shock.