CODA - What We Know So Far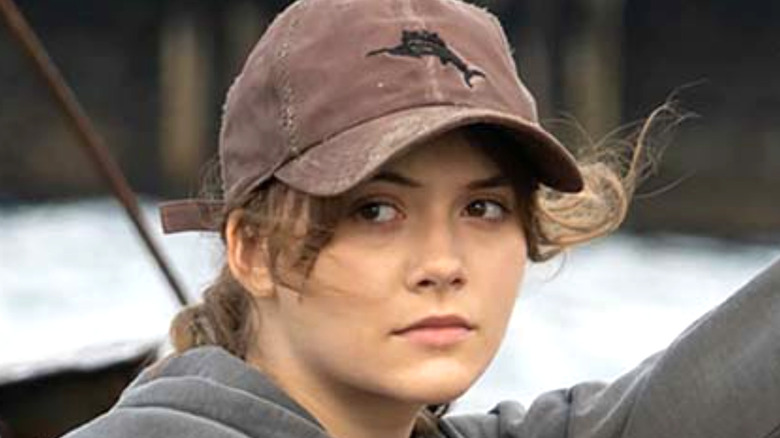 Apple
With streaming services spotlighting indie dramas, and movies like "Nomadland" winning Best Picture at the Oscars — not to mention Chloé Zhao's history-making win of Best Director — it's clear that the lack of tentpole action films this past year has allowed small dramas to shine. Now almost halfway through 2021, streaming platforms appear to be continuing this trend going forward, and the upcoming Apple TV+ movie "CODA" is proof of that.
"CODA" is written and directed by Siân Heder, whose debut feature was 2016's "Tallulah," and the film stunned critics when it premiered at the Sundance Film Festival this year. Based on the French-language film "La Famille Bélier," "CODA," which is an acronym for child of deaf adults, focuses on a teenage girl named Ruby, played by Emillia Jones, who is the only hearing member of her family. With a passion for singing that her choir instructor strongly encourages her to pursue, Ruby must decide whether to leave her tiny hometown to continue singing or stay behind and help her family and their fishing business.
While Heder is not Deaf herself, she put extensive effort into portraying the culturally Deaf community and people correctly, and at least 40% of the script is in ASL, translated by Alexandria Wailes and Anne Tomasetti (ParkRecord.com). The group's efforts definitely paid off, as "CODA" won the U.S. Grand Jury Prize: Dramatic, Directing Award: U.S. Dramatic , U.S. Dramatic Special Jury Award: Ensemble Cast, and the Audience Award: U.S. Dramatic at the prestigious festival (Variety). With just shy of 100 critics' responses, the film also earned a 95% rating on Rotten Tomatoes.
So when can everyone else see the award-winning film? Here's everything we know so far about the indie film "CODA."
What is CODA's release date?
Apple
After premiering at Sundance and getting such a fantastic response, it's safe to say that "CODA" became highly desirable to buyers. The 2021 Sundance Film Festival was a completely digital event, sales and acquisitions included, and according to Variety's report, the sale of "CODA" came down to a battle between Apple and Amazon. When all was said and done, "CODA" was sold to Apple for a record-breaking number of just over $25 million. This beat last year's record-breaking sale of "Palm Springs" to Hulu and Neon for $22.5 million.
Considering all of this, there's obviously good reason to be excited for the release of "CODA." Apple finally announced an official release date last month, stating that "CODA" would premiere on Apple TV+ and in theaters on Friday, August 13, 2021. A couple of other movies with a theatrical release that same date are Ryan Reynolds's "Free Guy" and the horror sequel "Don't Breathe 2." Thankfully, Apple is giving people the chance to watch "CODA" in theaters and at home, much like HBO's current structure, in case you still aren't quite ready to return to theater viewing.
Who stars in Heder's hit drama film?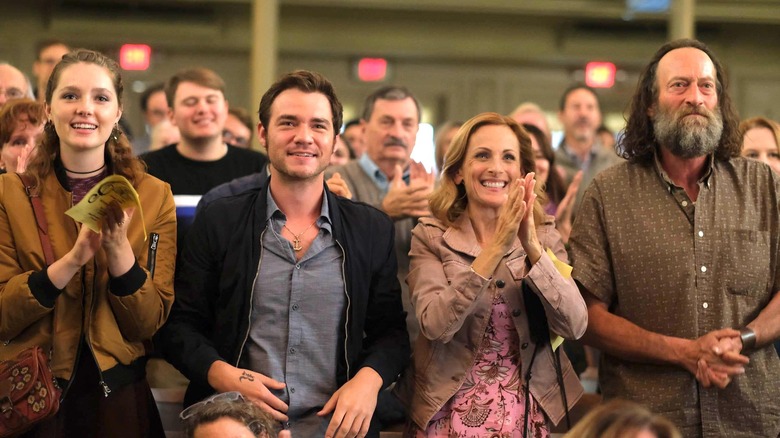 Apple
Alongside Jones, the rest of the cast of "CODA" consists mainly of actors from the Deaf community. Academy Award winner Marlee Matlin, who some might recognize from "Children of a Lesser God," "Switched at Birth," or any number of other projects, plays Ruby's mother, Jackie. She is a lively woman who really tries to live life to the fullest, though her daughter's love of music adds some tension to their relationship. Troy Kotsur plays Ruby's father, Frank, a man wholly devoted to his family and fishing business who has a similar spirited nature to his wife, while Daniel Durant plays Leo, Ruby's older brother. Heder was adamant that the characters be played by Deaf actors, and Matlin, who was the first person cast in the film, helped Heder fill out the rest of the cast through her connections with the Deaf West theater company and the Deaf community, which is how they found Kotsur, while Durant was cast through an audition process. 
The role of Ruby was actually the most difficult to cast, as Heder discussed in an interview with ParkRecord.com. She explained that whoever played Ruby "needed to be very serious about going into training and learning ASL and looking like she was a native speaker," and she found that in Jones, who ended up taking nine months of ASL classes before filming started. On top of that, Jones also had to learn how to sing and work on a commercial fishing boat, two key aspects of the character. Rounding out the main cast is Eugenio Derbez as Bernardo Villalobos, Ruby's high school music teacher. 
What is the story of CODA about?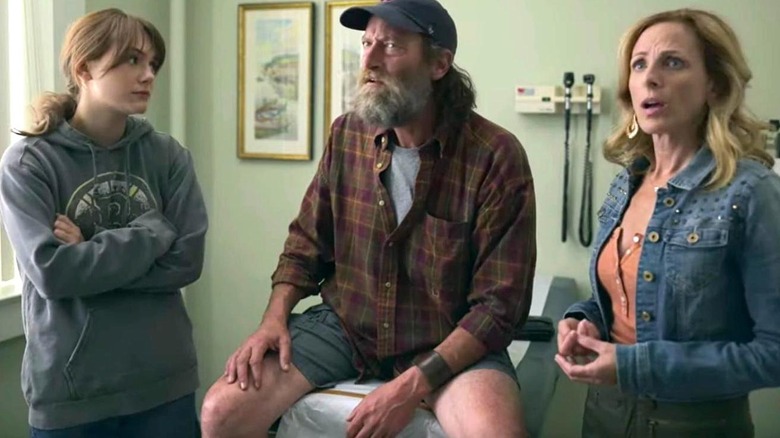 Apple
In "CODA," a 17-year-old girl named Ruby is the only hearing member of the family. She grew up as a part of the Deaf community and is fluent in ASL, allowing her to communicate with her family and friends with ease. At the same time, this has forced the teenager to be the barrier between her family and the outside world, with Ruby constantly working as translator for her parents and brother. She also helps out her brother and father with the family fishing business, working mornings before going to school.
When Ruby joins her school choir, she finds that she has a strong connection to both singing and a fellow classmate in the group, and her music teacher encourages her to consider pursuing music in college and beyond. It's an old passion of Ruby's brought back to life, a talent that she left behind due to her family's inability to enjoy or understand it. Considering what she wants for the future, Ruby is at a crossroads, forced to chose between staying in the small town and helping her parents with their business and everything else, or leaving it behind to pursue a dream of singing.