The Scene In The Fast Franchise That Destroyed The Most Cars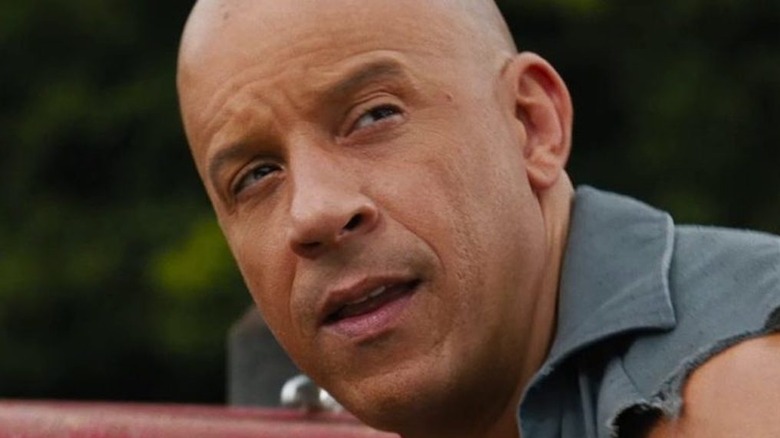 Universal Pictures
A hefty amount of cars have been destroyed across eight films in the "Fast and Furious" franchise. In fact, according to a "Fast and Furious" fact sheet shared with Looper, the amount is approximated to be just over 2,500, which accounts for 20% of all the cars used in "Fast" films. Over 12,000 cars have been used in the movies, and unfortunately, a good bit of them don't make it out in one piece. Dominic Toretto (Vin Diesel) and his family have both purposefully and inadvertently destroyed thousands of vehicles, with the help of some nefarious villains.
Some of the craziest scenes in "Fast" history, which feature quite a bit of destruction, include the submarine chase and the zombie cars charade in "The Fate of the Furious," as well as the London chase in "Furious 6." Each of these saw a decent amount of cars get demolished, but only one scene in the entire franchise takes the cake when it comes to the most cars obliterated. That honor goes to "Fast Five," and you can probably guess which outlandish scene it was.
A Fast Five scene had more destruction than any other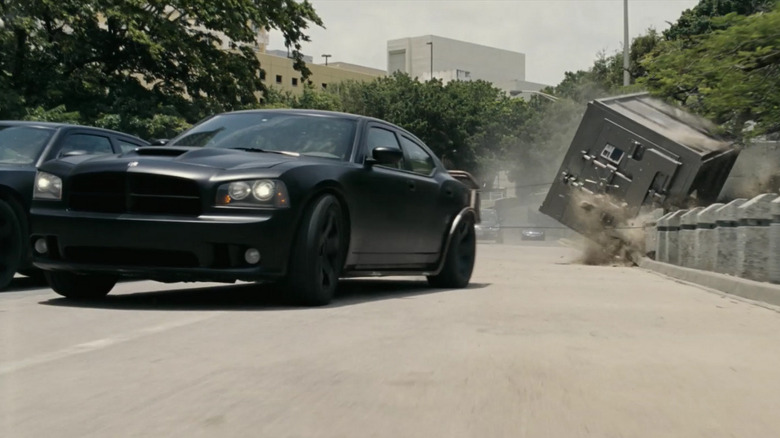 Universal Pictures
While plenty of cars were blown away and wrecked throughout the entirety of "Fast Five," most of its vehicles were destroyed in one of the final scenes. The vault heist comes at the end of the movie and serves as the big finale, in which Dominic Toretto and Brian O'Conner (the late Paul Walker) drag a vault through the streets of Brazil while it's attached to their cars with cables. The rest of the gang helps them navigate the city and defend sthem from both police and drug lord Hernan Reyes' (Joaquim de Almeida) henchmen.
The vault was constantly being tumbled around and took out cars that sat parked on the side of the road, as well as others that were chasing after it. Over 200 cars were destroyed during the vault heist chase, more than any other scene before or after it (via Screen Rant). Interestingly, the vault was actually a car itself — specially designed by the stunt team — and featured perfectly hidden wheels. It was a simple car consisting of four wheels, one seat, and a steering wheel — enough to get the job done. 
All in all, 200 wrecked cars is a high number, but it made for a pretty epic sequence.