Army Of The Dead Star Nora Arnezeder Explains The Unique Part Of Her Character - Exclusive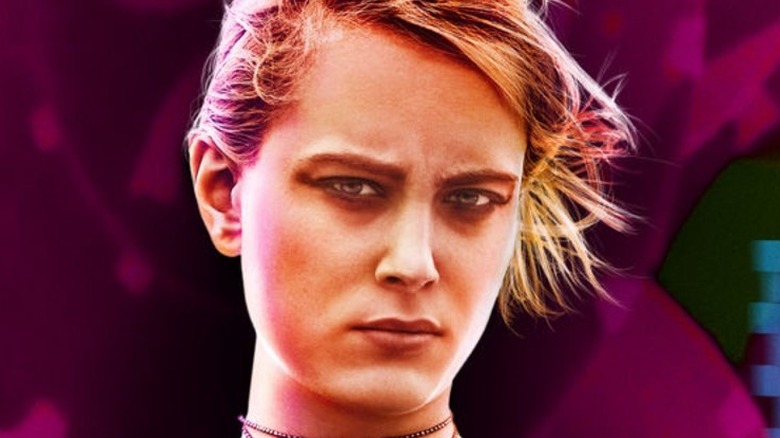 Netflix
Director Zack Snyder's new zombie heist thriller "Army of the Dead" is far from your stereotypical movie about the undead. Instead, Snyder's new "Dead" tale is more like his blockbuster feature film debut, the 2004 remake of "Dawn of the Dead" — originally made by legendary filmmaker George A. Romero — in which he had zombies moving at a rapid pace.  And much in the way Snyder redefined the zombie genre with his 2004 film, he redefines it once again with "Army of the Dead," treating fans to many more surprises lurking around the corner.
"Basically, with this one and the zombies, they have emotions. They're faster, they're organized, and they really feel like humans," Nora Arnezeder, who plays Lily, aka "The Coyote," told Looper in an exclusive interview. "In a way, you can almost have empathy for them. And I think that my character is not only a zombie killer, she also has some sort of empathy for them, which creates some interesting obstacles."
In "Army of the Dead," now streaming on Netflix, Dave Bautista stars as Scott Ward, a veteran of the zombie war who assembles a group of mercenaries to recover $200 million in a casino vault below the Las Vegas Strip. Helping Ward and his mercenaries breach the walls containing the zombie-infested population is Lily, who has learned ways to strategically outmaneuver the deadly creatures. While Lily starts the film as a badass that seems to only look out for No. 1, as the story unfolds, viewers discover she's really a badass with many layers.
Nora Arnezeder is thrilled The Coyote is a badass with layers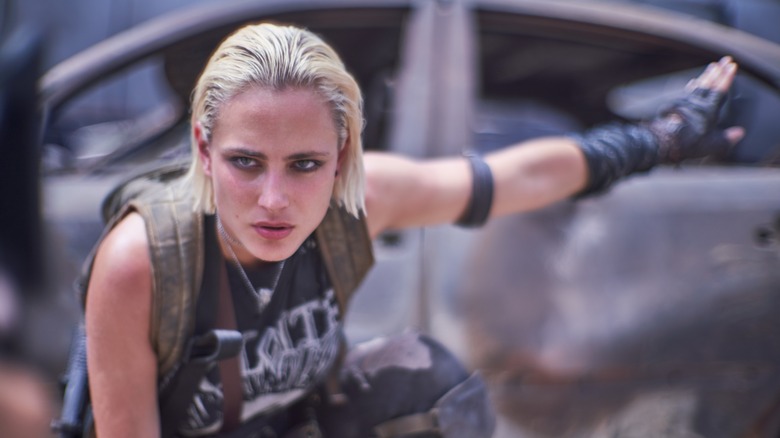 Netflix
Nora Arnezeder said that she loves how well-drawn the characters are in "Army of the Dead," as they're far more interesting in the one-dimensional characters you find in most other zombie tales. "She really cares about people, for sure, but she starts off quite lonely," Arnezeder said of her character, Lily. "She's a lonely individual in a way, and she really has an interesting arc to the character, where ... how can I put it? She really learns how to team up. It's a real interesting arc. There's a real discovery. She's kind of an antihero in the beginning, and there's a real discovery along the way, that working with people together can actually humanize her even more."
Born in Paris, Arnezeder said she's thrilled to have the opportunity to play a strong character after feeling stuck in less challenging roles. "I started acting when I was 15 years old, and the roles that directors would give me would be princesses and love interests. I mean, I'm so grateful for every director who wanted to work with me, and who gave me the opportunity. But at some point, I got tired of it," Arnezeder said.
Arnezeder elaborated on what changed for her.
Arnezeder said she grew as a person and directors started giving her better roles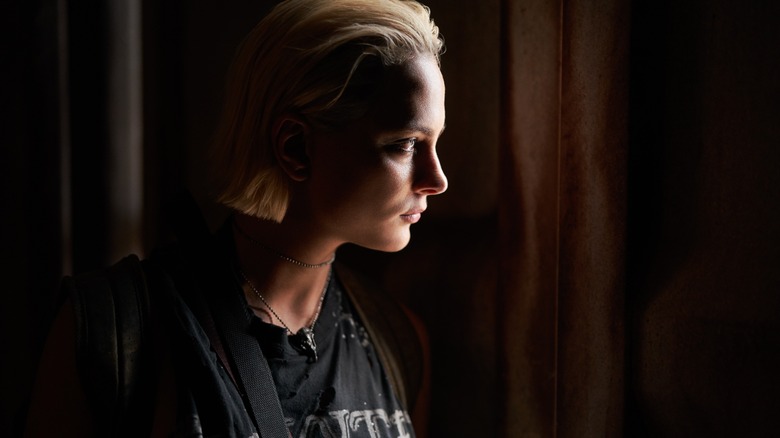 Netflix
"I just needed something. I grew as an individual, as a human being, and I didn't want to play princesses anymore and love interests," Nora Arnezeder told Looper about her career. "And to me, it was about time to switch to something else. I did a lot of work on myself. And, I don't know, directors started to be interested in me for different kinds of roles, like characters who were in charge."
And because Arnezeder took charge by pursuing characters who take charge, the effort has taken her career to some pretty amazing places — including outer space earlier this year. "I played an astronaut in a [European] movie called 'Tides,' that was in [the Berlin International Film Festival in March]. Unfortunately, I couldn't be there because of COVID, but it's a movie that's really dear to my heart, and I play a strong character," Arnezeder said. "When I did the audition for 'Army of the Dead,' I guess Zack saw me as that kind of character in charge. That character, Lily, could definitely have been written as a male character. You know? It does not say. Only her name is feminine in a way."
"Army of the Dead" is streaming exclusively on Netflix.