Here Is Which Frances Conroy Character AHS Fans Think Is The Best
FX
For longtime fans of the horror anthology series "American Horror Story," the name Frances Conroy is a very familiar one. The actress has been a mainstay in the series ever since Season 1, "American Horror Story: Murder House," and she's appeared in seven total so far, including "Asylum," "Coven," "Freak Show," "Roanoke," "Cult," and "Apocalypse." On top of that, Conroy is confirmed to be returning to the franchise for the upcoming Season 10 called "American Horror Story: Double Feature," replacing Kathy Bates. Like with all the previous seasons, very little details have come out about the upcoming season ahead of its release, but it sounds like it's going to be quite a unique story. 
Conroy began her partnership with "American Horror Story" creator Ryan Murphy as the character Moira O'Hara in "Murder House." Sharing the role with Alexandra Breckenridge, Moira is a maid working at the Harmon family's new house in Los Angeles. Killed in the house years earlier, Moira is stuck as a ghost on the property and cursed to stay there forever, or at least as long as her remains stay buried in the yard. As part of her situation, Moira appears as an attractive young woman to men (Breckenridge), and an old maid to women (Conroy). While Moira is arguably one of her best roles on "American Horror Story," earning her an Emmy nomination, Conroy impresses with each new character she takes on in the franchise, and there have been quite a few. 
Recently, some people on Reddit decided to find out which of Conroy's characters on "American Horror Story" is the favorite among fans, and the answer might — or might not — surprise you.
American Horror Story: Coven's Myrtle Snow is the winner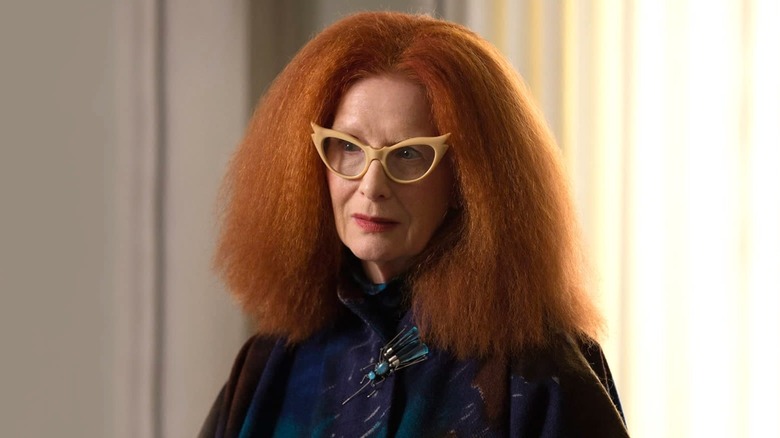 FX
In the results for the poll run by u/Im_here_for_laughs7, Myrtle Snow, the other "American Horror Story" character to earn Conroy an Emmy nomination, is the obvious winner, although Moira holds a respectable second place. For those who don't know or need a little brush up on your "American Horror Story" knowledge, Myrtle is Conroy's character in the third season, "Coven." As a young witch, Myrtle attends Miss Robichaux's Academy for Exceptional Young Ladies as the main rival of Fiona Goode, played by Jessica Lange, before going on to lead the Witches' Council. Sophisticated and highly fashionable, Myrtle is known for her iconic orange crimped hair, cat eye glasses, and penchant for wearing haute couture. 
While Myrtle doesn't have a great fate in "Coven," her death apparently can't keep her away for too long. Myrtle shows up again in the crossover season, "Apocalypse," when she is resurrected by Cordelia Goode (Sarah Paulson) to fight Michael Langdon (Cody Fern). This actually happens to be her second resurrection, but who's counting. Aside from Moira and Myrtle, Conroy also plays Gloria Mott in "Freak Show," the wealthy, ignorant mother to serial killer Dandy Mott (Finn Wittrock), The Angel of Death in "Asylum," and many more, but it's clear that Myrtle is the one that really sticks with fans.