The Shocking Item Heather Donahue Brought To The Blair Witch Project's Filming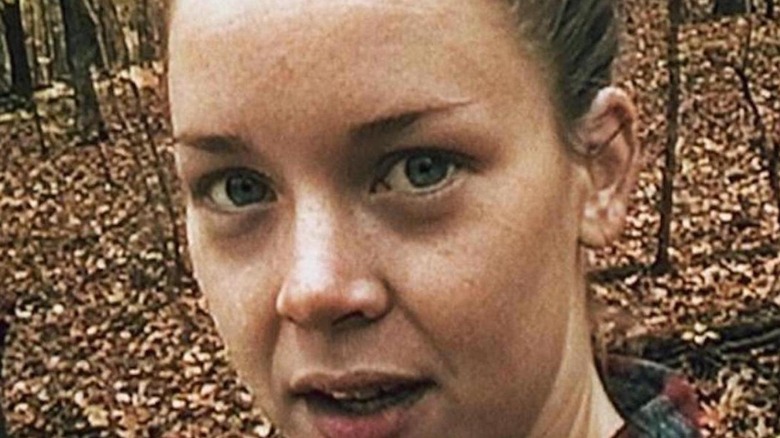 Artisan Entertainment
In cinematic circles, few years are regarded with quite as much adoration as 1999. There's good reason for that, as dozens of all-time great movies saw release that year, with "The Matrix," "Magnolia," and "The Sixth Sense" among them. While those films continue to earn accolades more than two decades later, their legacies pale in comparison to the low-budget marvel "The Blair Witch Project," which remains both the gold standard for found footage horror flicks, and one of the most profitable movies ever made. 
Produced on a sub-shoestring budget, featuring unknown actors, and shot guerilla-style in the woods of Maryland, "The Blair Witch Project" was about as far from a Hollywood production as you could get. Yet, behind a groundbreaking promotional campaign that painted the film — about a film crew getting lost in the woods while making a documentary about a disturbing local legend — as more fact than fiction, "The Blair Witch Project" became the year's least-expected hit.  
In the wake of such success, none of "The Blair Witch Project" team were more visible than its stars, Heather Donahue, Joshua Leonard, and Michael C. Williams, who took the biggest risks of their careers traipsing off into the woods for a no-budget feature that seemingly offered little more than a new scene or two for their sizzle reals. But perhaps none took a bigger chance than the film's lone female star Heather Donahue, who bravely walked into those woods with a bunch of strangers to make a horror movie that essentially didn't have a script. 
The actor explained in a revelatory 2016 interview with Paper Magazine she was well aware of the risks, noting she actually headed into the woods with the "Blair Witch" crew carrying a "giant knife" tucked away in her pack.
Donahue's friends and family were quite worried for her safety on The Blair Witch Project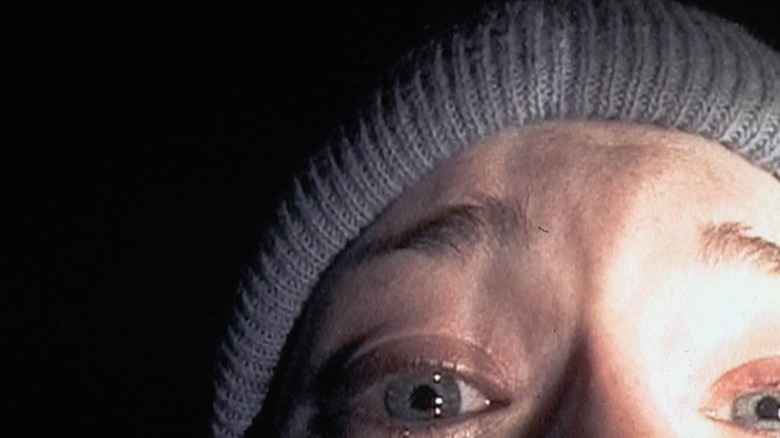 Artisan Entertainment
One could hardly blame Heather Donahue for heading into the production fully strapped. The actor told Paper Mag that her friends and family urged her to pass on the film altogether. Donahue instead decided to arm herself ahead of the production, "I brought a giant knife because everybody who loved me was telling me, 'You should not do this. This sounds like a snuff film. Why are you going into the woods with a bunch of guys you don't know?' My mom was like, 'Please get their social security numbers. We really don't want you to do this.' Nobody wanted me to do this."
Call it an act of bravery, or an unabashed act of cinematic insanity, but Donahue's risk seemed to have paid off when "The Blair Witch Project" became a legit cultural sensation. But Donahue claims the iconic horror film's runaway success proved a double-edged sword, if only because so many people thought it was real. "It was very hard as a young actress where you did something where you were really proud of your work and you feel like you did a really good job, and then you're kind of in this really stuck situation where you're an overnight success, but you're dead. It even said on my IMBD page that I was dead. It said 'Heather Donahue: Deceased.' I thought, 'No! I thought this was going to be an opportunity.' It was crazy. I was seen by casting directors, and everyone, as me."
Crazy indeed. But even if "The Blair Witch Project" didn't become the big break Donahue had hoped, its enduring legacy ensures she'll forever be remembered in the annals of horror movie history.