Lashanta From My 600-Lb Life Is Unrecognizable Now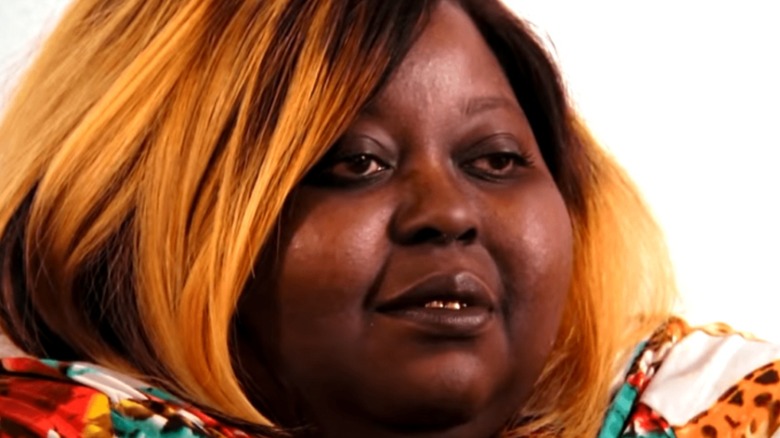 TLC
TLC's "My 600-Lb Life" has been documenting the struggles of individuals with weight loss for nine seasons to date. In Season 7, viewers were introduced to Lashanta White. At the time of airing, Lashanta weighed 662 pounds. Standing at 5'2", she hoped to lose enough weight to turn her health around before she turned 40. When her journey began, she had been bedridden for two years and struggled to care for her four children.
Shortly before she moved to Houston in order to continue her weight loss journey, Lashanta's boyfriend Jeremy left her. Although Jeremy claimed he disapproved of Lashanta losing the weight, she decided to push forward with the move with the help of her sons. Nine months after her initial meeting with weight loss surgeon Dr. Nowzaradan, Lashanta had only lost 113 pounds, and Dr. Now was unable to approve her for weight loss surgery. Like many of the individuals who have appeared on the show, Lashanta remained determined to qualify for gastric bypass. After a year, Lashanta was able to lose an additional 47 pounds, which allowed Dr. Now to schedule her for gastric bypass surgery. Nowadays, she's almost unrecognizable.
Lashanta is now a singer/songwriter
During her appearance on "My 600-Lb Life," Lashanta disclosed that she struggled to find employment due to her limitations, but it appears that since her episode aired, LaShanta has taken on a new career path.
In 2019, she began posting original songs on her YouTube page, including a short song entitled "My Ex Tryna To Get Me Back" which refers to her partner on the show who discouraged her from losing weight. The reality star has over a dozen original short songs on her page, including "Big Gurl Season" and "Where U Been."
Her Instagram lists her as a jingle writer and songwriter, and she regularly posts short videos for her 52.7 thousand followers. While the singer has kept her weight under wraps since her episode premiered, she often appears with a wide variety of fun hair and makeup styles, and she advertises her writing services on both her Instagram and Facebook. Although the star hasn't mentioned any future television appearances, that may change when "My 600-Lb Life" returns to the air. As Deadline reported, the show shut down production in 2020 due to the coronavirus pandemic. TLC has not yet announced when the reality show will return.