The American Horror Story Couple That Reddit Agrees Is The Best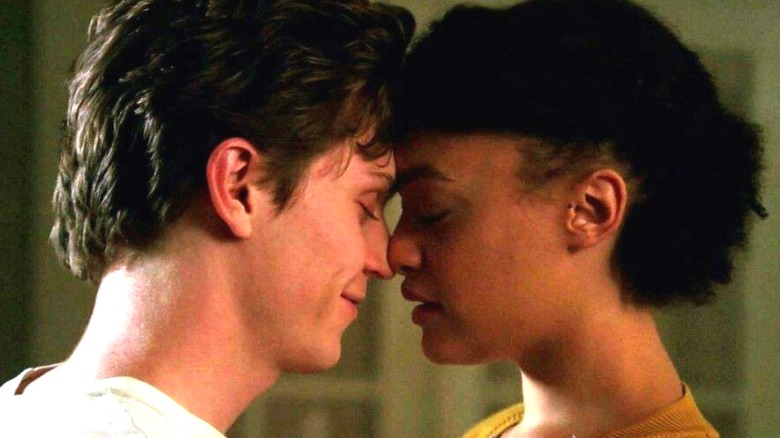 FX
Although "American Horror Story" has a penchant for horrifying its audiences in ever more gruesome and brutal ways, it has also created some relationships that fans love. After all, what's the point of killing people if you don't have an emotional connection to their stories? Love is universal and can be found in the darkest of places. Unfortunately, many of the people involved — at least when it comes to "AHS" — are rather tortured personalities in untenable situations. And, as a result, most of the couples in this series don't get a happy ending — at least not in this world. 
Yet that hasn't stopped viewers from rooting for them, of course. Their lives may be difficult and their endings tragic, but that just makes them more romantic. Reddit users who enjoy the show have ranked the best couples in the series, reminding everyone of the good parts of past seasons. If you're looking for a reason to get back to the show before Season 10 debuts in July, you've found it. 
Liz Taylor and Tristan Duffy's story wins Best Relationship honors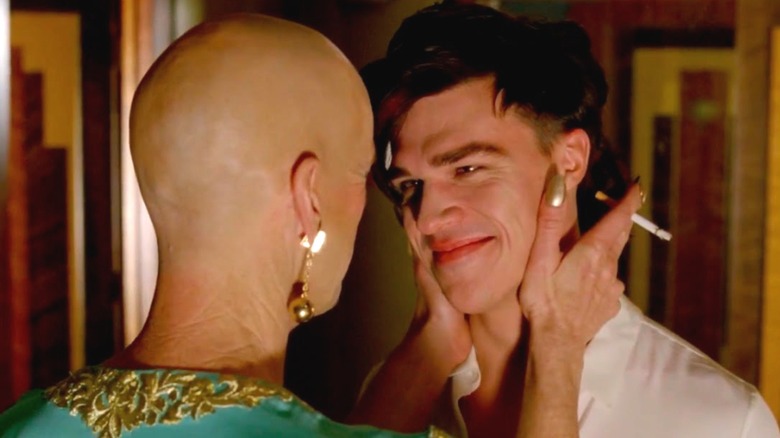 FX
Out of 697 voters on the "American Horror Story" Reddit page, 289 (or about 41%) voted for Tristan Duffy (Finn Wittrock) and Liz Taylor (Denis O'Hare) as having the best relationship. It makes sense: their relationship brings out the best in both people. During the "Hotel" season, Tristan is introduced as a bad boy. He's arrogant, and his vampiric lust has gained him a body count. But his (somewhat sudden) affair with Liz is based on trust and friendship: She sees more to him than what he shows on the surface. In return, he does the same for her. "Thank you for seeing the girl," his transgender love tells him. 
Their romance is ill-fated, thanks to The Countess (Lady Gaga), but in death, Tristan shows an unselfishness in deciding not to approach Liz, allowing her to live out her life and create new accomplishments without his ghost holding her back. He awaits her death in the Hotel Cortez, which finally brings them together. One Reddit user explained, "I cried when she reunites with him in this kind of afterlife. Wonderful."
Not everyone would agree that this couple is worth of "best relationship" status, though. Some viewers in another Reddit thread were confused by what several called the "random" nature of the pairing, which seemed to come out of the blue and have a parental tone to it that they found creepy.
Other AHS couples people like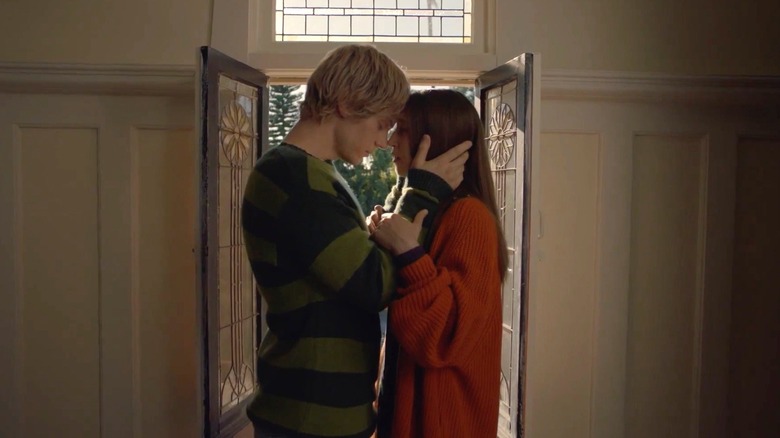 FX
Coming in second in the unscientific poll with 128 votes was Kit (Evan Peters) and Alma Walker (Britne Oldford), who appeared during the "Asylum" season. Their story is based on a real-life couple, Barney and Betty Hill, who were also an interracial couple who claimed to have been abducted by aliens. However, some Redditors had a bit of a beef with this choice, considering that Kit and Grace, Alma's sister, were involved in a polyamorous relationship with Kit. Plus, in a disagreement over the nature of the aliens, Alma kills her sis.
Tate Langdon (also Peters) and Violet Harmon (Taissa Farmiga) from "Murder House" came in third with 125 votes. She offers him compassion, which he has not received from anyone else, and in the "Apocalypse" episode "Return to Murder House," she finally forgives him for the evil he did while under the influence of the house. However, Mallory goes back in time to kill Michael in the finale of that season, which changes the future so that their reunion never happens.
The other couples in the poll were Zoe Benson (Farmiga) and Kyle Spencer (Peters) from "Coven" with 72 votes, Jimmy Darling (Peters) and Dot/Bette Tadler (Sarah Paulson) of "Freak Show" with 57 votes, and Harrison (Billy Eichner) and Meadow Wilton (Leslie Grossman) of "Cult" with just 26 votes. Honorable mentions went to Timothy (Kyle Allen) and Emily (Ash Santos) from "Apocalypse" and Matt (André Holland) and Shelby (Lily Rabe) from "Roanoke." Luke (Alexander Dreymon) and Nan (Jamie Brewer) from "Coven" also got an "unofficial" honorable mention.
It's hard to imagine what actually defines a "best relationship" on "American Horror Story." As one commenter pointed out, they weren't sure if that meant "healthiest/happiest" or most interesting and entertaining. The topic is a fun one to think about, but in "American Horror Story," relationships have their own issues that might go a teensy bit beyond what's normal in everyday romances.