Why Evangeline Lilly's Latest Instagram Post Has Marvel Fans Buzzing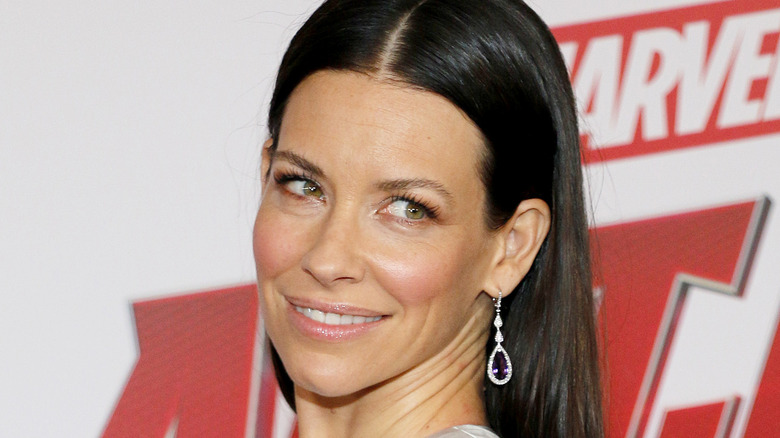 Shutterstock
While Marvel fans have a lot to be happy about these days, with many counting down to the premiere of "Black Widow" — finally — and "Loki" on Disney Plus, actress Evangeline Lilly has just added another thing to hype fans up. Lilly has previously appeared in both "Ant-Man" and "Ant-Man and the Wasp" as Hope Van Dyne, a.k.a. The Wasp. The latter film, which came out in 2018, even made Marvel history, becoming the first film of the MCU to feature a female character's name in the title. Of course, that was quickly overshadowed by the release of "Captain Marvel" the next year, but it's still something to be celebrated. 
Lilly's character Hope is the daughter of Dr. Hank Pym (Michael Douglas) and Janet Van Dyne (Michelle Pfeiffer). She's a highly intelligent scientist and very capable superhero, and the perfect partner to Scott Lang (Paul Rudd), a former criminal who encounters the Ant-Man technology when he tries to rob Hank's house. In the sequel film, Hope and Scott enter the Quantum Realm to retrieve Janet, who disappeared inside years earlier and is miraculously found alive and sane, and the couple also appear in "Avengers: Endgame." Luckily, Ant-Man and the Wasp fans have the upcoming film "Ant-Man and the Wasp: Quantumania" to look forward to, and a new Instagram post from Lilly just added another huge reason to get excited.
Evangeline Lilly tagged Ant-Man villain Corey Stoll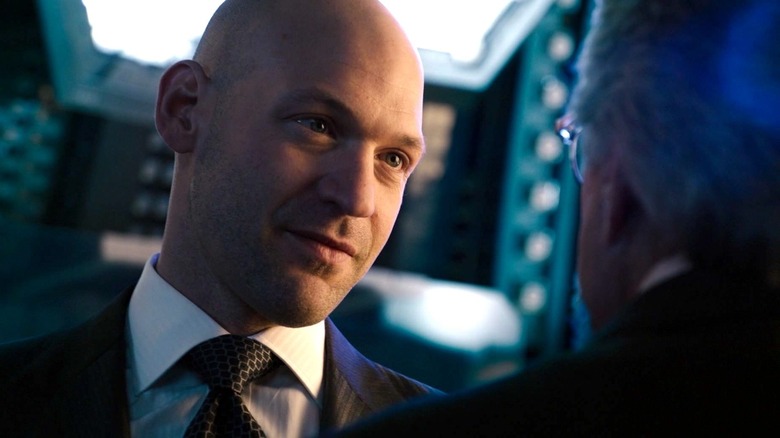 Marvel Studios
In a new post on her Instagram, Lilly shared an image of a script for "Ant-Man and the Wasp: Quantumania." While this is fantastic news on its own, signifying that the movie is moving along nicely, it was actually Lilly's tags on the post that really got people's attention. In the caption, Lilly tagged pretty much everyone known to be involved with the movie, including director Peyton Reed, Pfeiffer, Douglas, Rudd, and Kathryn Newton, who will be playing Cassie Lang. But along with all of those names, Lilly had a surprising addition to the list, and that's Corey Stoll. For Marvel fans, this name should be familiar, as Stoll plays Darren Cross, also known as Yellowjacket, in 2015's "Ant-Man."
In the first Ant-Man film, Cross is obsessed with Pym Particles and attempts to take control of Hank's company and property. When that doesn't work, he then tries to make his own version of the technology in order to sell it to Hydra and the Ten Rings. Cross also uses the particles to make his own Ant-Man-style suit, leading to the creation of Yellowjacket. Scott, Hope, and Hank work together to stop Cross's plan from succeeding, and the film's climax features a major fight between Scott and Cross. While Scott and his team prevail, Cross disappears in the aftermath and hasn't been seen or mentioned since. The character also doesn't make an appearance in the second film, "Ant-Man and the Wasp," so the actor's name being mentioned here is big news. How could Cross come back in the upcoming film? 
As of right now, little else is known about "Ant-Man and the Wasp: Quatumania" aside from the main cast, along with Jonathan Majors joining as Kang the Conqueror, but fans have many different theories about what the story could entail. Now that Stoll might be in the new movie as well, it's anyone's guess what will happen. Fans will just have to wait until "Ant-Man and the Wasp: Quantumania" comes out on February 17, 2023 to find out.