The Best Time Rachel Broke Character On Friends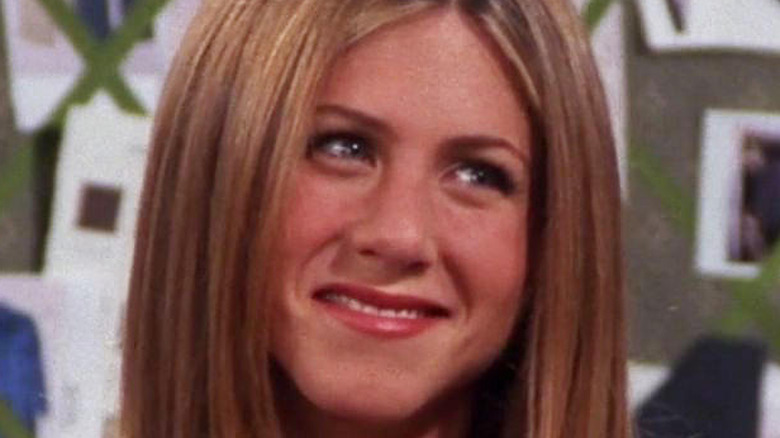 NBC
"Friends" bloopers are just as famous as the episodes from which they're pulled, and occasionally, while the show was airing back in the late 90s and early 2000s, some episodes would end with a short gag reel. Starting with Season 6, the DVD boxsets also came with bloopers on the special features disc, and over the years, hundreds of gag reels have been compiled on YouTube to celebrate the moments the six friends broke character.
The members of the show's cast were all great friends on and off the set, which sometimes made getting through filming difficult. With an uncanny ability to make their fellow "Friends" actors break character, the gang often had a tough time making it through a scene without cracking each other up. Jennifer Aniston was no stranger to getting the giggles and sometimes she wasn't able to make it through a scene, resulting in her bloopers making it in the final cut. One of those instances happens to be one of Rachel Greene's best character-breaking moments and a legendary "Friends" outtake.
The best time Rachel broke character came in Season 7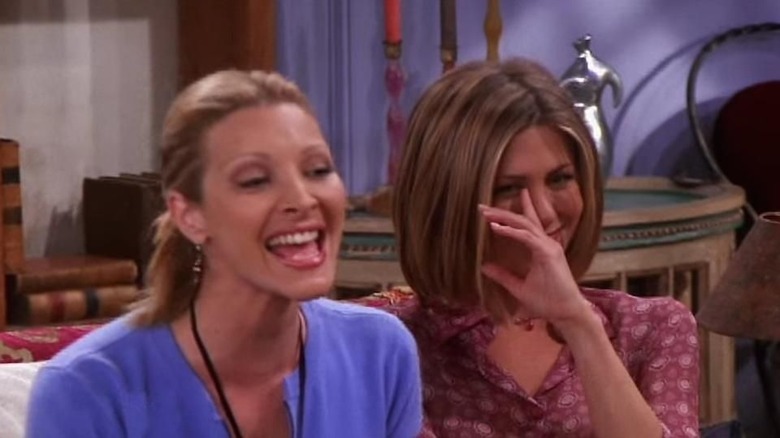 NBC
In a clip from "Friends" Season 7 Episode 15, "The One With Joey's New Brain," Ross (David Schwimmer) takes up playing the bagpipes in order to surprise Monica (Courteney Cox) and Chandler (Matthew Perry) with a performance at their wedding. The couple hears Ross practicing from across the street and his surprise is ruined, but he decides to perform for them to hopefully get the go-ahead anyway. At the end of the episode, he plays "Celebration" by Kool & The Gang for Monica, Chandler, Phoebe (Lisa Kudrow), and Rachel as they sit on the couch.
As soon as Ross starts performing, Rachel jumps on the couch and instantly breaks character. She cannot contain her laughter as Ross plays the bagpipes, and further loses it when Phoebe joins in to sing. Instead of singing the words as Ross suggests, she just starts screeching to match the sound of the bagpipes. To her left, Rachel covers her face, trying to avoid the camera. She continues to laugh while Phoebe keeps yelling in this cut that actually made it into the episode. The gag reel at the end of the episode shows another take in which Aniston loses it altogether, as do the rest of the friends on the couch. Matthew Perry and Lisa Kudrow start screeching together, now that the take is ruined, and the entire audience laughs along for the ride.