16 Best John Cusack Movies Ranked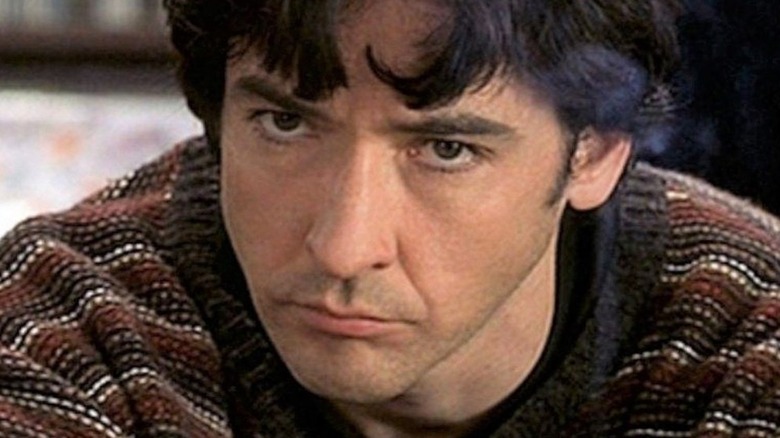 Buena Vista Pictures
Saying the name "John Cusack" evokes a specific kind of nostalgia from members of the so-called Generation X. As a young, baby-faced leading man — often cast in the '80s as passionate underdogs in teen romantic comedies like "The Sure Thing" and "Say Anything..." or wackier films like "Better Off Dead" or "One Crazy Summer" — Cusack became one of the pillars of '80s cinema. 
But his relevance didn't leave along with the leotards and leg warmers of the '80s. While he introduced himself to audiences as a teen heartthrob, he's since challenged both his own acting range and audience expectation. Far from the days when he stood outside houses holding boom boxes over his head, Cusack has gone on in some of his best films to play con men, professional killers, baseball outcasts, preachers, cowboys, and more. 
For a look at Cusack's impressive career, keep reading for our picks of the best John Cusack movies.   
16. Better Off Dead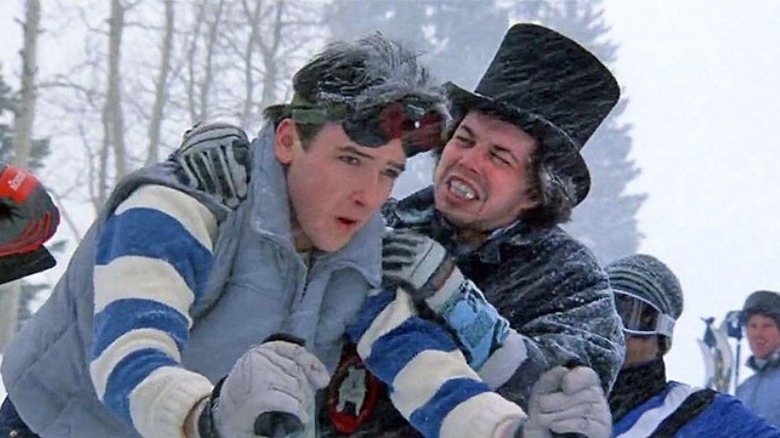 Warner Bros.
Of the many pop culture references that will force guffaws from any Gen Xer, try whispering in a threatening voice, "I want my $2," and the laughter will flow. 
The character of Johnny (Demian Slade) utters the line often in the surrealist black comedy "Better Off Dead." The homicidal paperboy is just one of the film's many bizarre and hilarious characters. There's also the Howard Cosell-voiced exchange student who challenges Cusack's Lane Meyer to impromptu drag races, Meyer's pre-teen brother (Scooter Stevens) who invents futuristic weapons and hosts parties full of sex workers, and Lane's buddy (Curtis Armstrong) who wears a top hat and snorts snow.
The premise of the film is a familiar one for the '80s — Lane is dumped by one girl, gets another girl to help win back the first girl, but eventually realizes the second girl cares about him more. Honestly, none of that matters. It's the offbeat and unpredictable humor of this '80s gem — with its self-aware Jell-O molds and dancing hamburgers — that renders it absolutely mandatory viewing.
15. 1408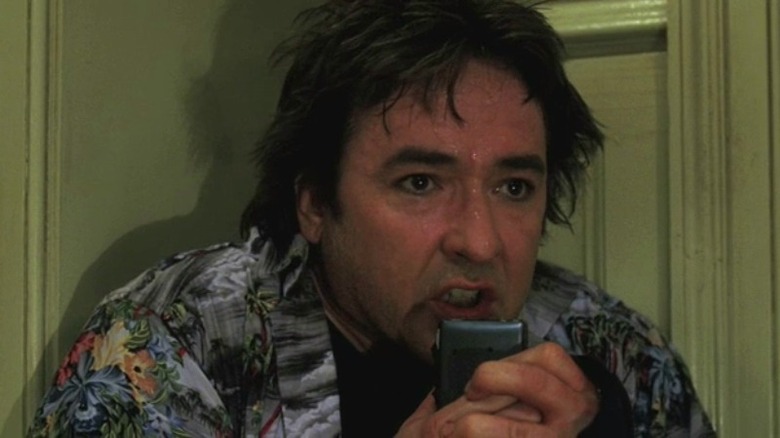 Metro-Goldwyn-Mayer
It's safe to assume that, were you to transplant him to the world of "The X-Files," Mike Enslin (John Cusack) of the 2007 psychological horror film "1408" would start off in the Scully camp ... but he probably wouldn't stay there. 
Enslin is an author who debunks the paranormal for a living, and when he learns about a certain hotel room — Room 1408 in New York City's The Dolphin — credited with killing 56 of its guests, he takes it as a challenge to spend the night, ignoring the warnings of manager Gerald Olin (Samuel L. Jackson). Without spoiling too much, Cusack finds both his skepticism and his life threatened in a horror story that at times is just as chilling as another Stephen King adaptation — Stanley Kubrick's classic "The Shining." 
"1408" could find a higher spot on our list but for its weaker final act. The film works best when it keeps at least one foot planted in the real world, but in its second half, the story just about loses its footing entirely. 
14. Grand Piano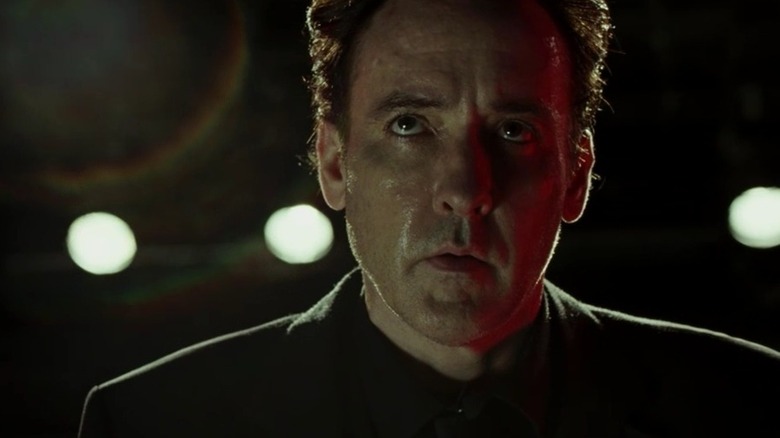 Magnet Releasing
Stage fright can be a death knell for any live entertainer, and in the 2013 thriller "Grand Piano," Cusack plays a sniper who threatens to mean that literally. 
Elijah Wood stars as Tom Selznick, a celebrated pianist who falls from grace after he flubs the difficult piece "La Cinquette" on stage. Years later, Selznick appears for a concert that he's hoping will be his comeback, and Clem (Cusack) shows up to offer some extreme incentive. Clem threatens to kill Selznick if he plays so much as a single wrong note, and soon afterward, the sniper displays the precision that will allow him to make good on his threat.
In many ways, what's great about "Grand Piano" exposes its biggest flaw. The film is unapologetically melodramatic and strange, including its improbable premise. If you don't accept the movie's oddness and go along for the ride, it will understandably come off as just ridiculous. But if you do, its insanity is gripping and infectious. 
13. The Jack Bull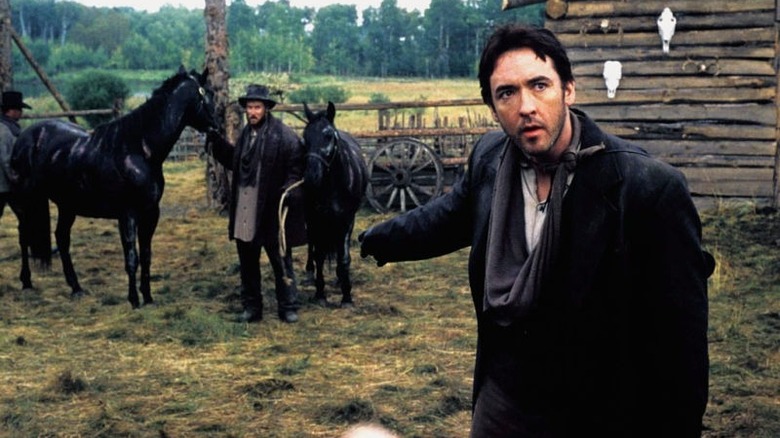 HBO Pictures
Some of John Cusack's best films are collaborations with members of his family. One perfect example is the 1999 Western "The Jack Bull," which gave Cusack the chance to star in a film written by his father, Dick.
"The Jack Bull" isn't your typical Western. Cusack stars as Myrl Redding, a struggling Wyoming horse trader who wants nothing to do with adventure or gunslinging. He only wants to keep his family warm and their stomachs full. What begins as a bloodless Western gets violent, however, when a corrupt, wealthy rancher mistreats Redding's horses and has one of his friends beaten to a pulp. When the courts fail Redding, he rallies other abused farmers and traders under his flag to hunt down the offending rancher.
Granted, the film isn't perfect. In particular, while Cusack's acting is admirable, it can sometimes seem like all Redding does is make speeches about his rights. It's not that he's wrong, but the ceaseless sanctimony gets tiring. But despite its flaws, "The Jack Bull" is an engaging and emotionally powerful Western worth watching.
12. Grosse Pointe Blank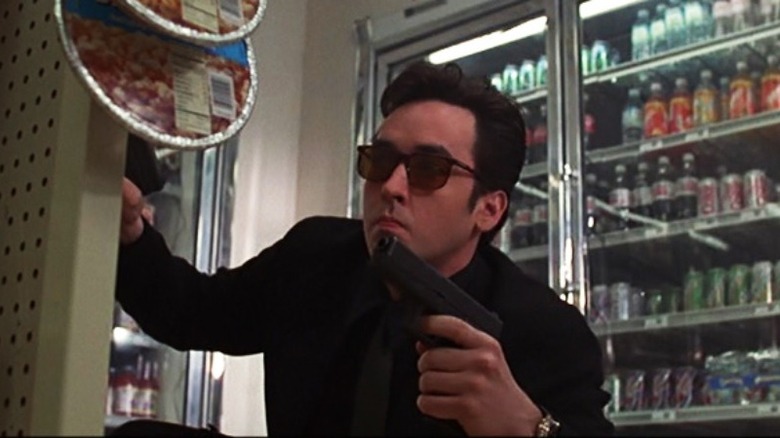 Buena Vista Pictures
The approach of high school reunions can cause plenty of anxiety. What if your life doesn't match up favorably with those of your former classmates? What if you see old flames or bullies? Imagine if, on top of everything else, you have to hide the fact that you're a professional hitman in town to murder someone.
That's the situation Martin Blank (Cusack) faces in 1997's violent satire "Grosse Pointe Blank." The film brilliantly fuses its dark take on the evolution of popular culture with '80s nostalgia, and it turns Cusack into a viable action hero. While the film feels more like a comedy than anything else, the action sequences are slick and genuinely thrilling, rivaling just about anything you'd see in a "proper" action flick. Dan Aykroyd is surprisingly intimidating as the villainous Grocer, and the comedic chemistry between Blank and his hostage psychiatrist, Dr. Oatman (Alan Arkin) — a couple of years before the idea of murderers visiting shrinks became more popular with "Analyze This" and "The Sopranos" — is priceless. 
11. Chi-Raq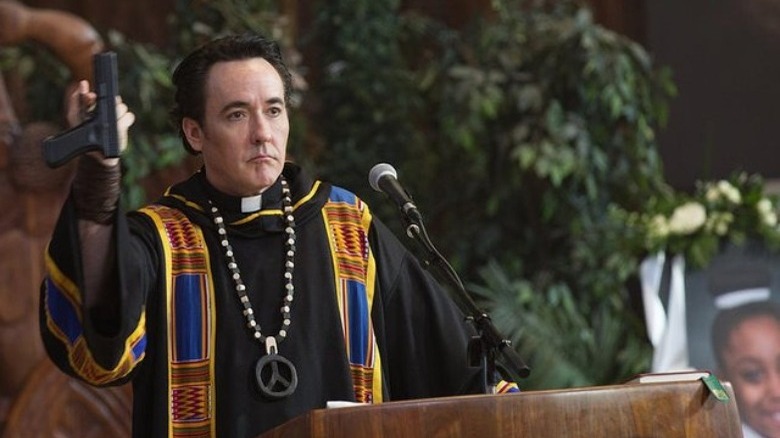 Lionsgate
Pulling heavily from the classical Greek comedy "Lysistrata," in which the women of Greece withhold sex from their husbands in order to end the Peloponnesian War, the ambitious musical satire "Chi-Raq" transplants the story to Chicago's Southside, where gang violence is worse than ever.
As Father Mike Corridan, John Cusack's performance is fiercely memorable. After the funeral of a young girl killed by a stray bullet, Cusack is more fiery than we've ever seen him. In a rousing sermon, Father Corridan energizes the community into action while outlining the ways the American system incentivizes the violence they endure.
Some critics agree with The Guardian's Wendy Ide, who complains that the film makes "its point a thousand times over." Others side with Adam Woodward of Little White Lies, who says it's "up there with [Spike] Lee's very best." The majority, however, seem to agree while "Chi-Raq" is flawed, it provokes in exactly the ways the best satire should. Perhaps Memphis Flyer's Chris McCoy says it best when he writes that, "'Chi-Raq' may not be perfect, but I can't stop thinking about it."
10. The Sure Thing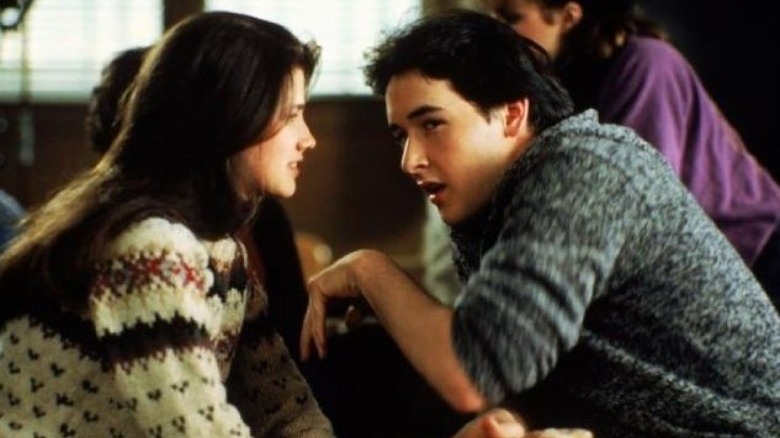 Embassy Pictures
In 1985's "The Sure Thing," Walter (Cusack) isn't doing well with women. It's possible that his deceitful techniques are to blame, like when he tricks Alison (Daphne Zuniga) into tutoring him in hopes of luring her into bed. When his old buddy from high school tells him there's a "sure thing" waiting for him on the West Coast, Walter takes a road trip in hopes of a satisfying fling, but he ends up sitting right next to Alison in the ride share. On the way across the country, you guessed it, the pair develop feelings for each other, but things get complicated when Alison discovers why Walter is making the trip in the first place.
Along with being Cusack's breakout role, "The Sure Thing" was one of the earliest directorial efforts of Rob Reiner, making the film even more of a triumph for both. Along with being a delightfully funny movie, "The Sure Thing" went against the grain. As Creative Loafing's Matt Brunson writes, "In a decade largely defined by raunchy teen sex comedies, ['The Sure Thing'] stood out from the pack thanks to its sweetness and sincerity." 
9. Eight Men Out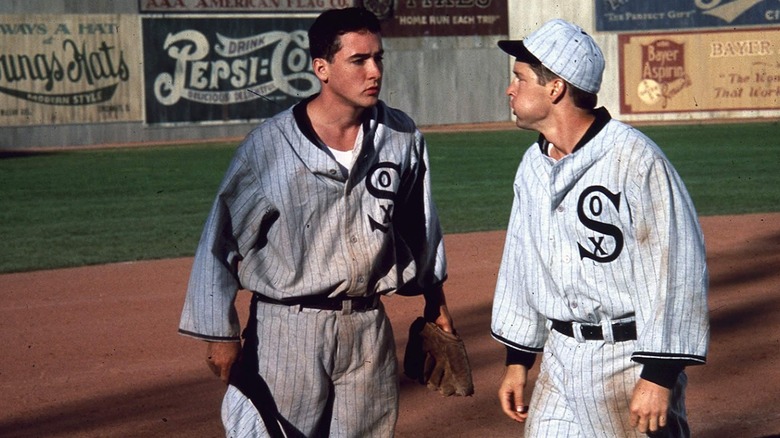 Orion Pictures Corporation
There was a time when baseball player salaries weren't counted in the millions. For better or worse, that would change, but in the meantime, the smaller pay made players vulnerable to a specific kind of corruption. The whole world would learn of this in the 1919 Black Sox Scandal, and the 1988 sports drama "Eight Men Out" chronicles the story of how eight members of the Chicago White Sox fell so completely from grace. 
Cusack is characteristically innocent and idealistic as the lead of this ensemble film. He plays shortstop and third baseman Buck Weaver — the only of the eight so-called "Black Sox" who takes none of the money offered to throw the world series. But in the aftermath, he's still banned from the game. 
Even if baseball doesn't hold your interest, "Eight Men Out" serves as a perfect example of how to accurately reflect a particular era in a period film. Plus, it's a great examination of themes like corruption and temptation. As Film4 put it in their review, "[This] excellent film is more of a human tragedy than a sports movie — meaning that even those with a limited knowledge of baseball should find it fascinating stuff."
8. Love & Mercy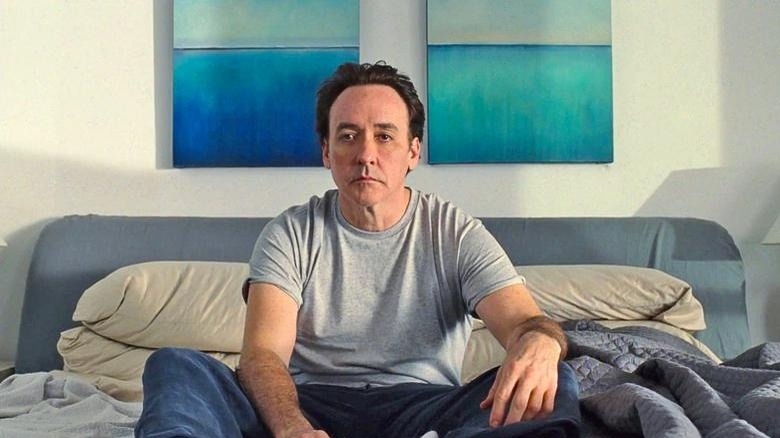 Lionsgate
In 2014, director Bill Pohlad chronicled the story of the Beach Boys' leader and co-founder Brian Wilson in the acclaimed biopic "Love & Mercy." Pohlad tells Wilson's story by going back and forth between past and future, with Paul Dano playing Wilson during the recording of the 1966 album "Pet Sounds" and the '80s when John Cusack plays an older Wilson, whose illnesses are exacerbated as he's under the care of the shady Dr. Eugene Landy (Paul Giamatti). 
"Love & Mercy" is a powerful and engaging biopic, and its depiction of mental illness feels as honest as any big-screen depiction could get. While Cusack enjoys top billing, critics like Baltimore Magazine's Max Weiss often praise Dano's performance as the one that makes the film. This is at least in part because of Dano's uncanny physical resemblance to the young Wilson and also because of Cusack's already established fame. Nevertheless, the older actor deserves his due, as Marty Mapes of Movie Habit described his performance as "fragile, damaged, and unguarded."
If you or someone you know is struggling with mental health, please contact the Crisis Text Line by texting HOME to 741741, call the National Alliance on Mental Illness helpline at 1-800-950-NAMI (6264), or visit the National Institute of Mental Health website.
7. Never Grow Old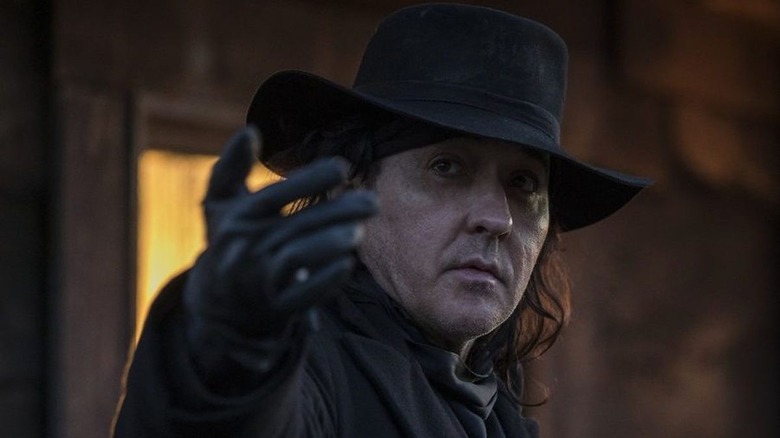 Saban Films
In one of his first Westerns, "The Jack Bull," John Cusack plays an idealistic hero, but in one of his latest entries in the genre — 2019's "Never Grow Old" — he goes boldly in the opposite direction. 
Here, Cusack portrays Dutch Albert, the ruthless head of an outlaw gang that thunders into town and fills everyone who stands up to them with hot lead. In the meantime, it's the undertaker, Patrick Tate (Emile Hirsch), who keeps burying the town's fallen, but he ultimately has to decide whether to keep simply laying Albert's victims to rest or delivering some justice of his own. 
Playing hard against type, Cusack is amazing as the villainous Albert, and Hirsch is just as captivating as the struggling hero. "Never Grow Old" doesn't break new ground in the genre, and some will inevitably find it a little derivative. But it's nevertheless a masterfully made Western, and for Cusack fans, it's a wonderful chance to see him thrive in uncharted territory. 
6. The Journey of Natty Gann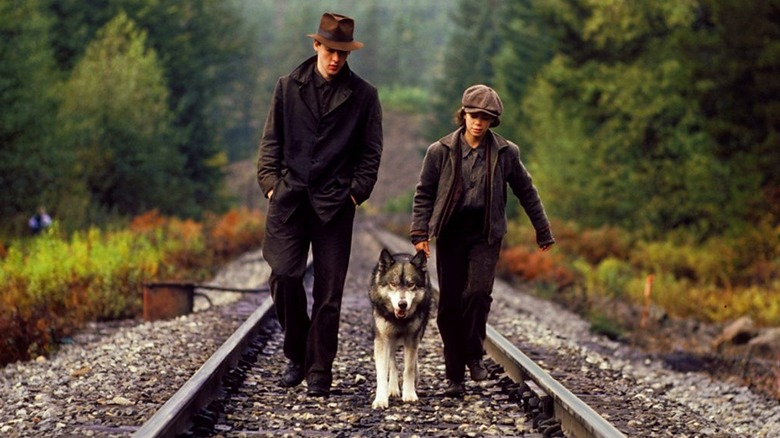 Buena Vista Distribution
In the midst of the Great Depression, young Natty Gann's (Meredith Salenger) father heads to Washington state for the only work he can find, unable to do more than leave a letter behind for his daughter to let her know what's happened. In order to avoid being pressed into an orphanage, Natty embarks on a cross-country adventure to find her dad. 
Along the way, Natty makes a loyal companion of a dog she names Wolf after saving him from a fighting ring. As for John Cusack — still at the beginning of his screen career — he isn't in the movie long, but he makes a strong impression as the handsome traveler Harry. In fact, in his 1985 dual review of "Natty Gann" and "Better Off Dead" for the Chicago Tribune, Gene Siskel writes that his "only serious complaint" about "Natty Gann" is that Cusack isn't in it more.
5. The Grifters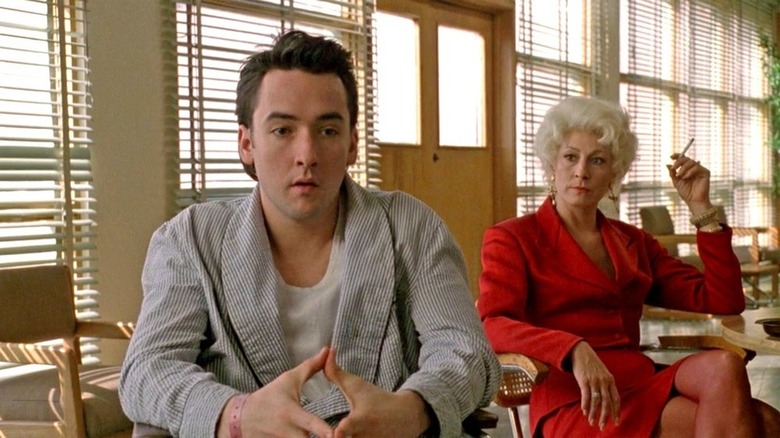 Miramax Films
After playing so many lovesick underdogs in the '80s, we imagine John Cusack had a lot of fun kicking off the '90s with a much more devious character in "The Grifters." Based on Jim Thompson's 1963 novel, "The Grifters" is a crime thriller all about the art of con.
Anjelica Huston plays Lilly, a crook hardened after years of grifting. Cusack plays her son, Roy, who at first limits his trade to small time cons involving sleight-of-hand tricks, and his girlfriend is Myra (Annette Bening), who uses seduction to get what she wants. When all three characters eventually meet up, that's when things get especially tricky. Twisting and turning as much as the best con artist stories should, with a complete lack of sentimentality and three actors at the top of their games, "The Grifters" is a fun and clever film that keeps you guessing until the very end.
4. High Fidelity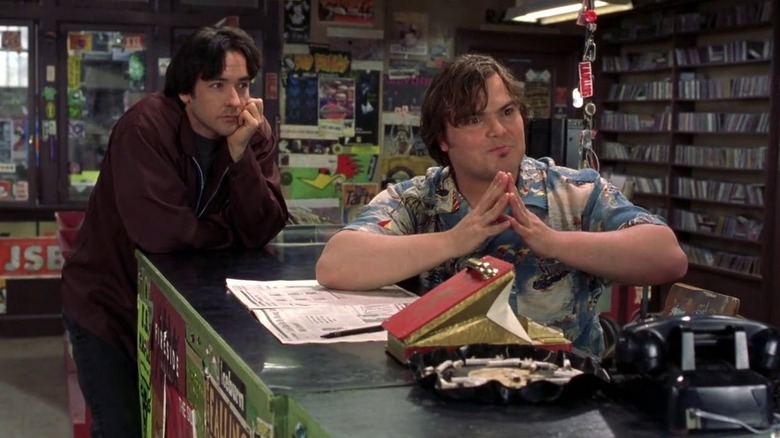 Buena Vista Pictures
There was a time when saying you didn't love "High Fidelity" would get you as thorough a browbeating as Barry (Jack Black) gives just about every customer unfortunate enough to ask him a question. 
In this romantic dramedy, John Cusack plays record store owner Rob, who can't seem to wrap his head around the idea of making a long-term relationship work. And "High Fidelity" remains one of Cusack's signature films for good reasons. He co-wrote the film, just as he did "Grosse Pointe Blank." And like that earlier film, which is blessed with a small army of underappreciated '80s songs, "High Fidelity" leaves you hungry for its wonderfully curated soundtrack. 
Just about any viewer will get caught up in Rob's romantic challenges, but music fans in particular will find plenty of laughs in the vulgarity-laced rock snob camaraderie of Championship Vinyl, which helped launch the funny man career of Jack Black.
3. Being John Malkovich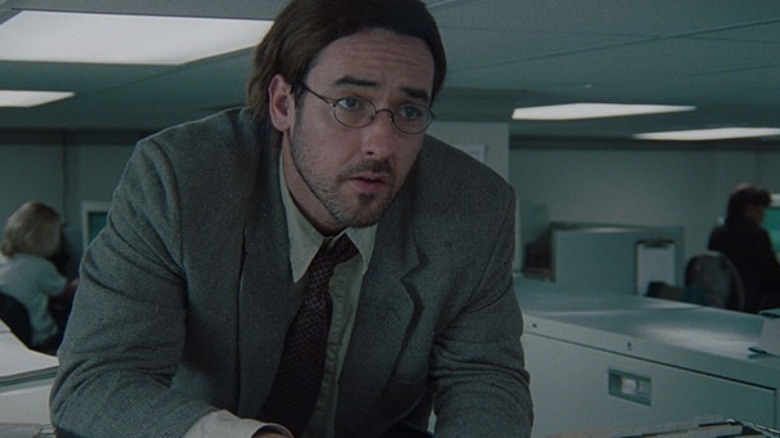 USA Films
With films like "Better Off Dead" and "Grand Piano," it's clear John Cusack is no stranger to movies that fall pretty heavy on the strange side. But few can claim as weird a premise as the 1999 indie cult classic "Being John Malkovich." Cusack plays the street-performing puppeteer Craig, who takes a survival job at a strange, low-ceilinged office where a dark tunnel leads to the mind of the real-life actor John Malkovich. Those who brave the tunnel can act as passive passengers in Malkovich's mind, listening to taxi drivers insist the actor has played roles he's never actually played. 
Or — if they push hard enough — they can temporarily control his actions. 
"Being John Malkovich" was Spike Jonze's directorial debut, and between his off the wall style, Charlie's Kaufman's amazing script, and wonderful performances by Cusack, Cameron Diaz, Catherine Kenner, and Malkovich himself, "Being John Malkovich" is a marvelous and thought-provoking fantasy-comedy that feels enough like a great music video to keep its oddness unpredictable but enough like a film to deliver an engaging story.
2. Bullets Over Broadway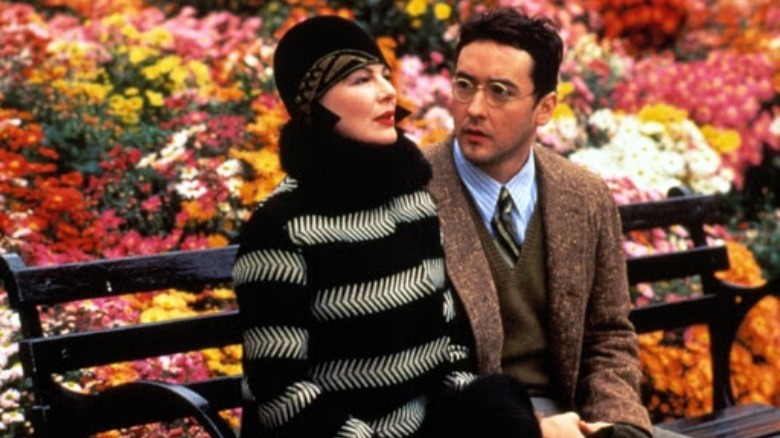 Miramax Films
Let's tackle the proverbial elephant in the room right away — Woody Allen isn't exactly the most popular guy in Hollywood these days and for good reasons. Regardless, he's made some incredible films, including the black comedy "Bullets Over Broadway," which also happens to be one of John Cusack's absolute best movies.
Cusack's role is that of idealistic playwright David Shayne, who at first is brimming with self-righteous indignation at the very thought that he would change anything in his play for someone else. The story opens with him yelling "I'm an artist!" at the suggestion that so much as a syllable should be altered. But when he doesn't have the cash to finance his latest play, Shayne turns to mob boss Nick Valenti (Joe Viterelli), and soon, a lot more than a single word is changing — all at the whims of his new business partner.
Easily one of Cusack's best films and one of Allen's clearest triumphs, "Bullets Over Broadway" earned an impressive seven Academy Award nominations, with Dianne Wiest taking home the trophy for Best Supporting Actress for her role as Helen Sinclair, a stage star whose career is on the decline.
1. Say Anything...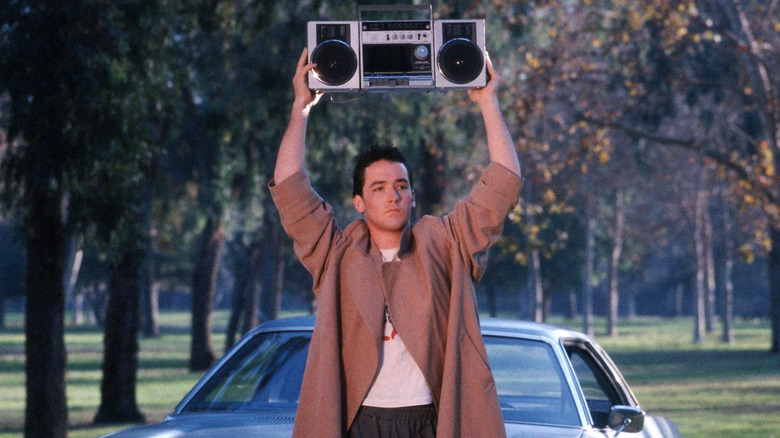 20th Century Fox
If you know '80s films, if you know John Cusack films, then this likely comes as no surprise. Holding a boom box over his head and playing Peter Gabriel's "In Your Eyes" — the song that plays the first time the slacker Lloyd (Cusack) and the valedictorian Diane (Ione Skye) have sex — the young Cusack helped create one of the most unforgettable images of '80s cinema.
"Say Anything..." is one of the best films of the '80s and remains one of the most impressive romances you could ever hope to find. Lloyd, Diane, and the rest of the film's characters feel more layered and more real than the heroes of most teen rom-coms. Though it was director Cameron Crowe's first time directing a feature film, he knew enough to avoid cliches and contrivance to reveal a genuine heart. Sure, maybe some of the fashion hasn't aged as well as the story, but it remains Cusack's most iconic film and our pick for his best.