The Fantasy Anime Adventure That Everyone's Watching On Netflix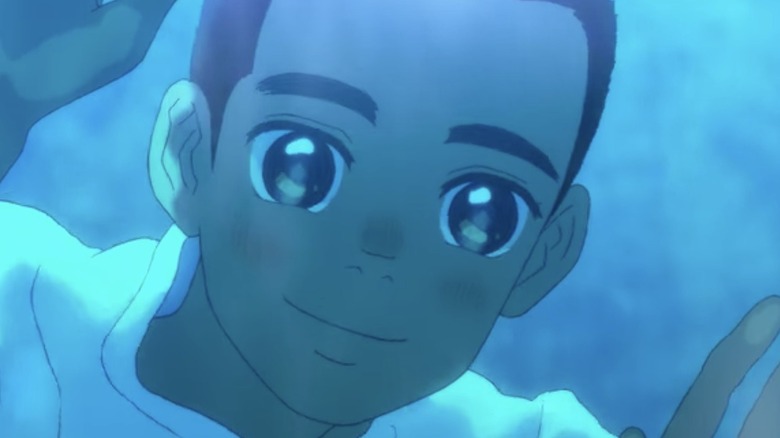 Netflix
If you love beautiful animation, there's a Japanese movie on Netflix you need to see. "Children of the Sea" is a fantasy anime adventure set in the ocean, and since its release in 2019, it's made a bit of a splash with fans. It debuted at No. 18 on The Numbers' DVD chart (when it was released on that format) in September 2020, and has continued to draw in audiences since it launched on Netflix at around the same time. 
To be honest, the movie's story doesn't get high marks with people who've seen the 112-minute film. Polygon, for instance, called the three leads "forgettable" and criticized the narrative as "shallow." It gets a 62 percent Tomatometer score and a 61 percent Audience Score on Rotten Tomatoes, which isn't great overall. 
However, whatever "Children of the Sea" may lack in substance, it more than makes up for in style. The adjectives used to describe the film's visuals are consistently superlative — "stunning," "vivid," "superb," "gorgeous," "enchanting" and "heart-swelling" are just a few of the words offered by reviewers, both professional and amateur, as seen on Rotten Tomatoes. Polygon notes that the film "envelops viewers with curiosity, drive, and an ineffable beauty" and that its "philosophical offerings hit the mark." 
Based on the visual poetry aspect alone, this film might mesmerize your family if you're interested in viewing something together this weekend. Just don't expect it to make much sense.
Children of the Sea focuses on a connection with a supernatural ocean mystery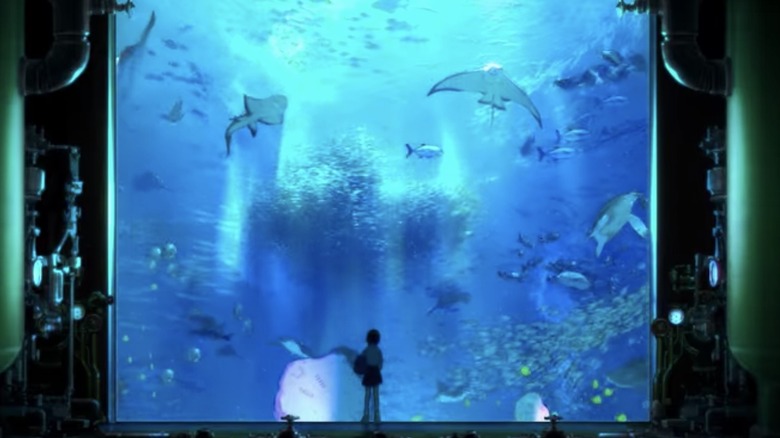 Netflix
"Children of the Sea" tells the tale of Ruka, a middle-school student who falls out with her sports team following an altercation with a teammate, and finds herself at odds for the summer. She starts spending time at the aquarium, where her father works. There, she meets two brothers, who, as a result of being raised by dugongs, are more adapted for sea life than living on land. The three develop a bond, and Ruka discovers that Umi and Sora are connected to a deeper supernatural mystery about disappearing sea life. 
Beyond that, you may find the rest of the film to be, as The New York Times put it, "totally mystifying" and "downright confounding." But you may also find plenty of other elements to like. The visuals are inspired by the original five-part manga by Daisuke Igarashi and made through a combination of traditional hand-drawing and CGI technology. The musical score is string-heavy and whimsical, created by Studio Ghibli composer Joe Hisaishi to evoke a sense of wonder. In fact, a connection to the ocean becomes the main star here, and the action becomes subsumed by more complex and philosophical approaches to both the imagery and idea of the great, mostly unknown depths. 
Director Ayumu Watanabe told Animation Scoop that he was inspired by "2001: A Space Odyssey" when creating "Children of the Sea" — and he and the film's CG director, Kenichiro Akimoto, also admit to being inspired generally by Hayao Miyazaki. But also, Watanabe notes, this film is about life.
"So I think this is special because we're portraying the everyday," the director said. "And for people to realize that there's beauty in the everyday, whether you're just like walking around the streets. And to just gain a new perspective about your everyday, about what goes, sort of enriched about what may seem very humdrum. There's actually more to see than you realize."
So, the plot may escape some. But that message makes this anime worth watching, and remembering, long after you've turned off your TV set.