Army Of The Dead's Nora Arnezeder Reveals What She Loves About Dave Bautista - Exclusive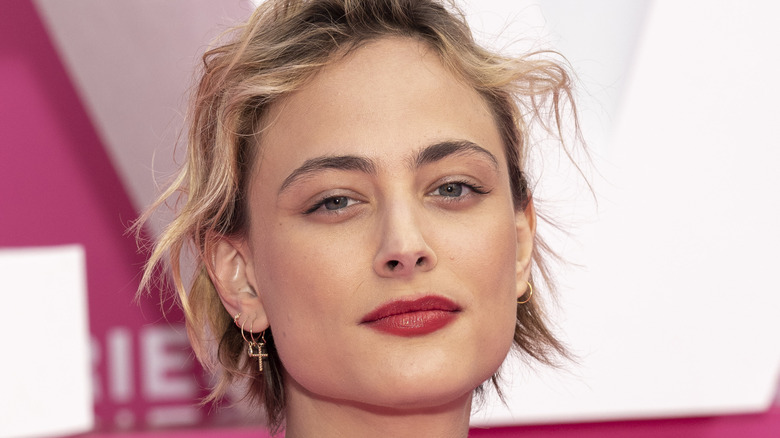 Arnold Jerocki/Getty Images
Director Zack Snyder's new zombie heist thriller "Army of the Dead" presented a number of firsts for many of the actors on the film, including the first chances for stars Nora Arnezeder, Omari Hardwick, Matthias Schweighöfer, and Ana de la Reguera to work with beloved "Guardians of the Galaxy" star Dave Bautista. Each of the actors told Looper in respective interviews that they reveled in the opportunity to share the screen with the Bautista, who plays Scott Ward, the leader of a band of mercenaries who must breach the walls of the zombie-infested city of Las Vegas to recover $200 million from a casino vault.
In the film, Arnezeder plays Lilly, aka "The Coyote," a loner who guides refugees affected by the zombie war into the dangerous confines of Sin City so they can steal money from the abandoned casinos to start a better life. Taking advantage of her knowledge of how the zombies operate, Ward and his team enlist The Coyote to help steer their operation since the crew only has a 32-hour window to get in and out of the city or face certain death.
Much like her character helped guide Bautista's team on screen, Arnezeder shared that the actor helped her get through some of the training required for "Army of the Dead."
Nora Arnezeder says Dave Bautista helped guide her through 'zombie boot camp'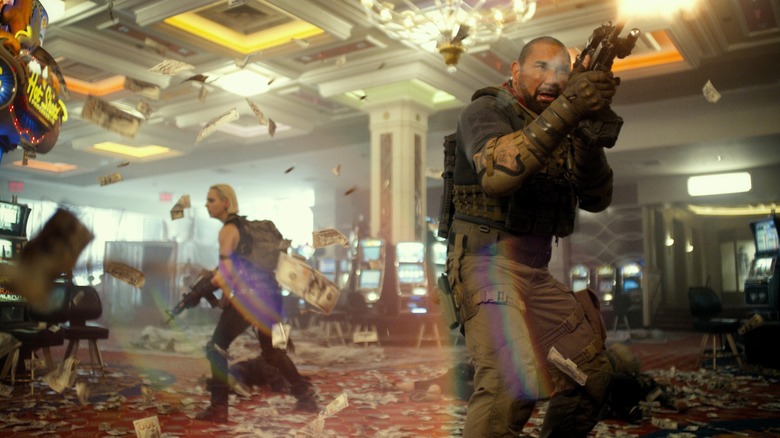 Netflix
A veteran of French film and television, Paris-born Nora Arnezeder has been hopping back and forth from Europe to the United States throughout her career, including a role opposite Ryan Reynolds in the 2012 crime thriller "Safe House." Handling guns for a movie is something to which Arnezeder admits she's not accustomed, however, so she said going through weapons drills with ex-Navy SEALs hired to train the cast was a huge awakening. "We went to zombie boot camp, but holding guns is not something I'm very comfortable with," Arnezeder told Looper. "So, on the first day on set, I remember we were doing a picture, a backstage picture, and my rifle was pointed at Dave for a second, because I'm not really familiar with them. And Dave was like [motions shaking her head] looked at me and he pushed my gun. He was like, 'No.' I was like, 'All right! It's going to be interesting. I'm going to learn a lot from these amazing actors who are so used to be playing these warriors in movies."
Arnezeder added that she learned a lot about Bautista's skills working on "Army of the Dead," and she was thrilled that it involved much more than his ability to handle weapons. "What I love about Dave is that he really carries a lot of vulnerability. He's not only the muscle guy, but he's also a real amazing actor," Arnezeder said. "I really believe he's a very serious actor who's carrying a lot of depth — natural depth."
Also starring Ella Purnell, Hiroyuki Sanada, Garret Dillahunt and Tig Notaro, "Army of the Dead" is playing in select theaters nationwide before ahead of its debut on Netflix Friday.