The Ending Of I Am All Girls Explained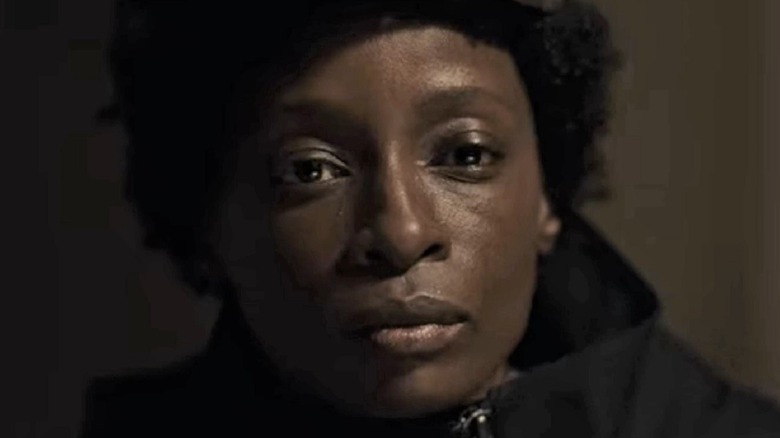 Netflix
The South African crime thriller "I Am All Girls," a Netflix original, is a harrowing exploration of the impacts of human trafficking both on its victims and those who fight to stop it. The film tells the stories of two women who are linked by a similar mission. Jodie Snyman (Erica Wessels) is a detective who has been working tirelessly on a major trafficking case but always appears to be one step behind the culprits. She works with Ntombizonke "Ntombi" Bapai (Hlubi Mboya), a forensic scientist with a quiet demeanor and a troubled past.
Toward the beginning of the film, Jodie is assigned to the case of a recently murdered man who was found in a park with initials carved into his chest. She learns that this man was a suspected pedophile and the initials on his chest are those of a young girl who went missing years ago. When similar murders follow, Jodie suspects they are linked to her trafficking investigation.
Meanwhile, she gets closer to Ntombi, whose past begins to unfurl. When she was young, Ntombi was kidnapped at the behest of a prominent member of the National Party, which ruled South Africa during the apartheid years, named FJ Nolte (Deon Lotz). Most of Nolte's victims were trafficked to Iran, but Ntombi ended up in a brothel in South Africa, where she was able to educate herself and begin a new life. However, that doesn't mean she's left the past in the past.
It's not long before the film reveals Ntombi to be the person committing the murders Jodie is investigating. And soon the two women find themselves on a collision course not just with each other, but also the powerful men at the heart of the trafficking operation.
Ntombi's name is also her mission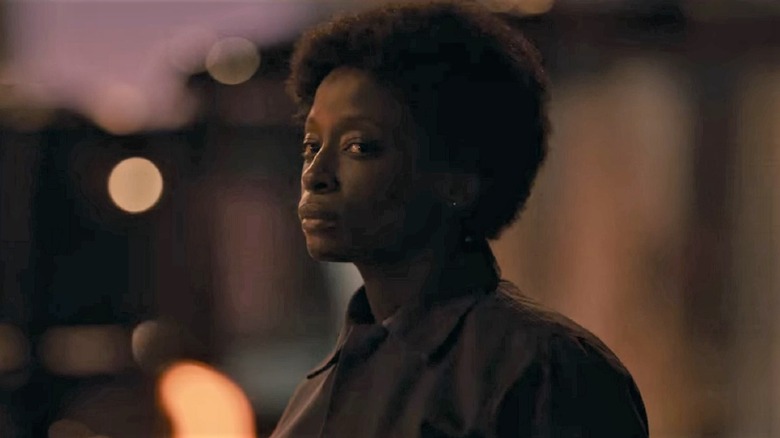 Netflix
As the movie careens toward its intense conclusion, both Jodie's colleague Officer Arendse (Brendon Daniels) and boss Captain Mululeki (Mothusi Magano) have begun to suspect that the killer is connected to the investigation. Thanks to their close relationship, Jodie has put the pieces together and realizes that it's Ntombi.
When a prominent businessman who was arrested as part of the investigation named Salim Khan (Afzal Kahn) gets off on a technicality, Jodie takes Ntombi to trail him as he leaves prison. It's clear that Jodie has intentions other than arresting Ntombi for her crimes, however, Ntombi is deeply uncomfortable now that it's obvious that her identity as the killer is known.
A car crash with the Khan's SUV leaves Jodie incapacitated. But Ntombi is able to climb out of the wreckage and kidnap Khan, bringing him to be detained along with another man who is part of the trafficking ring. As the two struggle against their restraints, Ntombi removes the mask she wears to commit her murders and says, "My name is Ntombizonke Bapai. My first name, it means 'all girls.'"
While the killings Ntombi commits are deeply personal, this declaration clarifies that she is also seeking vengeance for other girls who weren't able to get away like she did. While Jodie is talkative, scattered, and headstrong, Ntombi is quiet, fastidious, and intense. However, like Jodie's single-minded determination to use her position as a detective to help free victims of trafficking, Ntombi is on her own mission to seek retribution for the girls who have already been lost.
And while it may seem like their approaches put them at conflicting ends of this particular fight, as the last act demonstrates, Jodie isn't opposed to Ntombi's mission.
Nolte's trafficking operation is exposed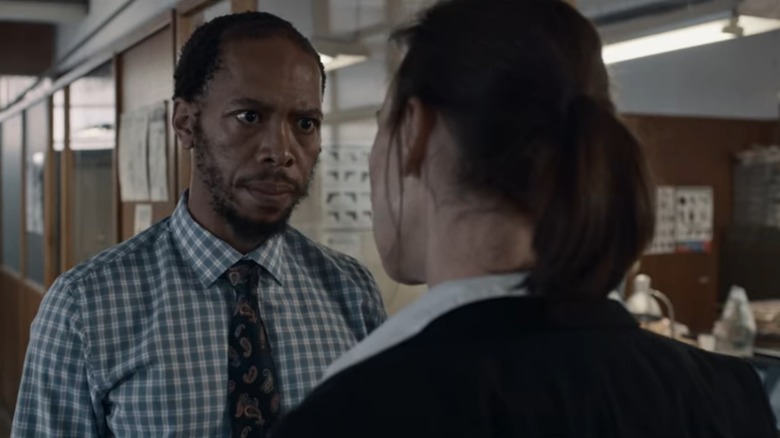 Netflix
Throughout the film, Jodie has been consistently fraying at the edges. Her gut instincts often prove to be right, but her desire to see justice done has her acting impulsively in ways that compromise her investigations. After the car crash and Khan's abduction, Captain Mululeki takes Jodie off the case. But she's more determined now to see things through to the end.
With Ntombi missing, Jodie goes to her apartment and finds that Ntombi has left her evidence of Nolte's trafficking operation. It details his farm in the country, where his victims are held before being transferred to his nefarious clients at an airstrip nearby. Jodie races to the farm and catches Nolte in the process of doing one such handoff with an Iranian dignitary.
Before she can put a stop to it, a gunfight ensues, and Jodie watches helplessly as the dignitary's plane makes a hasty takeoff with the trafficked girls onboard. In the midst of the fray, she also finds Ntombi about to execute Nolte. Before she can properly react, two of Nolte's bodyguards gun down Ntombi and enable him to flee. Jodie and Ntombi say a tearful goodbye before Ntombi succumbs to her wounds.
That is not the end of Ntombi's mission, though. Sometime after his escape, we see Nolte at one of his country estates when an intruder breaks in. It is Jodie, who executes Nolte in the same way that Ntombi killed her targets. When the police arrive, they find N.B. — Ntombizonke Bapai — carved into his chest.
Jodie follows in Ntombi's footsteps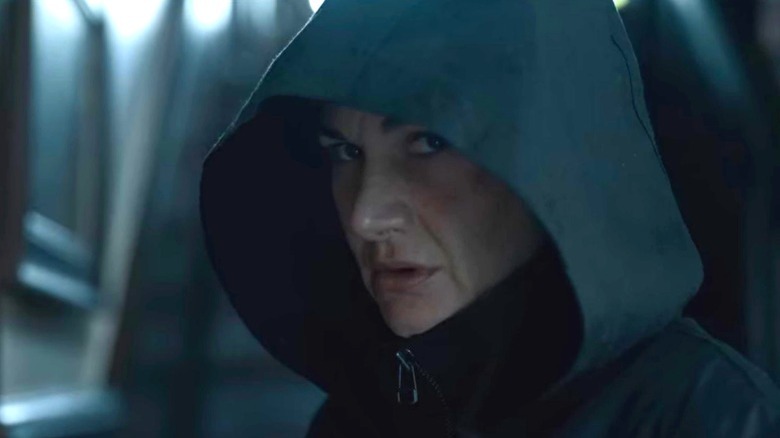 Netflix
In the film's final moments, we see Jodie at the airport getting ready to board a flight to Iran. It's not spelled out, but we can assume that now that she has killed the man who was organizing the kidnapping and transfer of young girls to clients in Iran, she's going to take out the clients on the other end of that deal.
The fact that Jodie is going rogue to continue Ntombi's mission could be seen as a commentary on the ineffectuality of using policing to combat trafficking. Throughout the film, we've seen how dedicated Jodie is to fighting for victims of trafficking and how often she was hamstrung by the confines of her job. Whether it's a lack of funding or regulations, she often faced detrimental obstacles. Now that she is following in Ntombi's footsteps, though, her goals have become much easier.
It's also important to consider that Nolte was a government official during the apartheid era and that it was suggested that his trafficking operation was used to secure favors with foreign dignitaries. Although he's not shown as having an actively influential role over the investigation in the present day, it certainly raises questions about the depths of government corruption and how that affects these types of cases.
Of course, there is a lot of moral gray area in that interpretation. Jodie's heart may be in the right place, but is committing extrajudicial executions moral? Was killing the best way for Ntombi to seek justice for the girls who were lost to trafficking?
"I Am All Girls" doesn't necessarily ask viewers to agree with the actions of the complex characters at its center, but it does demand that we consider why it is they've chosen to walk this particular path.
If you or anyone you know has been a victim of sexual assault, help is available. Visit the Rape, Abuse & Incest National Network website or contact RAINN's National Helpline at 1-800-656-HOPE (4673).