The Miz Reveals What Makes Lotrimin's #GoWithConfidence Campaign So Important - Exclusive Interview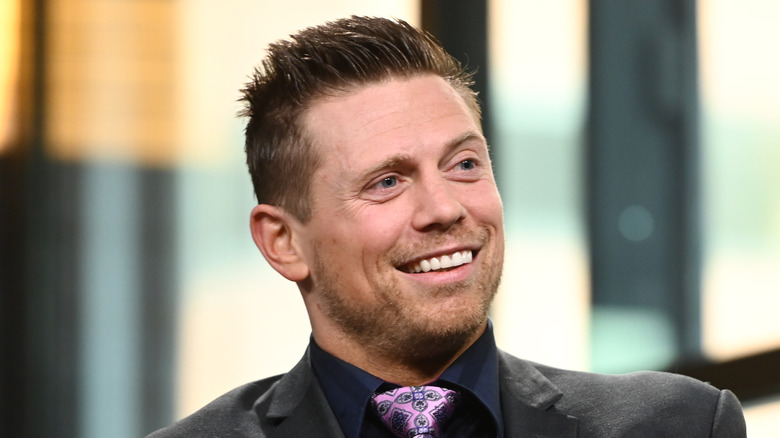 Noam Galai/Getty Images
He came to play. He also came to help.
Today is the beginning of Lotrimin's #GoWithConfidence campaign, the heart of which is a charity auction benefiting Soles4Souls. The auction, held on eBay, features shoes signed by various celebrities — including a pair from WWE superstar The Miz. The former World and Intercontinental champion spoke with Looper about the #GoWithConfidence campaign, what makes his shoes special, and the importance of footcare and how it relates to his own confidence.
Pre-interview, Miz cut a mini-promo on Daniel Bryan (when asked if he had anything more to say about Bryan, Miz said "I think I did it all on Talking Smack and to be honest, I don't even know what he's doing now. I feel like he's out of WWE. Roman got him ousted. See you, bye, and I'm still here. Boom.") before diving into the subject. The Miz also told us about what makes Miz & Mrs so unique, how serious he was about wanting to play Johnny Cage, and what it was really like working Bad Bunny at WrestleMania.
The #GoWithConfidence charity auction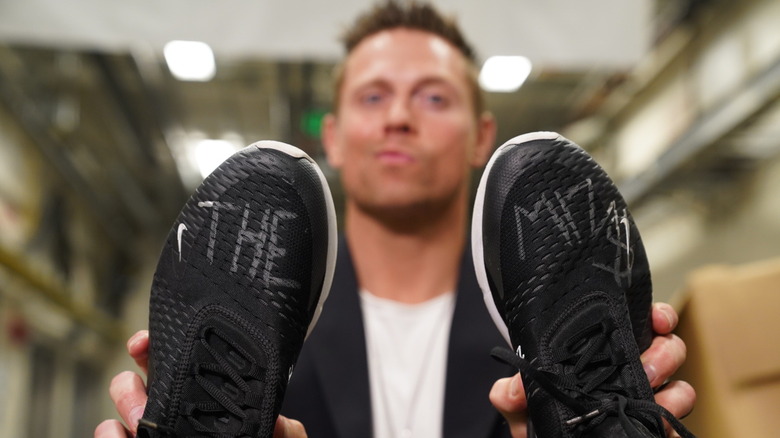 LIPPE TAYLOR
Let's start with why we're here, the #GoWithConfidence campaign.
Yeah. Let's talk about the #GoWithConfidence campaign. Lotrimin contacted me and said, "Hey, look, we want to do this campaign with Soles4Souls," which is a charitable organization. It helps people find sustainable jobs, as well as donates a lot of shoes and clothing for people that actually need it. And when they said, "we want to do this #GoWithConfidence charity auction with eBay for Charities," where I will sign a pair of my shoes, autograph them, and put it on eBay for Charities, and the highest bidder wins — other celebrities are going to do the same. They're going to autograph their shoes and the highest bidder wins and all that money is going to go to Soles4Souls. So it's a pretty incredible organization. It's a very strong message.
And not only that, Bayer is going to donate $1 for every single product of Lotrimin's Daily Prevention that is sold up to $50,000. So that right there, I was like, "Wow." And not only could we make a difference in someone's life, but we could have a great message out there, go with confidence, because let's face it, who's more confident than the Miz going out to the WWE ring?
Mr. Money In The Bank and holding titles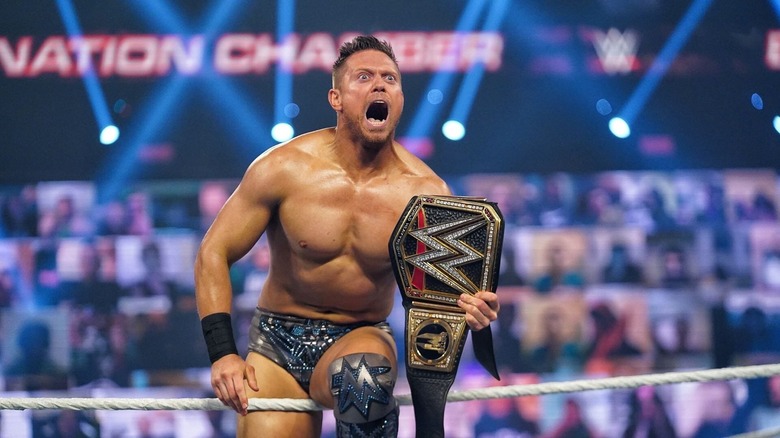 WWE
I would say absolutely no one. It's got to be pretty scary carrying that Money in the Bank briefcase, especially after you won it from someone else.
It was actually when I had the Money in the Bank contract. Yeah. I mean, I won it from somebody else, but I'm pretty smart in knowing that how to get things done, especially with that briefcase. Because for anyone that doesn't know, if you win the Money in the Bank contract, you are guaranteed a WWE championship match any time, anywhere. So if the person is thrown through a table, I could literally run out, say, "I want to cash in this contract," pin them one, two, three, and become WWE Champion. It's kind of what I did. Drew McIntyre went through hell in a match, and then Bobby Lashley came out and beat him up, and cashed in, became WWE Champion for the second time, and honestly, it was pretty incredible. The first time you win the WWE championship is pretty cool, but after 10 years of not holding that title and holding it again, man, it was pretty incredible. It was almost like the first time I felt like I made it, but this time it feels like not only did I make it, I feel like I've gained the respect of everybody.
I would say I agree, especially from the fans' perspective. We talked a little bit about the Talking Smack promo, and that was definitely a big changing point for you. And it was the IC title — you did wonders for that title. But how does the big belt — or I should say championship – compare to the IC title for you?
Man, it's interesting because, so when I was a kid growing up, I always loved the Intercontinental Championship. It was the one that I loved the most. Ultimate Warrior was holding it at the time. He was my favorite wrestler. So I just loved that title, and I was drawn to that title, but you know, as a WWE superstar, and even as a fan, that the most prestigious title is the WWE or Universal Championship. Those are the top. You're the poster child. You're the person that the company is putting all the weight on and it's your job to, if the ratings are soft, guess what? You're the person that's going to be blamed. And so to have that pressure again, it felt good. I am a person that thrives on pressure. I enjoy it. The more weight you can put on me, bring it on, because that's what it's all about in my world. And so to have the title again, to hold the title again, and for the ratings to go up when I had the title, that was pretty cool.
Facing Bad Bunny at WrestleMania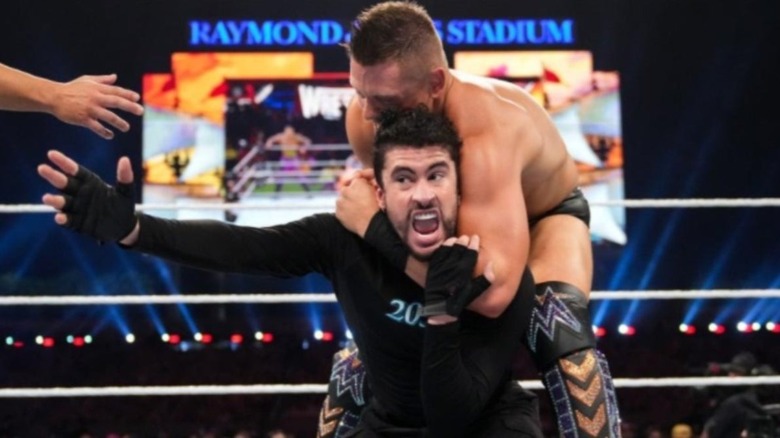 WWE
And speaking of pressure, you had a very interesting assignment this WrestleMania. You got Bad Bunny on the other side of the ring. What was it like working with him? Because that was a really good match.
Oh, thank you very much. Yeah, you never know what you're going to get when you have a celebrity guest, and I'm always a person that I feel like anytime there is a celebrity, I'm the person they put them with, which I feel like is a big compliment. I love the challenge. I love to see the difference in a process that every celebrity takes to do a good job in WWE. And man, I'll tell you what, nobody worked harder than Bad Bunny. He was nonstop all day, every day. Whether he had to fly out for the Grammys, win a Grammy, then fly right back and get into a WWE ring, he would do it. Training wise, he trained very hard, and I think everyone saw how hard he trained when we had that match at WrestleMania, and especially because I think people were expecting Bad Bunny not to be in the ring that much because it was a tag match. And usually whenever a celebrity is in a tag match, they stay on the apron the entire time and just stand there, and then they do a couple moves and they're done.
Bad Bunny was in 90% of that match and it's kind of the way we wanted it. We wanted to show something different. We wanted to surprise the audience, especially because I was reading Twitter and all the negativity that was coming up about this match each and every week. And then you see the match and all of a sudden, all that negativity went away and it was like, "that was match of the night. This might've stole WrestleMania." And it's like, wait a second. A celebrity match steals WrestleMania? That does not happen ever. So I applaud John Morrison as well as Bad Bunny, as well as Damian Priest. It takes a couple to tango. Well, it takes two to tango, but it took four this time. But we were able to succeed in giving the audience exactly what they wanted.
People weeks later were talking about that Canadian Destroyer.
When they brought it up, I was like, "absolutely not." One, because I can't even do a Canadian Destroyer, let alone Bad Bunny doing one. But man, that was an incredible move. And the way John got hit with it, I was in awe. I mean, you see the look on my face. It's like, did that really just happen like that? I did not expect it to look like that at all. It was magical. Incredible. And yeah, kudos to Bad Bunny because I don't think I could have done it that well.
Johnny Cage (He's Serious)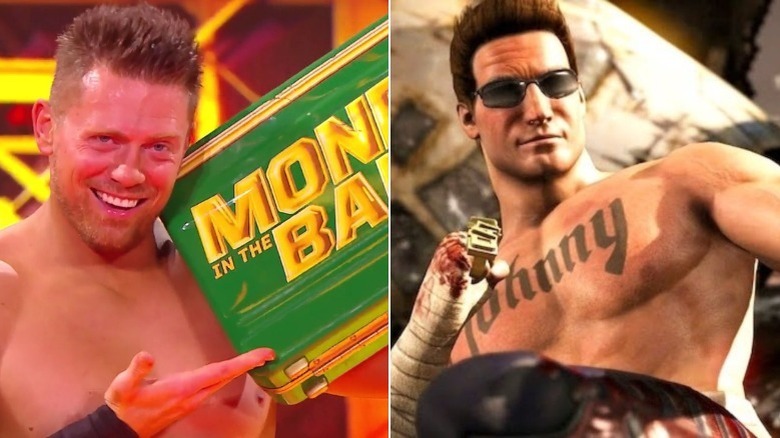 WWE / NetherRealm Studios
Since you're talking about Twitter, you tweeted out that you were interested in playing Johnny Cage and please, please tell me you were being serious, because I've been on the Miz to Johnny Cage train for a long time.
Well, thank you very much. So the story goes like this. "Mortal Kombat" came out and our social team, actually our digital team, texted me and said, "Hey, are you looking at the internet right now?" And I was like, "No, I'm busy playing with my kids. Why?" "Look at it, and look up Johnny Cage." I go, "Okay." And then I see Johnny Cage and my name is trending with Johnny Cage, and I'm like, "What is going on?" And all of a sudden, I just see my name associated with Johnny Cage, just flipping through. And it's not negative, it's all positive. And normally when I'm in a feed of Twitter, it's negative, 100%, all the time. But man, was it positive, and, man, were a lot of my fans really wanting me, even people, even my peers, even the co-creator of Mortal Kombat was like, "Yeah, we'd love to see The Miz as Johnny Cage." And honestly that would be a dream come true and I would put everything I possibly have into that character and make sure that it gives the Mortal Kombat fans the Johnny Cage that they deserve.
And I will do everything in my power to hopefully get that part if the opportunity presents itself. I don't know if it will, but if it does on putting my name in the hat, I want the part. So whatever I have to do to get it, I will do. I will put forth the entire, I have an immense work ethic and whatever it takes, I will be there to try and do it. And if I don't get it, that's okay too. But I hope the person that does get it will put in the same amount of work and dedication and give the fans exactly what they want, because I know what I want out of Johnny Cage. I really do. I love the game. I've loved it since I played it on Sega Genesis, wouldn't play it on Super Nintendo, only Sega Genesis.
I played it on both, and I agree with you. The Genesis version is a lot better.
Blood, man! Come on!
Yeah, but you need the one with the six buttons. You can't do it on that three-button controller. That's the only issue.
Miz & Mrs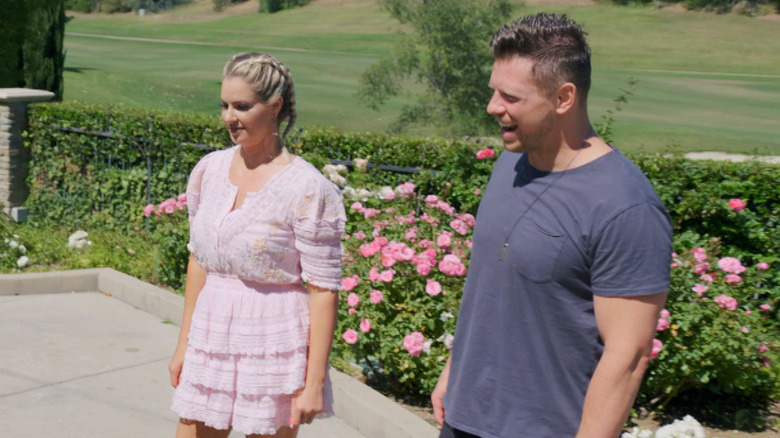 USA/Twitter
"Miz & Mrs," your reality show. You came from reality shows, and now you're running a reality show. How has the reality show world changed for you from where you started to where you are now?
Because everything's a reality show nowadays. Whether you're looking on Instagram, Twitter, YouTube, Tik Tok, I mean, you know exactly what everyone's doing at any given hour. So everything's a reality show. So how do you make it different? The way we wanted to do it is our way. We wanted to make sure that you get an insight of what it is like to be WWE superstars, but not only that. Parents, a husband, a wife, what our grandparents are like, just give you an insight, but not only that we wanted to make it fun, and fun for the entire family to watch. It's not all based on drama and just fighting. It's more based on comedy. I look at this show in the realms of like "Curb Your Enthusiasm," "The Office," I look at it like "Seinfeld," and you're like, "Yeah, those are the greatest comedies that's ever been made." Yeah. Because that's the way I look at the show and that's what I dedicate to doing. And a lot of our fans really enjoy it. Our ratings speak for themselves. The ratings keep going up, and I didn't even think they could get higher, but they keep getting higher and I'm like, "Wow, people are really enjoying this."
I applaud USA Network for putting us on and giving us free rein to kind of do what we want and to make an entertaining show. WWE has been amazing, Bunim/Murray has been amazing, and the fan response has been incredible, and it's brought my family together. And by the way, I get a video album of our lives. I get to watch my babies when they were little girls. I look back at, like, the fishing episode with Monroe. I look at her then, and I look at her now, and it's just so much has changed. She's gotten so much bigger, but I get that. I have that video of her and those moments together. And you can never take those away. And I'm really proud of "Miz & Mrs" and everything it's been able to accomplish.
Is it real?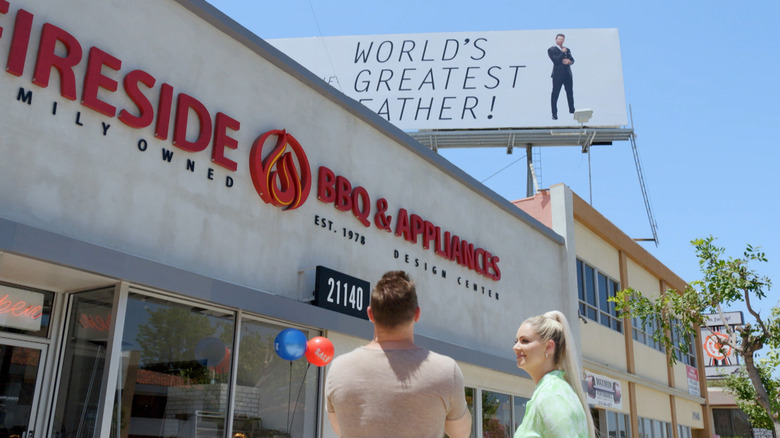 USA/Twitter
I like the way you phrase that, how it's a comedy show. That clicked a lot of stuff into place for me, because it definitely feels like, "Oh, what are they going to do this time? Who's going to say the thing this time?" Rather than ... I don't want to say it doesn't feel real, but it's not "The Real World."
No, that's exactly what we ... Well, "The Real World" is "The Real World." That's a completely different show. We wanted an entire different genre. We didn't want you to watch this and go, "That's 'The Real Housewives' of whatever city, this is 'Big Brother,' this is 'Survivor,' this is the Bellas, the 'Total Divas,' this, that." We didn't want that. We wanted people to look at it and we want it to stand by itself in its own genre and its own thing. Is it real? Yes. These are real issues that my wife and myself are dealing with on a daily basis, but we're out there to entertain you. We are in on these jokes. I know, in a reality show, I know there's a camera there. There's a camera there. That's why I look at the camera some of the times on some of the jokes, because I know the camera's there. So some people are like, "Well, it's not real." It's as real as it's entertaining, and there's real issues that we are going up against, and you're getting a real look at the insides of our life.
I mean, I don't want to dive too much into this for the fear of getting slapped through a screen, but it's a lot like, say, wrestling. People focus so much on whether it's real or not. The primary goal is to be entertaining.
Biggest compliment I ever get is with WWE is, "is it real?" That's a compliment, because you don't know. And that's the idea of it. You're not supposed to know. It's like a magician. I'm not going to tell you my tricks, and with "Miz & Mrs," the biggest compliment is how real is it? That means you're watching, and you're intrigued, and you want to know. And so yeah, I kind of like that.
What makes his shoes special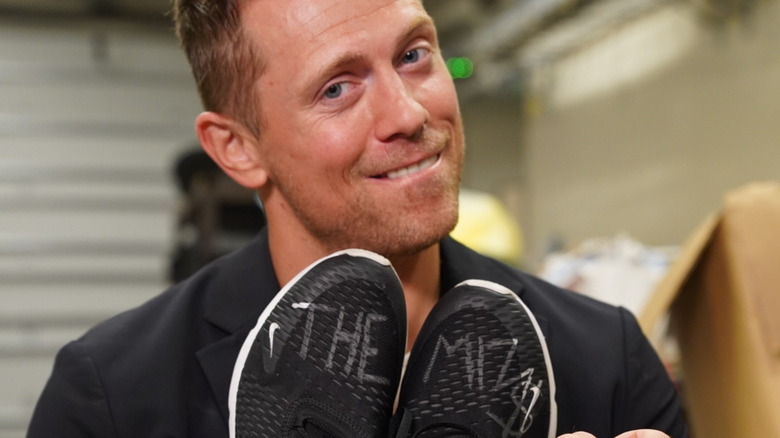 LIPPE TAYLOR
I'm going to bring this full circle. I'm going to ask about the shoes you've got up for auction. What makes them special besides them being your shoes? Is there anything unique about them?
Yeah, I got them from the Cleveland Browns. I went to their facility and was walking around and they said, "Hey, do you want a pair of shoes?" I said, "From the Browns? Absolutely." And so they gave me these Nike Air Maxes and I couldn't believe it. And so when Soles4Souls said, "Hey, would you like to donate a pair of shoes?" I wanted a pair of shoes that kind of meant something to me, that have a story. So when I sign them, and give them, that person has that same story. So yeah, it was given to me by my favorite football team, the Cleveland Browns.
So now you've got two layers here. You're not just bidding on the Miz, you're bidding on the Browns.
Exactly. And honestly, they're going to the Super Bowl. So if you bid on them now, they might go up in value when they win the Super Bowl.
Yeah. We're going to get that in writing.
Exactly.
Footcare, #GoWithConfidence, and Cesaro's uppercut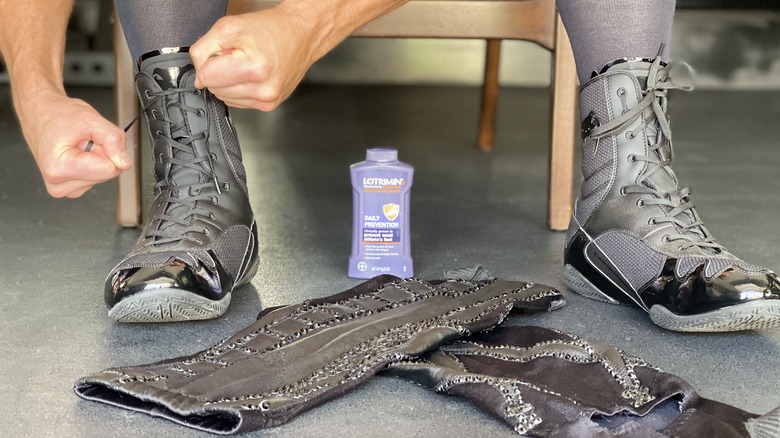 LIPPE TAYLOR
Lotrimin. They're the ones overseeing this, and obviously you're wearing those boots all the time when you're wrestling, how important are things like Lotrimin and other kinds of foot care to you?
Honestly, my feet are my most important asset that I have. When I'm in a WWE ring, taking care of my health, my feet are vital to my success. When I was a kid, I was very insecure about my feet, because I have a big toe, and actually on the last episode of "Miz & Mrs," Ziggler was making fun of my big toe. I have two big toes, so I have my big toe, and then I had the second toe that kind of hooks, and I've always been very insecure about my feet. And so that's kind of why I looked at Lotrimin and Soles4Souls and #GoWithConfidence because when I was a kid, I'd always wear socks everywhere, even with sandals and everything. I was too shy to show my bare feet because of my toes. And so maybe it does nothing. Maybe the #GoWithConfidence does nothing, but maybe it does do something.
Maybe I tweet out #GoWithConfidence, a kid's having a bad day at school and he looks at his Twitter feed and he says, #GoWithConfidence, from the Miz. He goes, "Do you know what? Maybe I'll stand a little taller. Maybe I'll just put a smile on my face." And if for just that second, that does that, then it's all worth it. That's what the message is supposed to do. It's supposed to kind of create a little more positivity in the world — and honestly, Soles4Souls, donating all that money to Soles4Souls for people that don't have shoes, it's incredible to me. Who knows who's going to get those shoes. You don't know. You don't know if it's the next, I don't know, next person that creates, I don't know, whatever it is, being an NBA star, NFL star, MLB. Maybe it's just a person that needs a pair of shoes.
Maybe it'll be the next Intercontinental Champion.
Maybe. Maybe, or WWE or Universal Champion. I don't know if Roman Reigns is going to give it up so easy, though.
He's doing so well right now.
He's doing very, very well. He is on fire. I watch and I go, "Wow." He's feeling it. You can sense it. And it's real to him. And it's when you see that level, you just applaud it. But also I want to see Cesaro be the Universal Champion as well because I've wanted to see Cesaro be on top for a very long time. And I think a lot of WWE superstars think the same way I do, when every year in the ring with Cesaro, he's one of those people that you just can't have a bad match because he is that good.
I fully agree. Every internet wrestling fan I know agrees with that. He is phenomenal.
I don't even think it's just the internet fans and the internet gurus. I think it's everybody. So I'll tell you what, he connects with the internet fans, but that swing, whenever he does that, you listen to the kids, they love it. And the things that he is able to do are unlike anyone else can do. He just does things differently. And even if it's just an uppercut, his uppercut, it just looks more violent and it looks more brutal. Things that he can do, he's just very, very good. I've been in the ring and I know what top caliber talent is, and he is that.

The #GoWithConfidence charity auction, including the Miz's signed Cleveland Browns shoes, can be found at www.ebay.com/GoWithConfidence
From May 18-June 28, 2021, Bayer will donate $1 for every Lotrimin AF Daily Prevention product sold in the U.S. to Soles4Souls, up to a maximum of $50,000. Bayer is also making a one-time donation of 50,000 units of Lotrimin AF Daily Prevention Deodorant Powder Spray to Sole4Souls to help give more people the ability to #GoWithConfidence.