What The Rotten Tomatoes Reviews For MODOK Are Saying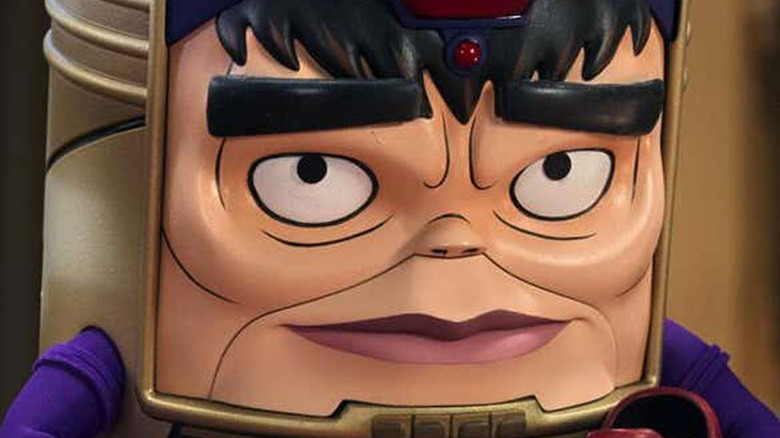 Hulu
Now that Marvel is well into its Phase Four of original programming, Marvel Studios is proving that it can make TV shows that are just as popular as its movies have been. In 2021, Marvel Studios has already released the smash hit TV series "WandaVision" and "Falcon and the Winter Soldier" on Disney+. Going forward, 2021 will also see the release of the "Loki" series, an animated series about hypothetical scenarios called "What If...?", and shows about both "Hawkeye" and "Ms. Marvel."
But there's one more 2021 offering from Marvel Studios that stands apart from all the rest, because it's a very different show than typical Marvel fare: Hulu's stop-motion sitcom "MODOK." Standup comedian Patton Oswalt stars as the titular supervillain, who is traditionally considered one of the more pathetic antagonists from the Marvel canon. "MODOK" stands for "Mechanized Organism Designed Only for Killing," which sound scary in concept... but in reality, MODOK is a kind of hovering cyborg head, albeit one with a genius level intellect. MODOK has traditionally been a nemesis of Iron Man, but on this show, he's just a guy trying to take over the world, while juggling his responsibilities as a husband and father.
Hulu's "MODOK" is more like a parody of a Marvel show, than a direct adaptation of the comics. However, it's still very much made with Marvel fans in mind. Oswalt and the show's writers are clearly huge Marvel fans themselves, and each episode is packed with small details pulled right from the comics.
Below, you can check out what the Rotten Tomatoes reviews saying about the show's first season.
The critics agree: ignore MODOK at your own peril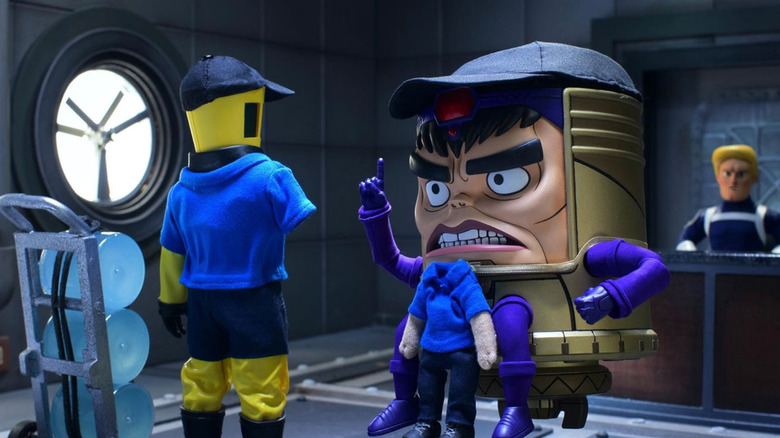 Hulu
"MODOK" premieres later this week, so there's no audience score yet, and there are relatively few reviews at this point. But among the six reviews presently available, all are in agreement that "MODOK" is worth your time. That's right, the critical score for "MODOK" is currently a perfect 100%.
Alana Joli Abbott of Den of Geek summed it up thusly: "Marvel's M.O.D.O.K. takes the humor of Deadpool, the weirdness of WandaVision, and a small dash of the animation style from Wallace & Gromit to create something...even stranger than it sounds." Tessa Smith of Mama's Geeky, called "MODOK" a "Ridiculously stupid, but ridiculously fun animated show that is sure to entertain at the very least.
Sam Barsanti of the AV Club said that "MODOK" shines when it shies away from the comic book backstory and leans into the dysfunctional family dynamics. Overall, Barsanti called "MODOK" as "a really solid piece of comedy, from the writing, to the animation of the toy-like characters, to the (naturally) Easter egg-filled background gags," while Adam Barnhart of ComicBook.com agreed that "MODOK's" strength is its comedy, describing it as "Hilarious, surprisingly heartfelt, and entirely insane, wrapped up into one oversized noggin."
Douglas Laman of The Spool wasn't as impressed as other critics so far, arguing that the show's story elements felt rushed and constrained for a 23-minute runtime. But Laman still conceded that "MODOK" is still a very funny show.
Finally, for Siddhant Adlakha of IGN, "MODOK" is no less than "The best Marvel series of 2021 so far."
So there you have it: among the critics, "MODOK" is six for six, and counting. "MODOK" premieres on May 21.