What You Need To Know About Jeopardy! Guest Host Buzzy Cohen
Ben Gabbe/Getty Images
For "Jeopardy!" fans, the sharp-suited guest host of the May 2021 Tournament of Champions may seem a little familiar. After the devastating death of host Alex Trebek, a revolving roster of guest presenters — so far including broadcast news heavyweights Anderson Cooper and Katie Couric, and NFL's Aaron Rodgers — have hosted the legendary quiz show. Buzzy Cohen, who stepped into Trebek's sizable shoes on Monday, May 17, is the latest to take to the podium — but it's far from his first "Jeopardy!" appearance.
The eccentrically nicknamed Buzzy — whose real name is Austin David Cohen — first appeared on "Jeopardy!" in 2016, earning a spot in gameshow history as one of its biggest-winning contestants. Cohen took home $164,603 in an undefeated run of nine shows, according to TV Line. Returning for the Tournament of Champions in 2017, he boosted that with a $250,000 win, bringing his overall "Jeopardy!" loot to a life-changing $414,603. 
Cohen isn't the first former champ to take on hosting duties. Record-breaking "Jeopardy!" winner Ken Jennings — whose 74-game streak saw him bag over $2.5 million in 2004 — returned as a guest presenter back in January 2021. Though Cohen's cash can't compete with Jennings', the 32-year-old has bags of character that money can't buy. Cohen even earned the moniker "Mr. Personality" from the late Trebek as a contestant. Here's all you need to know about that headline personality before Buzzy Cohen takes the reins again for the next Tournament of Champions match.
From contestant to host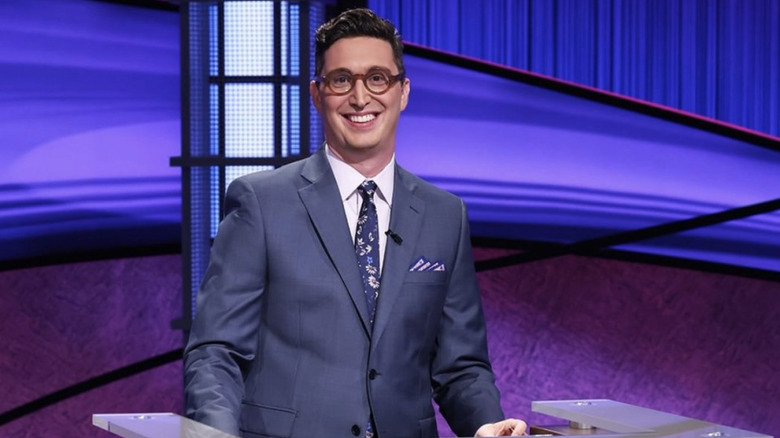 CBS
Buzzy Cohen is a New Jersey native who got his unique nickname from his parents, who stamped him with that moniker before he was even born (via the Jewish Journal). A clever-clogs as you'd expect, Cohen is a Columbia University graduate — though he admitted to the Jewish Journal that he "never thought [he] was good enough" to be on "Jeopardy!," despite his parents always wanting him to do the show. He's a husband to Elisha Cohen, a father to a 3-year-old daughter, and the founder and CEO of the Teenage Diplomat, a company that produces advertising jingles (so it's no surprise he knows a thing or two about sticking in viewers' minds). 
Memorable for his kilowatt smile and swish style, Cohen is often kitted out in one of his famous suits — which his father made for him. Describing his "peacocky" style, he told the Jewish Journal of his Tournament of Champions appearance, "My goal wasn't to win the tournament, just make it to the finals so everyone could see all four outfits."
Cohen may just have the chance to show off more of those fancy threads. The guest-host with the most could end up the permanent face of the gameshow, and as Yahoo! News reports, Cohen has earned praise from executive producer Mike Richards, who remarked that he "really delivers." Cohen even once joked that he'd love to have Alex Trebek's job one day — but he didn't really think that would ever happen. "I stood on this stage four years ago and I told Alex with all love and admiration that I'd love to host this show that I love so much, and I can't believe I got that shot," Cohen told CBS Boston.
 However, if the response to Cohen's previous appearances are anything to go by, not everyone will agree with him possibly becoming the new "Jeopardy!" host.
Buzzy or Buzzkill?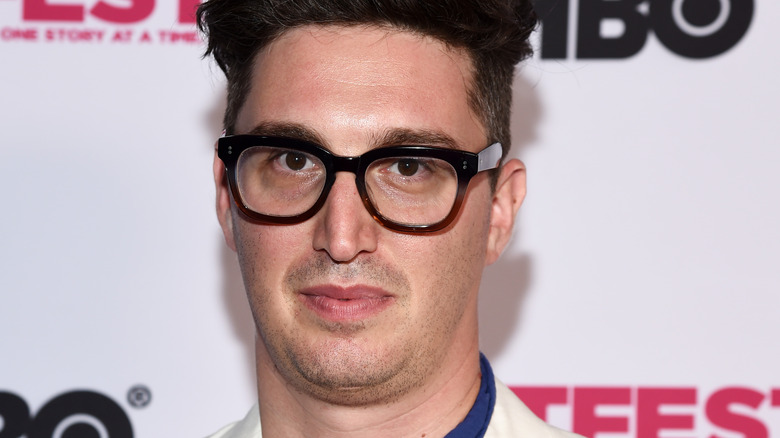 Amanda Edwards/Getty Images
As Vanity Fair reported in 2016, Buzzy Cohen's puckish personality divided "Jeopardy!" die-hards back when he was a contestant, with some thinking he was charming and others finding him obnoxious, but the man himself has insisted that his playful approach was never meant to trivialize the trivia-fest. "If I was playing awfully and then decided to make jokes, I could understand people being like, 'This dude's making a mockery of Jeopardy!' But I take it really seriously," Cohen told Vanity Fair at the time. "So when I have opportunities to inject a little bit of personality, I don't see the harm."
Perhaps Cohen's cheeky persona is just part of the polish that makes for a great presenter. Confessing to surprise at his success as a "Jeopardy!" contestant, Cohen shared with Vanity Fair, "I didn't think I would win one [game]. It's so far beyond anything I could have ever imagined." He also admitted to the Jewish Journal that his confidence wasn't always so sky-high: "I was the captain of the Quiz Bowl team in high school but put myself on the B team because I thought I wasn't as good as other people." If his modesty rings true, Cohen's success sure speaks to the benefits of faking it until you make it.
Cohen's approach to hosting sounds as unconventional as his competition style, too. As Yahoo! News reports, he prepared in some pretty eccentric ways. Insisting that "you've got to be really focused and have your stamina up" to nail the gig, Cohen hit the gym for physical training before stepping on to the studio floor. That takes mental acrobatics to a whole new level.