This Is What Bill Goldberg From The Longest Yard Is Doing Now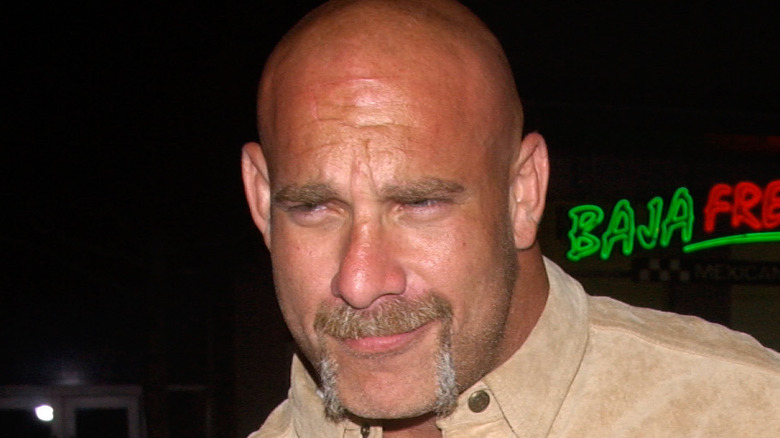 Shutterstock
As the 1990s turned into the 2000s, Adam Sandler was on top of the Hollywood comedy heap. After a remarkable run on Saturday Night Live from 1990 to 1995 and finding major success with blockbusters like "Happy Gilmore" and "The Waterboy," the sky was the limit in regards to where he could take his career next. Thus, in 2005 he chose to work alongside director Peter Segal for a remake of the 1974 hit "The Longest Yard" — joining the original's star, the late Burt Reynolds, as well as Chris Rock, Terry Crews, and more on the cast list.
The film centers on washed-up football star Paul Crewe (Sandler), who's sent to prison after engaging in a drunken police chase. Once behind bars, Crewe becomes friends with Caretaker (Rock) and the duo assemble an inmate football team to square off on the gridiron against the prison's guards. To help pad out both rosters, the film enlisted a handful of professional wrestling powerhouses, including Kevin Nash (Sergeant Engleheart), "Stone Cold" Steve Austin (Guard Dunham), and Dalip Singh Rana (Turley), better known by his ring name, The Great Khali.
This trio of squared-circle mainstays weren't the only ones to pop up in "The Longest Yard." Bill Goldberg also appeared as inmate Joey "Battle" Battaglio. Considering he hasn't taken up many noteworthy big-screen parts since then, here's a look at what he's been up to as of late instead.
Bill Goldberg has returned to his professional wrestling roots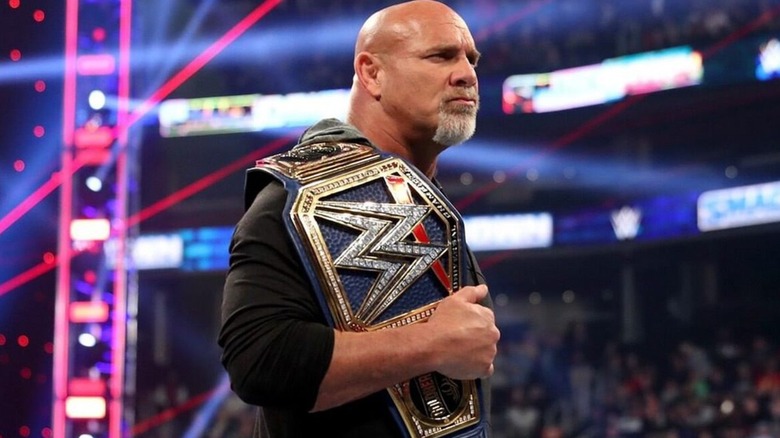 WWE
By the time "The Longest Yard" graced the silver screen in 2005, Bill Goldberg had been done with professional wrestling for some time. After dominating the now-defunct World Championship Wrestling from 1997 until its closure in 2001, he made the jump to World Wrestling Entertainment in 2003. He didn't stay long though, bidding farewell to the ring on March 14, 2004, at Wrestlemania 20 in an infamous encounter with Brock Lesnar. Goldberg's retirement stuck for some time, but over a decade later, he decided to get back into the mix.
Approaching 50 years of age, Goldberg returned to the WWE in November 2016 and defeated Lesnar in the main event of Survivor Series. He then faced Lesnar once more at Wrestlemania 33, finally putting their enduring feud to rest. He didn't stop there though, going on to tangle with current stars like Kevin Owens, in addition to legends like the Undertaker — snagging two WWE Universal Championships and a spot in the 2018 WWE Hall of Fame class in the process. As of this writing, his most recent appearance for the company was at the 2021 Royal Rumble, where he unsuccessfully challenged Drew McIntyre for the Universal Championship.
That run alone is enough to hang a career on, but it sounds as though WWE fans haven't seen the last of Bill Goldberg just yet. As he explained on WWE's The Bump (via Bleacher Report), there are still plenty of solid matchups for him to have in the modern era. "[...]a different era of Goldberg would match up against anybody. The question is, could this era of Goldberg match up with anyone still and have it be interesting? I think the answer is absolutely yes." 
From the sounds of that, any Joey Battaglio or general "Longest Yard" fans will be out of luck if a sequel ever comes about because Bill Goldberg clearly has his sights firmly set on further pro wrestling glory.