Exclusive Clip: Steve Austin And Bert Kreischer Make A Beer Can Pool On Straight Up Steve Austin
What's better than cracking open a cold one with Stone Cold Steven Austin? Teaming up with the legendary former wrestler to build a pool using over 1,500 beer cans, that's what. 
Such a task is what Austin and comedian Bert Kreischer will do in the upcoming episode of Straight Up Steve Austin, USA Network's reality TV series that features Austin and his special guest of the week traveling the country, sharing life stories and career anecdotes, and getting up to all sorts of antics. Ahead of the new episode's premiere tonight, February 22, Looper is thrilled to share an exclusive clip from Straight Up Steve Austin season 2, episode 6. 
In the clip, Austin and Kreischer meet up with a man named Miles, who has constructed about three-quarters of the perimeter of a pool using only crates of beer — 130 crates, to be exact — by the time Austin and Kreischer show up. Fittingly, the beer being used is Broken Skull IPA, Austin's own beer produced in collaboration with El Segundo Brewing Company. 
Kreischer laughs that what they're about to do is total "fraternity science," and once he and Austin get started on building the rest of the pool, lots of laughs ensue. At one point, after Kreischer saws a piece of wood, Austin gives it a swift karate chop to finish the job. (You can take the man out of the WWE, but you can't take the WWE out of the man, it seems.) 
Whether the pool-building adventure will be frat science of which Bill Nye would approve remains to be seen. You'll just have to tune into Straight Up Steve Austin tonight at 11:30 PM ET / 10:30 PM Central on USA Network to find out.
Straight Up Steve Austin is straight-up fun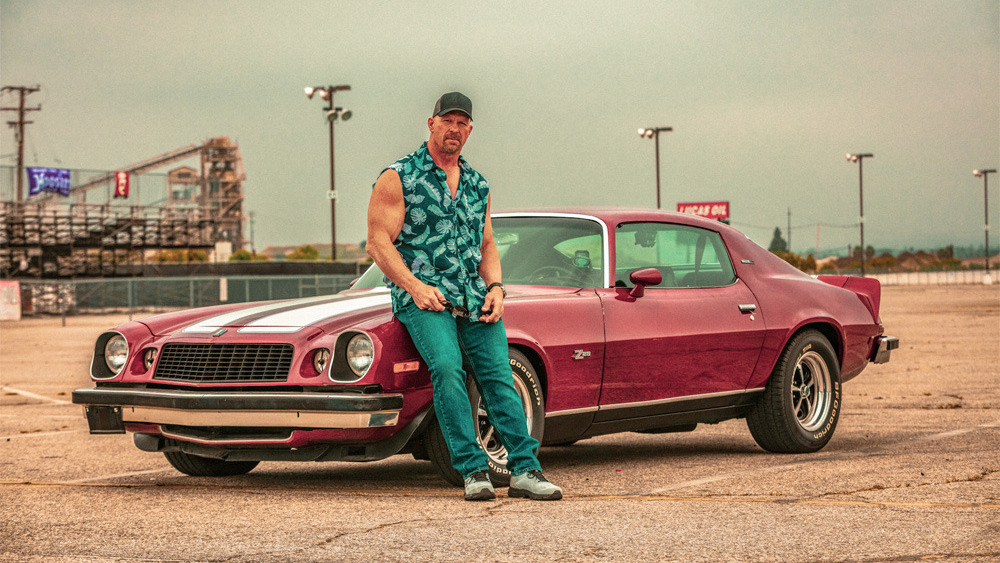 USA Network
For those who haven't yet dove into the wonderful reality-TV world of Straight Up Steve Austin, there's good news: The series has already aired a full, seven-episode first season and five episodes of its second season, both of which feature guests you'll instantly recognize. 
Season 1 of Straight Up Steve Austin sees Austin partnering up with Rob Riggle, Impractical Jokers' Sal Vulcano, Baker Mayfield, Becky Lynch, comedian and actor Gabriel Iglesias, country music star Trace Adkins, and NASCAR icon Dale Earnhardt Jr. The five already-aired episodes of season 2 find Austin going on adventures with singer-songwriter Luke Combs, the incomparable Ice-T, comedian and actress Tiffany Haddish, NFL star Brett Favre, Jackass' own Steve-O, and, of course, Bert Kreischer. Episodes 7 and 8 of Straight Up Steve Austin season 2 — i.e., the two following Kreischer's episode — will feature guests Joel McHale and Charlotte Flair.
Straight Up Steve Austin airs Monday, February 22 at 11:30 PM ET / 10:30 PM Central after WWE Raw and a special post-WWE airing of NBC's Young Rock.