The Two AHS Stars You Didn't Know Starred On Broadway Before The Show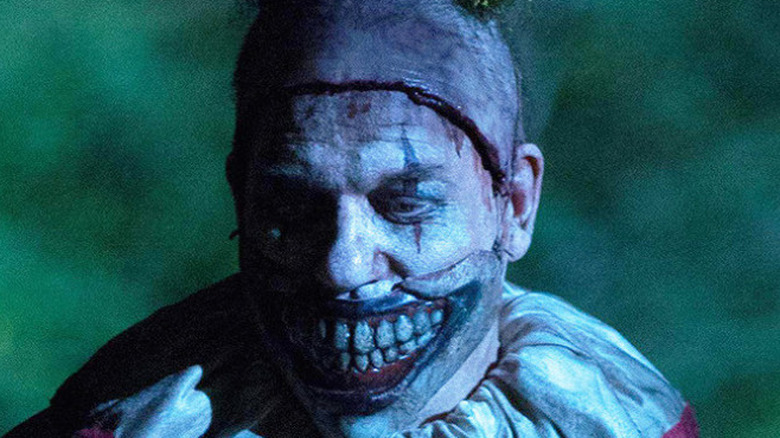 FX
The anthology series, "American Horror Story," created by Ryan Murphy and Brad Falchuk, is now nine seasons in, with at least three more seasons on the way (via The Hollywood Reporter), including the highly-anticipated 10th season, "Double Feature." From the initial season, "Murder House" to the most recent, "1984," each season has told a different story within the horror genre realm. The series is wildly popular — for reference, the subreddit for the series has over 169,000 members — and its ever-changing format ensures it will remain fresh and exciting for years to come.
One thing that stays consistent throughout the constantly shifting storylines, though — as all of the show's fans are very much aware — is the show's use of the same cast members, showing up across seasons, but (usually) playing entirely different characters that embody different archetypes. The  varying roles of the actors is often a topic of discussion amongst fans on Reddit, and one of the most exciting parts of every new season.
What some fans — even the most dedicated devotees — may not know, however, is that two of the most frequent cast members have worked together before, outside of "American Horror Story" and in an entire different medium: the theater stage.
Two AHS cast members starred on Broadway together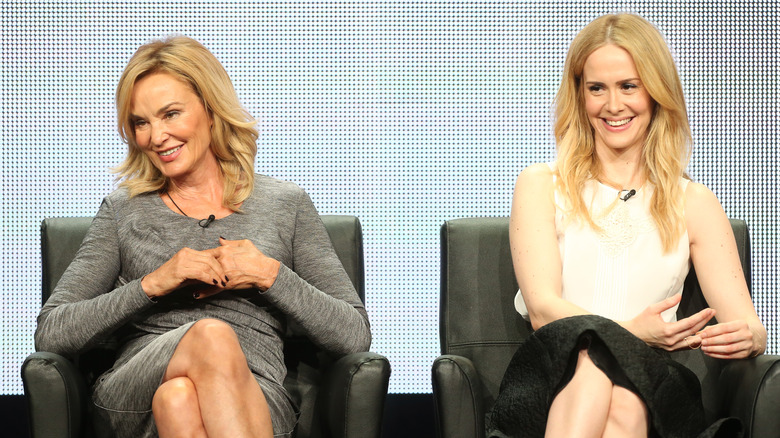 Frederick M. Brown/Getty Images
Several years before the first season of the series premiered in 2011, two of its cast members, Sarah Paulson and Jessica Lange, acted on Broadway together. Paulson and Lange are two of the most frequent faces of the series — Paulson has appeared in eight seasons, while Lange has appeared in five — and have played some of the most beloved characters. 
The two actresses worked together on the 2005 Broadway run of the 1944 play, "The Glass Menagerie" by famed playwright Tennessee Williams (via Playbill). The show ran from late March to early July of that year, with a total of 120 performances, at the Ethel Barrymore Theatre.
"The Glass Menagerie" follows aspiring writer Tom (Christian Slater), who is frustrated by his job at a shoe warehouse as well as his responsibility of taking care of his nagging mother, Amanda (Lange), who is too caught up in the past and longs for her youth. Paulson played Amanda's daughter, Laura, who is incredibly shy and isolated from the outside world. To please Amanda, who is obsessed with finding a suitor for her daughter, Tom brings home an old acquaintance, Jim O'Connor aka the Gentleman Caller (Josh Lucas) to meet Laura.
It was definitely a production that any "American Horror Story" fan would have killed to see.