Is A Simple Favor Based On A True Story?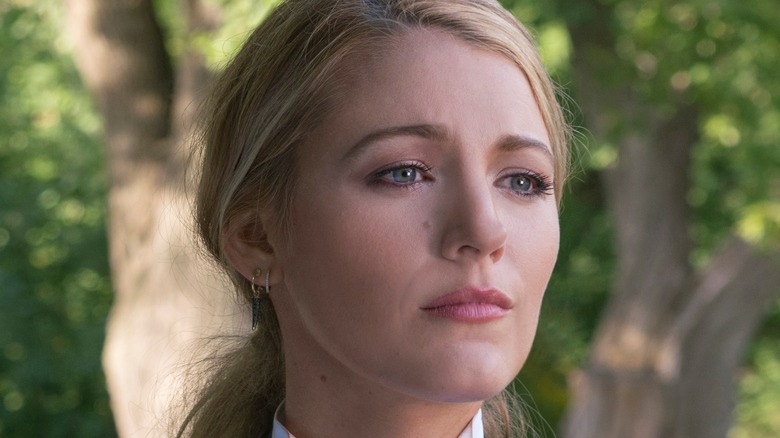 Lionsgate
If you loved the campy, over-the-top story of the 2018 film "A Simple Favor," you might wonder where exactly the totally crazy story came from — and you might be surprised by the answer.
Directed by Paul Feig, "A Simple Favor" seems, at first glance, like a solid copycat of movies like "Gone Girl" and "The Girl on the Train," utilizing a non-linear timeline and a mystery centered around a missing wife. After mommy blogger Stephanie (Anna Kendrick) befriends a polar opposite parent, the hyper-chic fashion PR maven Emily (Blake Lively), Emily asks her new friend for "a simple favor," explaining that she needs to quickly leave town for work in the hopes that Stephanie will watch her son. However, when Emily doesn't return, Stephanie and Emily's husband Sean (Henry Golding) must investigate her disappearance... and what happens next is pretty shocking.
Lively is perfect as a martini-swilling, designer shoe-clad woman of mystery, playing perfectly against Kendrick's neurotic, bubbly Stephanie, and when the film hit theaters, it was yet another success for Feig, with critics and audiences loving its tongue-in-cheek approach to the thriller genre. However, some moviegoers undoubtedly recognized the story from a popular novel. Here's the truth behind "A Simple Favor's" buzzy source material. Spoilers for "A Simple Favor" ahead!
A Simple Favor was based on a bestselling novel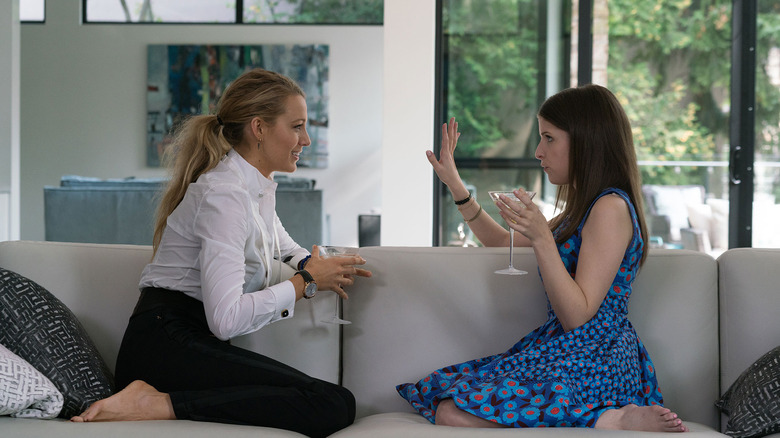 Lionsgate
Fans of "A Simple Favor" probably aren't shocked to learn that this completely absurd story isn't based in reality; instead, the story was adapted from Darcey Bell's 2017 novel of the same name. For the most part, the story remains the same — Stephanie and Emily become friends, only for Stephanie to find herself in over her head when Emily goes missing. However, one big twist is different, as is the overall ending.
Partway through both the film and novel, a body believed to be Emily's washes up in a distant lake, featuring her signature tattoo as well as an engagement ring that once belonged to Sean's mother. However, while the movie uses the book's main trick — Emily is a twin, and the body belongs to her sister — it changes two important moments leading up to both the body's discovery and the reveal.
Much of the story remains the same, in that Emily and her twin, whose real names are Hope and Faith in the film, respectively, went on the run together after burning down their family home to try and attack their abusive father. However, in the book, Emily doesn't kill her sister, whose name is Evelyn, but simply doesn't interfere when Evelyn expresses the desire to end her own life — whereas the movie sees her actively drown Faith in the lake and put her ring on her sister's finger. The film also adds in a baffling detail that Hope and Faith had a third sister, Chastity, who died young, which truly doesn't add much to the story and is forgotten about almost immediately.
The onscreen ending of A Simple Favor is totally insane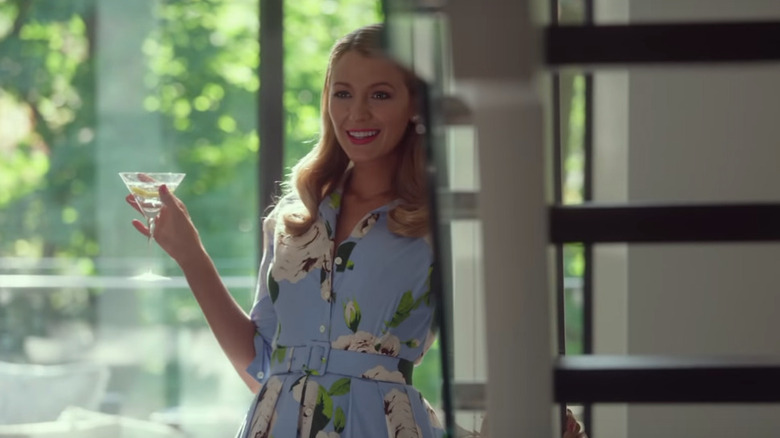 Lionsgate
There are a few small discrepancies here and there, from Sean's job to the amount of Emily's life insurance plan, between the book and film, there's another extremely glaring difference: the ending. The book's ending is pretty solid, but the new, even crazier ending Feig and his team came up with ends up playing pretty spectacularly on screen.
In the book, Emily returns to the scene of the crime, tells Stephanie that Sean was an abusive husband, and manages to concoct a plan where she convinces Stephanie to help her dispose of the body of a nosy insurance agent who nearly figures out her devious plan. Ultimately, she manages to frame both Sean and Stephanie for the murder she committed, leaving the country with her son Nicky, never to be seen again.
However, the movie takes a much more inventive approach. After Sean and Stephanie trap Emily, clad in a 1950s-style, housewife-esque dress with a martini in hand, into confessing her crimes on a hidden camera, Emily flees the house... only to be hit with fellow parent Darren's (Andrew Rannells) hybrid car. Stephanie becomes a private investigator slash mommy blogger, Sean moves away with his son, and Emily goes to jail, where she quickly establishes herself as a sort of queen bee behind bars.
"A Simple Favor," like most other adaptations, undergoes some significant changes between the page and screen, but both versions are definitely worth checking out — and if you do return to the book, it's fascinating to see how Feig and writer Jessica Scharzer changed this crazy story around. You can rent or buy "A Simple Favor" on multiple streaming platforms.